Creating a Virtual Culture of Inclusion at ViacomCBS
In a virtual celebration for Asian American & Pacific Islander Heritage Month, 'The Talk's' Carrie Ann Inaba talks confronting racism, the blessings of a multiracial upbringing, and creating her own destiny, with CBS News correspondent Vladimir Duthiers.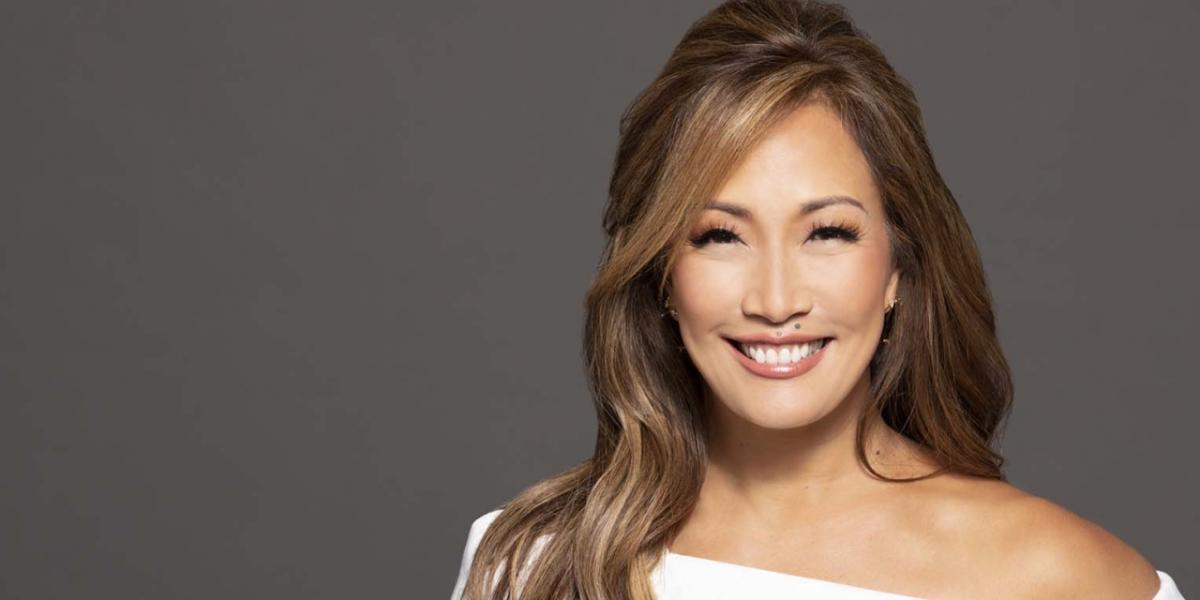 Originally published by ViacomCBS
By Stuart Winchester
For The Talk host Carrie Ann Inaba, who is Japanese-Chinese-Irish and grew up in multicultural Hawaii, her multiracial background has always been something to celebrate.
"You wear it with a badge of honor like, 'I'm this many,'" she remembered of her childhood. "'How many are you?' Like, 'Oh, I'm four nationalities.' 'Oh, I'm seven.' It's kind of like it's something that we just talk openly about."
Inaba considers her "in-betweener" status, as she calls it, to be a sort of superpower. "I'm really starting to believe that being an in-betweener has made it better for me, because I couldn't define myself as one or the other," she said. "I just had to pave my own path, and I think the more that we think that way in life, that the better we are."
Hundreds of ViacomCBS employees watched from their homes as Inaba expressed this upbeat viewpoint earlier this month. Inaba, accompanied at times by her dogs, sat in a cozy room decked out with stacks of pillows and comfortable furniture as she spoke to CBS News correspondent Vladimir Duthiers, who interviewed her from his own home, in a room bursting with books, colorful artwork, and guitars.
The event, hosted by ViacomCBS' AMP (Asian American Media Professionals) resource group in celebration of Asian American & Pacific Islander (AAPI) Heritage Month, is the first virtual event hosted by the Office of Global Inclusion since ViacomCBS initiated an indefinite work-from-home order on March 12. It served as an affirmation of the company's values in the midst of a major business disruption.
"Today is yet another example of how technology can bring us all together and unite many of us from around the world," said Marva Smalls, head of ViacomCBS Global Inclusion, as she introduced the event from her home. "Our being here today is further testament to ViacomCBS' commitment to diversity, inclusion, and belonging."
A rapid pivot
ViacomCBS has long hosted panels, performances, and events featuring creative experts and network talent at its Times Square headquarters and other facilities. While the company would often stream these employee-only events for those watching remotely, the transition to remote work for many of the company's 20,000-plus global employees necessitated a rethinking.
"We knew that we would need to pivot and figure out how to continue events as a part of the culture of who we are as a company," said ViacomCBS Special Events SVP Stephen Kipp.  "Luckily, we had a strong Tech team in place under ViacomCBS CTO Phil Wiser who were ready and eager to make this happen from day one."
When the company's Beijing employees began trickling back to their office, ViacomCBS Networks International President and CEO David Lynn hosted an online panel featuring employees from China and Singapore. In April and May, company CEO Bob Bakish and other top executives, all speaking from their homes, addressed thousands of ViacomCBS employees around the world. Last week, ViacomCBS hosted its first virtual upfronts presentation for advertisers.
When the shutdown happened, AMP began reimagining its usual mix of in-person events, workshops, and celebrations that have long been at the center of its AAPI Heritage Month as an entirely digital program.
"It definitely became a huge question mark for us. 'How can we make our community feel celebrated and connected during these times?'" said AMP co-chair and Awesomeness Senior Director of Communications and Publicity Gayle Gaviola.
Figuring out this pivot required close coordination with ViacomCBS Special Events and Tech teams, who drew on the lessons of recent weeks to establish a technical framework that would allow all employees to watch the event on one platform simultaneously. They landed on a Zoom webinar hosted on Facebook Workplace.
"I think we're really fortunate, especially now in these crazy times when you can't see all your coworkers, to have such an amazing Special Events team that's mastered the art of virtual event production," said Gaviola.
Delivering employees the relief of community at a stressful moment
Video conference calls, screen sharing, and file transfers have made the mass transition to remote work relatively smooth. Still, the isolation and absence of familiar comforts inherent in shelter-in-place orders have created new challenges for employees, particularly with the racism and hostility that has increasingly been aimed at Asian Americans during the pandemic.
"For AMP, providing community to our members is important now more than ever," says Gaviola. "It's continuing to foster that community, continuing to encourage that forum, continuing to recognize the contributions and then the influence of AAPI in our history and our culture even though we're in times right now that makes that very difficult."
Inaba addressed the issue of racism directly, saying that her sense of fear about her identity was, "the most heightened it's ever been in my lifetime," after watching a video of three teenagers assaulting an Asian woman at a St. Paul, Minnesota metro station. "Really, for the first time, I've felt a little bit of that kind of fear." 
Her reaction has been to confront the issue directly. "We have to be responsible in the way we talk about COVID-19," she said. "We can't call it the 'China virus,' and if you hear anybody talking about it like that, compassionately and intelligently, with a gentle voice, educate them that it's not the China virus, that this has been around for a long time."
Duthiers and Inaba elevated another theme during the event: your current circumstances do not dictate your destiny. Duthiers, for example, was an investment banker before, near age 40, he pivoted to a career in TV, where he started as an unpaid intern. Inaba, now a renowned daily television host, battled a speech impediment as a child.
The key to persisting through these sort of natural obstacles, Inaba said, was using the same mentality that she used to beat back racist stereotypes. "I think that it's important to know your worth," she said. "I work my butt off. I do not take anything for granted. I want to be better than I ever was last time. I want to be better than what people expect, every time."  
AMP has continued to host virtual events throughout AAPI Heritage Month, including "Addressing Xenophobia During A Pandemic," a panel featuring David Henry Hwang (The Affair), Catherine Haena Kim (FBI), Tzi Ma (Arrival), and Elaine Quijano (CBS News correspondent).
"Joining our Asian-American and Pacific Islander colleagues in celebrating this month helps us all appreciate the multicultural demographics of our employee population, still while further strengthening our collective commitment to building a culture of inclusion and belonging that are embedded in our organizational and corporate values," said Smalls. "Even as we adapt to working from home, inclusion and belonging are embraced in everything we do."