Creating Safety Heroes With a Target of Zero
Through Safe Community Project Zero, Enbridge Gas and Ontario fire officials seek to eliminate fire, CO-related deaths across the province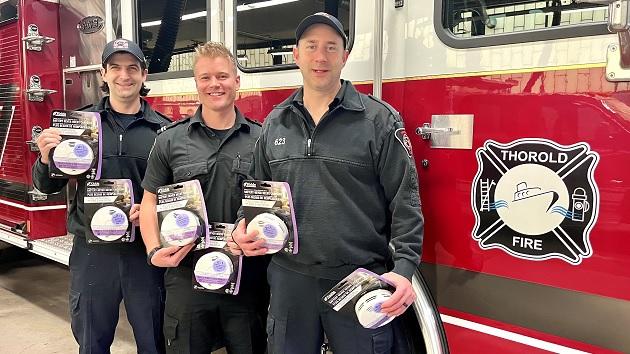 Firefighters at Thorold Fire in Thorold, ON display just a few of the 76,000 combination smoke and CO alarms installed across Ontario since 2009 as part of Safe Community Project Zero.
No one should have to choose between food and safety.
But that's the choice vulnerable people often face when it comes to spending limited resources—they quite often have to make decisions between stocking the fridge, and ensuring their homes have working life safety devices like carbon monoxide and smoke alarms.
To support vulnerable residents in southwestern Ontario, the London Fire Department distributed 600 combination smoke and carbon monoxide alarms in 2022 to homes in need, including to older adults, persons with disabilities and low-income households.
The alarms were provided through Safe Community Project Zero, an annual Enbridge Gas public education campaign delivered in partnership with the Fire Marshal's Public Fire Safety Council (FMPFSC) to promote the installation of smoke and carbon monoxide alarms in homes in Ontario communities where Enbridge operates. Always committed to safety first, Enbridge Gas developed the program to bring fire and carbon monoxide-related deaths down to zero.
Coincidentally, the London fire department responded to a carbon monoxide call the night before the January 2022 event held to announce the distribution of the combination smoke and carbon monoxide alarms. It was a timely reminder of the importance of these life-saving devices to help keep families safe.
Safety is the foundation of everything we do at Enbridge. We put safety first in our work and operations, and we help bolster safety in the communities where we operate through programs like our Safe Community First Responder Program. In 2022, Project Zero distributed 8,000 combination alarms to residents in 50 Ontario municipalities. Since the project's founding in 2009, more than 76,000 alarms have been provided to keep families safe.
"Evidence shows that prevention saves lives," says Chris Doig, the Eastern Region Operations Supervisor for Enbridge Gas. Doig notes that the best way to avoid carbon monoxide exposure is to properly maintain fuel-burning equipment, such as propane stoves and natural gas or wood fireplaces.
"Alarms are a critical second line of defence to protect against carbon monoxide poisoning," he explains. "Carbon monoxide is known as the 'silent killer' for a reason," he adds.
Safe Community Project Zero is one of two of Enbridge Gas' fire and carbon monoxide safety initiatives in Ontario. The second is Safe Community Project Assist, which supplements existing training for Ontario volunteer and composite fire departments in the communities where Enbridge Gas operates.
"Firefighting can be dangerous and unpredictable," says Jon Pegg, Ontario Fire Marshal and Chair of the FMPFSC. "These training materials positively contribute to the health and safety of firefighters and the broader community."
Through Safe Community Project Zero and Safe Community Project Assist, we renew our shared commitment to a relentless focus on safety every day—to keep our loved ones and communities safe.