Corporations Cite Values in Pulling Out from Saudi Investment Conference
by John Howell, Editorial Director & VP of Content, 3BL Media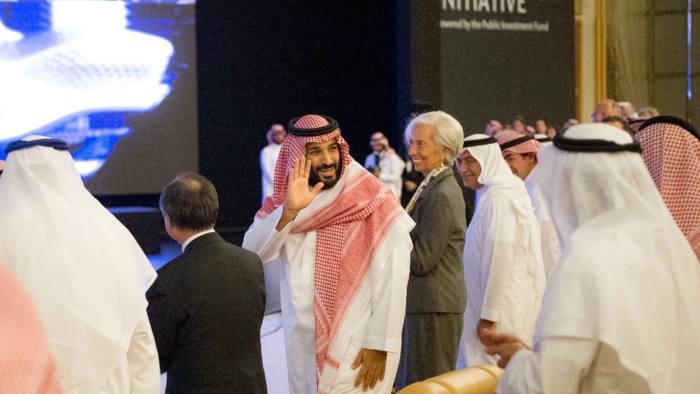 Image Credit: © AP
Brands Taking Stands™ | October 18, 2018
Last year's initial Future Investment Initiative conference promoted by the government of Saudi Arabia for the global financial and media elite was nicknamed  "Davos in the Desert," a reference to the annual World Economic Forum conference that convenes in Switzerland. Over 3,500 CEOs, investors, bankers, media owners, and other select invitees attended the event in Riyadh, Saudi Arabia. They were attracted by the promise of a reformed Arabic culture, one intended to encourage foreign investment in the kingdom by Western entities, and to the possible prize of billions--even trillions--of dollars in potential investments to be made available. 
This year's version of the event might have to be re-branded as "Davos Deserted," as a significant number of the same top executives, corporations, and media companies are cancelling their RSVPs for a return visit. A "Who's Who" in global business, media, and influencers are staying home as questions persist about the apparent assassination of a dissident Saudi journalist in that country's consulate in Istanbul, Turkey. As I write, dozens of leading executives, investors, medial moguls, corporations, and featured keynote speakers have cited reputational concerns measured against possible egregious human rights violations as the reason.
Among the many pullouts are three of the biggest names in global finance: Jamie Dimon of JPMorgan Chase, Stephen Schwarzman of Blackstone, and Larry Fink of BlackRock (whose letter in January of this year calling on companies in which his company invested to "serve a social purpose" made explicit the connection between values and the bottom line). Perhaps most notable was the withdrawal of Uber's CEO Dara Khosrowshahi, as his company has a $3.5 billion investment from the Saudi sovereign wealth fund. What's more, one of his board members is the head of that fund—which is sponsoring the conference.
As Triple Pundit's Leon Kaye noted, "We've been seeing brands taking stands on political and social issues, and now the same is starting to happen with economic and foreign policy."
Expanding on that theme in a New York Times "Dealbook" column, "When Business Executives Become Reluctant Statesmen," Andrew Ross Sorkin spells out, "…the curious change the world has seen under a businessman president: America's moral compass being set by the C-suite, rather than the Oval Office." (Sorkin—a featured speaker at the conference—has also withdrawn from participating.)
 
To date, it seems that the moral stance is winning out over possible Saudi financial opportunities as once again, business finds itself in opposition to the government response. The administration's position has been to underline the bottom line by emphasizing the billions of dollars in business at stake, arguing that profits in potential US-Saudi arms deals outweigh moral concerns about human rights.
 
When I started reporting in 2015 on the issue of brands taking stands on social and political issues, I had no idea it would become an international phenomenon. There were early signs in open letters published by globally active companies such as Apple and Starbucks.
CEOs Tim Cook and Howard Schultz issued statements on gay rights and racism, respectively, in 2014. At the time, those positions seemed both in sync with the pioneering attitudes of their respective companies' progressive cultures and outliers, in the sense that both had the wherewithal—from healthy finances to fanatic consumer support—to take such positions.
The practice exploded in 2015, when "bathroom" and "religious freedom" bills were proposed (and in some cases, passed) by legislatures in North Carolina, Indiana, and Arkansas. In an unprecedented pushback, hundreds of companies--from multinational corporates to local businesses--protested with public statements, both individually and in collective petitions.
Since early 2017, issues such as immigration, gun control, LGBTQ rights, climate change, and the opioid crisis have drawn public commentary from thousands of executives, companies, and their employees. Tracking the exploding growth of the movement, we at 3BL Media titled our Forum "Brands Taking Stands" and launched this newsletter.
In the current Saudi crisis, CEOs in the U.S. have been forced to make decisions on moral values, as the government has abandoned its diplomatic role. The possible consequences of those choices now being discussed in C-suites are among the most momentous in recent times. The implications are economic and geo-political, ranging from multi-billion dollar contracts and investments in critical sectors to complex foreign policy issues, involving the future course of several nations.
One example: Saudi money is the single large investment source for U.S. startups. What do you think Silicon Valley thinks about that fact these days?
How the values vs. profits contest plays out in this case will make world history. We'll be watching.