Corporate Social Investment Leaders Convene to Reflect On New Era of Action and Integrity
CECP presents 2019 Charles H. Moore Award to Shannon Schuyler, PwC; recognized for leadership in corporate social investment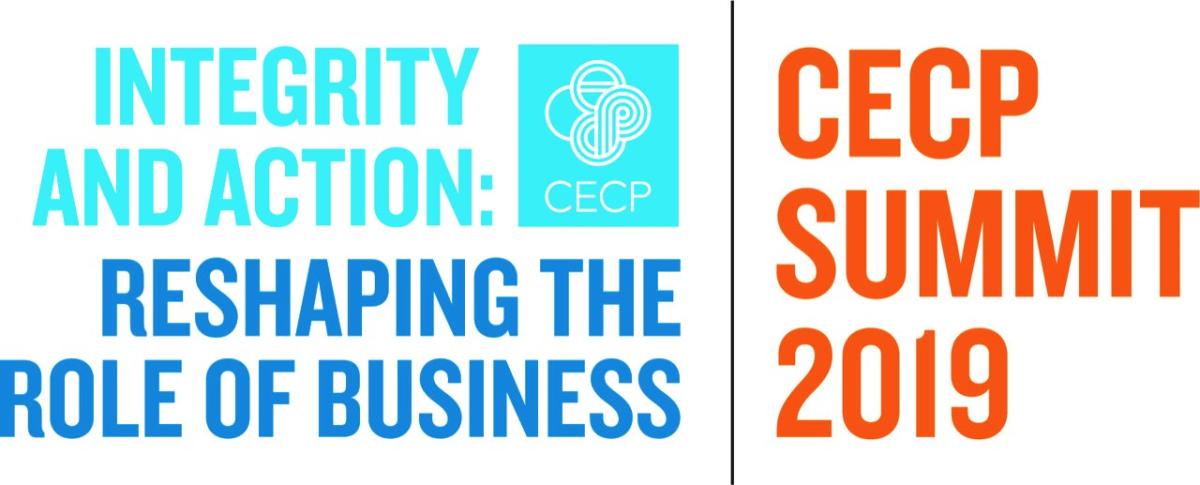 NEW YORK, MAY 21, 2019 /3BL Media/ – Chief Executives for Corporate Purpose (CECP) welcomes more than 300 corporate leaders from across the U.S. and around the world to the 2019 CECP Summit: Integrity and Action: Reshaping the Role of Business. The event, held annually in NYC, brings together professionals who drive societal investment strategies at the world's largest companies.
In 2019, this important group convenes to discuss this defining moment for purpose-driven companies and social investment teams – a time when business is being elevated as a trusted leader and voice on many critical social issues. Attendees will explore what it means to lead intentionally, with integrity and action, in an environment that calls for decisiveness despite divisiveness. The event – the 16th hosted by CECP – features an agenda of the topics that matter most to practitioners, grounded in data from CECP's industry-leading Giving in Numbers survey and drawing from hundreds of conversations with its companies over the year.
"Business leaders and their companies are responding to global stakeholder demand for corporate integrity coupled with definitive action," said Daryl Brewster, CEO, CECP. "CECP's Summit shares the business impact of investing in society, and how to thoughtfully and effectively be a force for good."
This year also marks the 20th anniversary of CECP's founding by Paul Newman, John C. Whitehead, Paul Volcker, Peter Malkin, and other business leaders, and a re-branding to Chief Executives for Corporate Purpose, redefining the CECP acronym to reflect its future-forward approach. Since its inception, CECP has been leading businesses in the pursuit of a better world and guiding companies as they address the world's greatest challenges through their skills and resources, with measurable impact. The past two decades have seen CECP shape a field of practice that examines the critical intersect between business and society. And, as global challenges continue to transform our planet, CECP believes companies can -- and will --do more.
The Summit includes the presentation of the Charles H. Moore Award for Leadership in Corporate Community Engagement, this year awarded to Shannon Schuyler, Principal, Chief Purpose Officer and Responsible Business Leader of PwC US; President of the PwC Charitable Foundation, Inc. The "Charlie Award"–named to honor CECP's founding Executive Director–is presented to individuals who exemplify perseverance in the pursuit of societal advancement, the trait for which Charlie Moore is best known. Shannon Schuyler is widely recognized in her field as a dynamic change agent. As Chief Purpose Officer, she is responsible for infusing PwC's purpose -- to build trust in society and solve important problems -- into PwC's core business strategy, and helps PwC's more than 200,000 employees find purpose in their own personal work.
"CECP is a prime example of a purpose-driven organization. Under Charlie's leadership, the organization evolved to embody the philosophy that social impact should be rooted concretely in the business strategy and aligned with the organizational purpose," said Shannon Schuyler. "I look forward to carrying on Charlie's legacy, helping to galvanize a community of responsible business leaders to work together for change and business success."
The 2019 CECP Summit will also celebrate this year's Company Spotlights, including Allstate, Barclays, CenterPoint, Comcast, JP Morgan Chase, salesforce, Travelers, USAA, Verizon, and Wynn Resorts.
The CECP Summit offers an unparalleled line-up of speakers, including:
An opening keynote session with Ed Martinez, President, The UPS Foundation, Chief Diversity & Inclusion Officer, UPS; Will Neville-Rehbehn, Vice President, Inclusion, Culture & Talent, Prudential Financial, Inc; and Tanya Odom, Global Diversity and Inclusion Consultant and Coach on how companies are addressing the larger systemic biases that contribute to inequity, and looking at hiring processes, policies, and other structural areas that might be perpetuating sameness.
A look back at the last 20 years and look-ahead at the relationship between business and society with Timothy J. McClimon, President, American Express Foundation and Senior Vice President, Corporate Social Responsibility, American Express Company; and Kerry Sullivan, President, Bank of America Charitable Foundation, Bank of America Corporation
Lord Dr. Michael Hastings CBE sharing his perspectives on leading with purpose, particularly as we face a host of global challenges that have led us to the United Nations Sustainable Development Goals (SDGs).
Gary Mendell, CEO and Founder, Shatterproof and subject matter expert on CECP's Opioid Crisis: Corporate Response Accelerate Community, and an educational tool, Just 5, which companies can use with their employees today.
Claire Babineaux-Fontenot, CEO, Feeding America sharing how the organization works with stakeholders across its vast network of 200 food banks and 60,000 food pantries to end hunger.
Leading CEOs including Doug Conant, Founder, ConantLeadership; Former CEO, Campbell Soup Company; Chairman, CECP; Former Chairman, Avon; Eileen Fisher, Founder and Chairwoman, EILEEN FISHER, Inc.; and Mauricio Gutiérrez, President and CEO, NRG with stories on their own experiences with tough choices and difficult business decisions.
Breakout sessions will feature a variety of topics:
A Changing Workplace and the Corporate Social Responsibility (CSR) Role
Media Shaping the CSR Narrative
An Enterprise-Wide CSR Approach
Great (Societal) Expectations: Communicating Your Values When it Matters Most
The Future of Corporate Foundations
Data and Tech for Impact
Employee Resource Groups as a Force for Good
Taking the Long-Term View: Linking Purpose and Profit in Investor Communications
CECP will also share with attendees results from the Giving in Numbers Survey, an analysis of 2018 corporate giving trends data. As the unrivaled leader in benchmarking on corporate social investments, in partnership with companies, Giving in Numbers is the largest and most historical data set on trends in the industry, shared by more than 500 multi-billion-dollar companies over nearly 15 years, representing more than $250 billion in corporate social investments over that time span. In 2019, 250 multi-billion-dollar companies with aggregate revenues of US$7.02 trillion participated in the survey.
CECP thanks its Convening Sponsors for their generous support of the 2019 CECP Summit: The Allstate Foundation, Assurant, Bank of America, BNY Mellon, KPMG LLP, Mastercard, Newman's Own Foundation, Prudential Financial, State Farm Mutual Automobile Insurance Company, UPS, and Wynn Resorts. CECP is deeply appreciative of Newman's Own Foundation, PwC US, and USAA for their generous ongoing support of our work during CECP's 20th anniversary.
The application for the 2020 Charlie Award is available on the CECP website and is due June 30, 2019. The award will again be presented at the CECP Summit in 2020 to a senior executive in corporate social investment who demonstrates a tenure of impact.
The 2019 convening is being held at the Marriot Downtown in New York City. Following the conclusion of the 2019 CECP Summit, CECP will be posting on its website media, photos, videos, guest blogs, and an Executive Summary.
###
ABOUT CHIEF EXECUTIVES FOR CORPORATE PURPOSE (CECP)           
CECP is a CEO-led coalition that believes that a company's social strategy — how it engages with key stakeholders including employees, communities, investors, and customers —determines company success. Founded in 1999 by actor and philanthropist Paul Newman and other business leaders to create a better world through business, CECP has grown to a movement of more than 200 of the world's largest companies that represent $6.6 trillion in revenues, $21.2 billion in social investment, 14 million employees, 23 million hours of employee engagement, and $15 trillion in assets under management. CECP helps companies transform their social strategy by providing customized connections and networking, counsel and support, benchmarking and trends, and awareness building and recognition.