A Conversation With Quest Diagnostics' CEO-Elect Jim Davis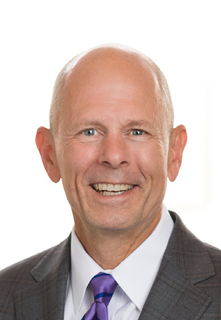 James E. Davis CEO-elect and Executive Vice President, General Diagnostics
Originally published in Quest Diagnostics 2021 Corporate Responsibility Report
James E. Davis is the Chief Executive Officer (CEO)-elect and Executive Vice President, General Diagnostics, for Quest Diagnostics. As Executive Vice President, General Diagnostics, Jim managed all diagnostic testing services and the company's operations, including sales and marketing, patient and customer services, laboratories, logistics, and billing. He has also provided enterprise oversight for Quest's COVID-19 response, including rapid expansion of testing capacity and testing innovation. Jim's leadership has strengthened Quest's partnerships with the nation's largest health plans and health systems, integrated our regional lab acquisitions, and driven the evolution of our ESG strategy.
Lindsey Greenberger, Director, Corporate Responsibility and ESG, spoke with Jim about the role of ESG efforts in achieving our mission.
Q. How is Quest's corporate responsibility strategy helping to empower better health with diagnostic insights?
A. Our heightened awareness of ESG issues reminds us that our responsibility as a public company goes beyond delivering strong financial results to our shareholders. How we conduct business and contribute to our society, environment, and communities is critical to our long-term, sustainable growth. In our quest to promote a healthier world, we must strongly embrace our employees, suppliers, and communities.
Q. What are some of Quest's key achievements over the past year?
A. I'm proud of the role our diagnostic services played in helping individuals and businesses stay safe during the pandemic and begin to return to life. Our efforts to maintain strong supplier partnerships have been effective; we did not experience significant supply chain interruptions. And we returned our non–COVID-19 business to pre-pandemic levels.
To open our new flagship laboratory in Clifton, NJ, we successfully overcame multiple pandemic-related hurdles. Quest's new 250,000–square-foot facility is truly state of the art—and one of the largest automated clinical laboratories globally.
We've continued to make meaningful investments in building a diverse and inclusive culture at Quest with multiple initiatives to recognize, appreciate, and celebrate our employees. Our data show firsthand that the pandemic has heightened healthcare disparities, and through our Quest for Health Equity (Q4HE) programs, we've committed to addressing and reducing these inequities.
There is still a lot of work to be done, but I'm proud of what we've accomplished as a team thanks to Steve's tremendous leadership over the past decade. I'm excited about our path for the future.