Composting at Sappi Transforms Food Waste Into Community Resource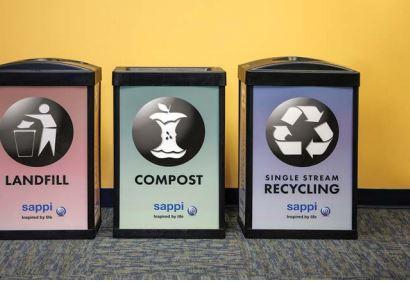 Sappi's shared service center in South Portland Maine has implemented a program that collects the office's organic solid waste on-site, adding a compost container to complement the existing single-stream recycling and landfill waste containers.
By working with Garbage to Garden, a Mainebased organization and one of the fi rst in the US to offer residential pick-up of solid organic waste, the office has further reduced waste to landfill.
The office donates its compost to local community gardens and other non-profi ts focused on providing fresh, healthy food options to residents of the Greater Portland area. Since starting the program in November 2015, there has been a dramatic reduction in waste going toward landfill. As of October 2017, Sappi South Portland has sent 7,734 gallons—nearly 46,000 pounds—of organic waste to become compost.