Climate-Tech Startups To Watch in 2023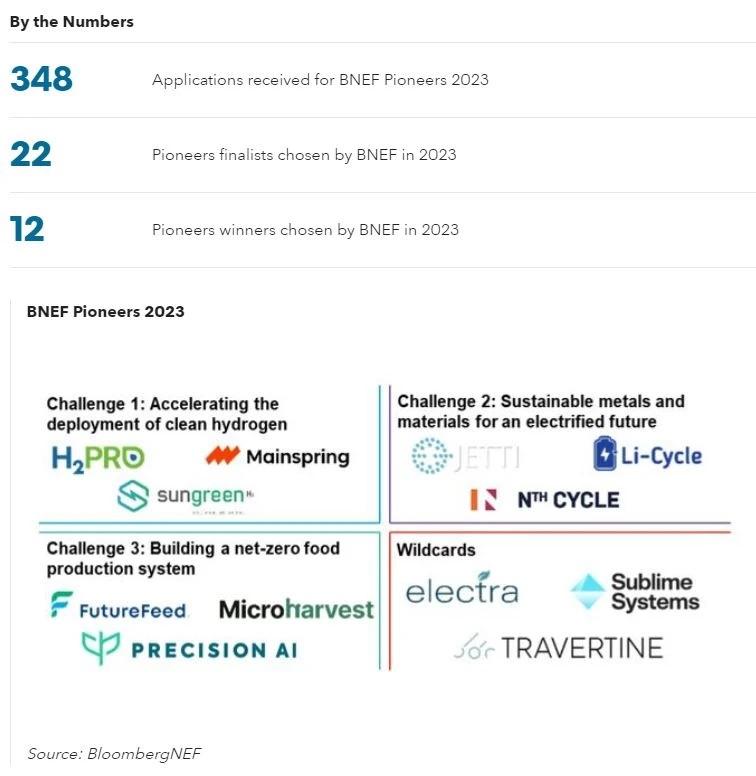 Source: BloombergNEF
Originally published on bloomberg.com
This analysis is from BloombergNEF. It appeared first on the Bloomberg Terminal.
The winners of BloombergNEF's Pioneers 2023 award were announced on April 17. The annual competition searches for game-changing technologies or innovations with the potential to accelerate global decarbonization and halt climate change. This note profiles each of this year's 12 winners, describing how the technologies work, the maturity of each company and the reasons behind BNEF's decision-making process.
BNEF has run the Pioneers competition since 2010. Since then, there have been 141 winners, including this year's Pioneers. These companies have cumulatively raised $14.9 billion. In 2023, BNEF received applications from 348 companies in 42 countries.
Challenge 1 — Accelerating the deployment of clean hydrogen: The winners of this challenge are developing electrolyzer technologies for the production of hydrogen (SunGreenH2's electrode technology and H2Pro's electrochemical and thermally active electrolysis) and equipment that can run on hydrogen (Mainspring Energy's linear generator).
Challenge 2 — Sustainable metals and materials for an electrified future: The winners of our metals challenge are developing novel methods of extracting metals (Jetti Resources' catalyst for recovering copper from stranded ore), recycling batteries (Li-Cycle's hydrometallury process) and metals processing (Nth Cycle's electroextraction process).
Challenge 3 — Building a net-zero food production system: The winners of the agriculture challenge are developing ways to improve crop farming (Precision AI's drones for herbicide application), produce low-carbon proteins (MicroHarvest's microbial fermentation of proteins) and reduce emissions from animals (FutureFeed's seaweed feed ingredient).
Wildcards: The wildcards category is open to any climate-tech innovation outside of the challenges listed above. This year's winners are applying electrochemistry in novel ways in the cement (Sublime System's lime production process), steel (Electra's low-carbon ironmaking for steel) and carbon removal (Travertine's acid and base production) industries.
BloombergNEF (BNEF), Bloomberg's primary research service, covers clean energy, advanced transport, digital industry, innovative materials and commodities. BNEF helps corporate strategy, finance and policy professionals navigate change and generate opportunities. Explore more content on the BNEF blog. 
Use ESG data to help identify investment opportunities and risks