The Chicago Latino Network Announces National Diversity Council CEO, Ángeles Valenciano as 2022 Latinas Making Their Mark Honoree
The Chicago Latino Network Announces National Diversity Council CEO, Ángeles Valenciano as 2022 Latinas Making Their Mark Honoree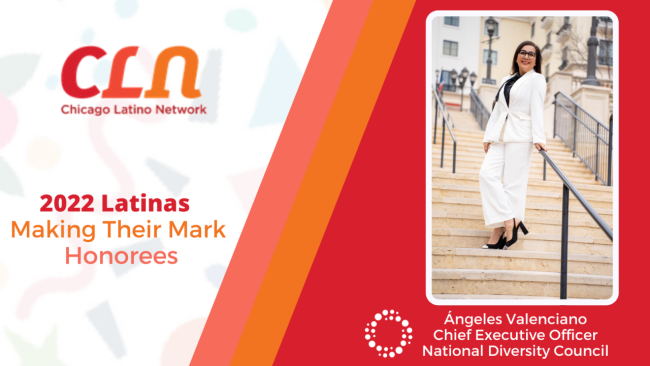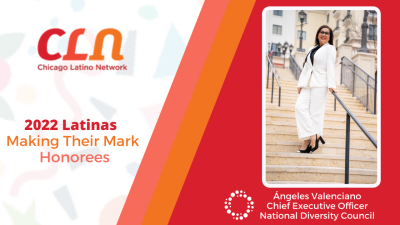 Friday, March 18, 2022 - 4:00pm
March 18, 2022 /3BL Media/ - The National Diversity Council's (NDC) chief executive officer, Ángeles Valenciano was named as one of the 2022 Latinas Making Their Mark Honorees by the Chicago Latino Network (CLN), an organization dedicated to connecting 80,000 Latino professionals and entrepreneurs to brands and opportunities. Valenciano will be honored with three other professionals at the "Latinas Making Their Mark" celebration on Thursday, March 24 at 6:00 p.m. at Grapes & Grains (858 W. Lake St. Chicago, IL).
"I am honored to be recognized as a Latinas Making Their Mark Honoree," said Ángeles Valenciano, CEO of the National Diversity Council. "I am deeply committed to continuing the work of diversity, equity and inclusion through the NDC's initiatives and being a prime example of a Latina CEO inspiring others to lead."
Valenciano has been pivotal in creating initiatives through the National Diversity Council that highlight Latino leaders and provide access to career, educational and professional development resources for Latinos across various industries.
One of the initiatives Valenciano is currently working on is the 7th Annual National Latino Leadership Conference that will be hosted from Tuesday, September 20 to Wednesday, September 21 from 10:00 a.m.-4:00 p.m. at the DoubleTree by Hilton Hotel Miami Airport & Convention Center (711 NW 72nd Avenue, Miami, FL 33126). The theme for the conference is "Defining Transformational Leadership: Latinos that Inspire, Motivate & Influence."
Registration is currently ongoing and can be completed at: https://clwe.org/programs-events/latino-leadership-conference/2022/. To learn more information about the event or sponsorship opportunities, please contact emily.pickett@nationaldiversitycouncil.org.
About the National Diversity Council
A non-profit organization committed to fostering a learning environment for organizations to grow in their knowledge of diversity. The council affords opportunities for organizations to share best practices and learn from top corporate leaders in the areas of diversity and inclusion. More information about the National Diversity Council is available at: www.nationaldiversitycouncil.org.
Media Contact:
Kamaria Monmouth
Sr. Communications Specialist
National Diversity Council
kamaria.monmouth@nationaldiversitycouncil.org
Phone: 713-409-5060
###