Chemours Details ESG Progress in 2021 Corporate Responsibility Commitment Report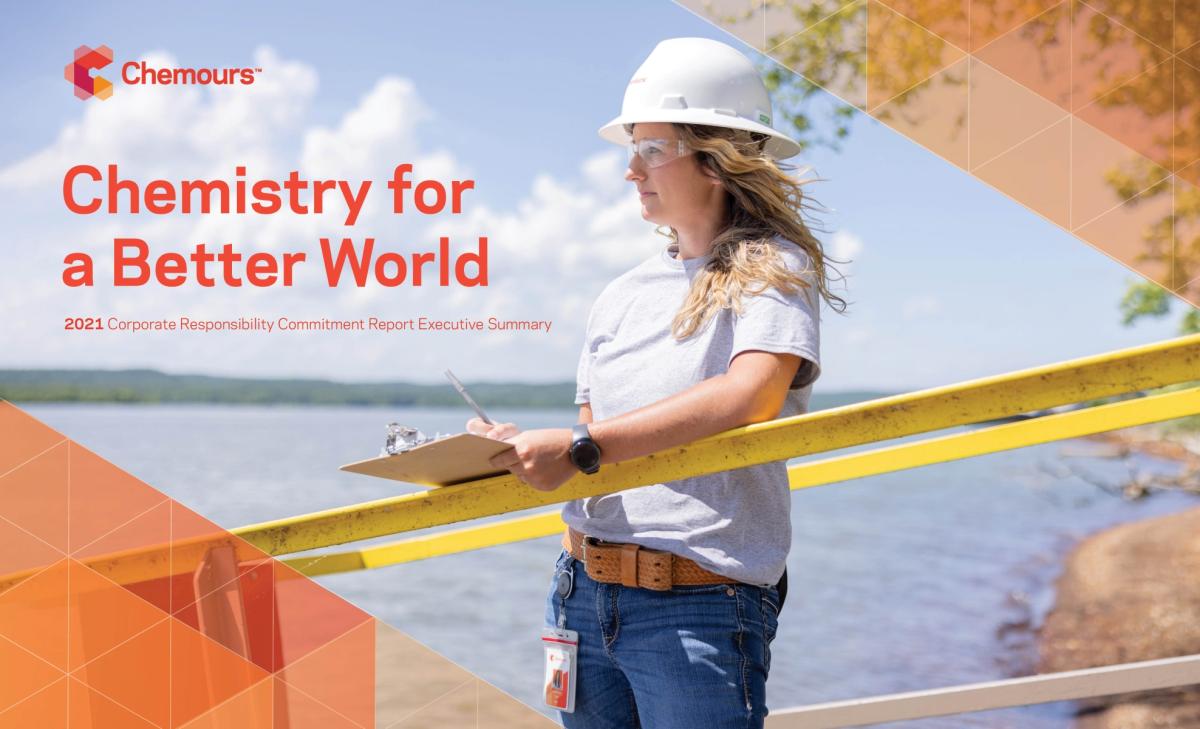 Chemours recently released its fifth annual Corporate Responsibility Commitment (CRC) Report, including updates on the company's ESG targets. The report comes as Chemours opens an exciting chapter rooted in the vision that, working together, we can create a better world through the power of chemistry. Showcasing the company's collective determination and commitment to making chemistry as responsible as it is essential, the report details the tremendous progress Chemours is delivering to meet its goals while making a meaningful impact on the planet.
"The world increasingly expects companies to provide essential products responsibly. At Chemours, we share those expectations, which is why sustainability, and our commitments to it, are embedded in everything we do," said Mark Newman, President and CEO of Chemours. "I'm proud of our team's progress and how we continue to demonstrate that our innovative products are vital to advancing the next generation of sustainable industries, from clean hydrogen energy to semiconductor chips to climate-friendly thermal solutions and much more."
Sheryl Telford, Chief Sustainability Officer at Chemours, added, "Sustainability at Chemours is an ethos practiced by all of our 6,400 collective entrepreneurs. We fully embrace the bold innovation, collaboration, and action needed today to solve some of the world's greatest challenges. Sustainability is part of our DNA, and we'll continue to push ourselves to do better and be better in everything that we do for the benefit of the environment and our global community."
Select report highlights from the company's 2021 operations include:
Made substantial progress toward achieving the company's goal to reduce air and water process emissions of fluorinated organic compounds by 99% or more by 2030, reaching a 40% global reduction since 2018.
Generated 47.2% of total 2021 revenue from offerings that make a specific contribution to the United Nation's Sustainable Development Goals (UN SDGs).
Achieved the company's sustainable supply chain goal, completing supplier corporate responsibility assessment evaluations for 81% of suppliers by spend, with 15% of suppliers improving their sustainability performance.
Furthered Chemours' commitment to energy and emissions reductions, joining the U.S. Department of Energy Better Climate Challenge with a commitment to reduce energy intensity by 17% and reduce GHG emissions by 50% within 10 years.
Reached the 30% milestone on the way to investing $50 million in local communities and launched a new global school partnership program, ChemFEST, to nurture the next generation of STEM professionals.
Refocused the company's gender parity goal, dedicated to filling 50% of all director-level positions and above with women by 2030 on the journey to achieving gender parity. For 2021, Chemours filled 33% of director-level and above positions and 23% of all positions with women.
Exceeded the 20% goal to fill all U.S. positions with ethnically diverse employees and set a new, more ambitious goal of filling 30% of all U.S. positions with ethnically diverse talent.
Made exciting progress in the first year of the Remove2Reclaim research project, which is developing a more sustainable process for recovering titanium dioxide and polymers from end-use plastic to help crack the code on effective plastic recycling.
Read Chemours' full 2021 Corporate Responsibility Commitment Report.
Investor Contacts:
Jonathan Lock
SVP, Chief Development Officer
+1.302.773.2263
investor@chemours.com
Kurt Bonner,
Manager, Investor Relations
+1.302.773.0026
investor@chemours.com
Media Contact:
Cassie Olszewski
Media Relations and Financial Communications Manager
+1.302.219.7140
media@chemours.com
About Chemours
The Chemours Company (NYSE: CC) is a global leader in Titanium Technologies, Thermal & Specialized Solutions, and Advanced Performance Materials, providing its customers with solutions in a wide range of industries with market-defining products, application expertise and chemistry-based innovations. We deliver customized solutions with a wide range of industrial and specialty chemicals products for markets, including coatings, plastics, refrigeration and air conditioning, transportation, semiconductor and consumer electronics, general industrial, and oil and gas. Our flagship products include prominent brands such as Ti-Pure™, Opteon™, Freon™, Teflon™, Viton™, Nafion™, and Krytox™. The company has approximately 6,400 employees and 29 manufacturing sites serving approximately 3,200 customers in approximately 120 countries. Chemours is headquartered in Wilmington, Delaware and is listed on the NYSE under the symbol CC.
For more information, we invite you to visit chemours.com or follow us on Twitter @Chemours and LinkedIn.