Chef Miranda Rosenfelt of Sally's Middle Name Wins DC Central Kitchen's Capital Food Fight
Signature fundraising event raises over $638,000 for local nonprofit's culinary training and anti-hunger programs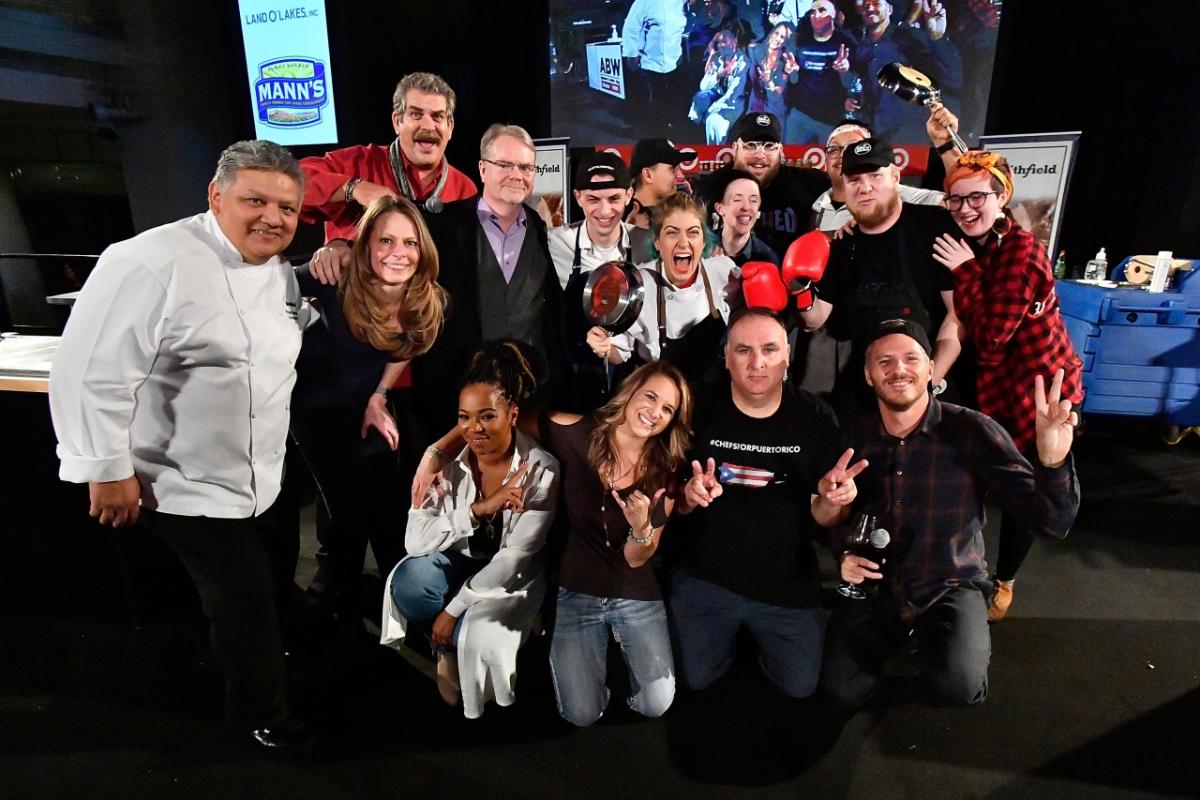 Keira Lombardo, senior vice president of corporate affairs for Smithfield Foods, and Chef Frank Dominguez, corporate chef for Smithfield Foods, join judges, hosts, and competing chefs onstage at DC Central Kitchen's Capital Food Fight on November 16, 2017 at the Ronald Reagan Building in Washington, DC.
Washington, D.C., November 17, 2017 /3BL Media/ – Chef Miranda Rosenfelt took home the top honor last night at DC Central Kitchen's signature fundraising event, Capital Food Fight, presented by Smithfield Foods. Local chefs Douglas Alexander of Art and Soul, Hamilton Johnson of Honeysuckle, Bobby Pradachith of Thip Khao, and Miranda Rosenfelt of Sally's Middle Name went head-to-head in a thrilling culinary battle. Nationally recognized celebrities Washington Nationals' Ryan Zimmerman, TV personality Adam Richman, political analyst Ana Navarro, and New York-based Chef Joseph "JJ" Johnson judged the competition, while event founder and chair José Andrés of ThinkFoodGroup and chef and restaurateur Spike Mendelsohn co-hosted the annual event alongside Food Network's Tregaye Fraser and Fanny Slater.
This year's Capital Food Fight brought together over 1,200 guests, 80 tasting restaurants, as well as cocktail mixologists and live on-stage entertainment at the Ronald Reagan Building. Battling chefs were asked to create dishes using secret ingredients from Smithfield PRIME Fresh Pork Boneless Loin presented by Smithfield Foods, broccolini presented by Mann's and Keany Produce, and salty hog oysters presented by Whole Foods.
"It's no secret that Smithfield Foods' wide range of products offers chefs at every level endless options to create memorable dishes," said Keira Lombardo, senior vice president of corporate affairs for Smithfield Foods. "Behind these products and across all our brands, several of which were featured at this event, is a shared commitment to fight hunger and help Americans become more food secure."
Several other new event features were added this year. Smithfield Foods decked out a Showcase room with food trucks offering an enticing and innovative tasting menu that highlighted three of the company's well-loved products – Smithfield® Hometown Original Bacon, Eckrich® Original Smoked Sausage, and Nathan's Famous® Beef Franks. Additionally, the event included a first-ever Capital Food Fight event app, which offered live updates about stage activity as well as information about participating restaurants.
The event raised over $638,000 for DC Central Kitchen, which earns 60 percent of its $13 million annual budget through social enterprise ventures that employ at-risk adults to serve healthy food in DC. The remaining 40 percent is secured through charitable fundraising like the Capital Food Fight. DC Central Kitchen serves more than 3 million meals to schools, homeless shelters, and partner nonprofits each year, and has won national recognition for the scratch-cooked, locally sourced meals it serves in DC schools. To get at root cause of hunger, the organization's Culinary Job Training program helps nearly 100 adult students trade incarceration, addiction, and homelessness for culinary careers each year.
For a full listing of all Capital Food Fight tasting restaurants, competitors, hosts and judges, please visit www.capitalfoodfight.org.  
About DC Central Kitchen
As the nation's first and leading community kitchen, DC Central Kitchen develops and operates social ventures targeting the cycle of hunger and poverty. The organization's life-changing ventures provide culinary training to jobless adults, turn wasted food into balanced meals for shelters and nonprofits, expand access to healthy food, and provide healthy, scratch-cooked meals in low-income schools. These efforts have been recognized with the leading national award for healthy school food innovation, The Golden Carrot; the Washington Business Journal's Green Business Award for Innovation; and the DC Chamber of Commerce's Community Impact Award. To learn more, visit www.dccentralkitchen.org or follow @dcck on Twitter.
About Smithfield Foods
Smithfield Foods is a $15 billion global food company and the world's largest pork processor and hog producer. In the United States, the company is also the leader in numerous packaged meats categories with popular brands including Smithfield®, Eckrich®, Nathan's Famous®, Farmland®, Armour®, John Morrell®, Cook's®, Kretschmar®, Gwaltney®, Curly's®, Margherita®, Carando®, Healthy Ones®, Krakus®, Morliny®, and Berlinki®. Smithfield Foods is committed to providing good food in a responsible way and maintains robust animal care, community involvement, employee safety, environmental and food safety and quality programs. For more information, visit www.smithfieldfoods.com.
###
Media Contacts:
Keira Lombardo for Smithfield Foods
(757) 365-3050
Erica Teti-Zilinskas for DC Central Kitchen
202-664-7949