CBRE 2021 Corporate Responsibility Report: Environment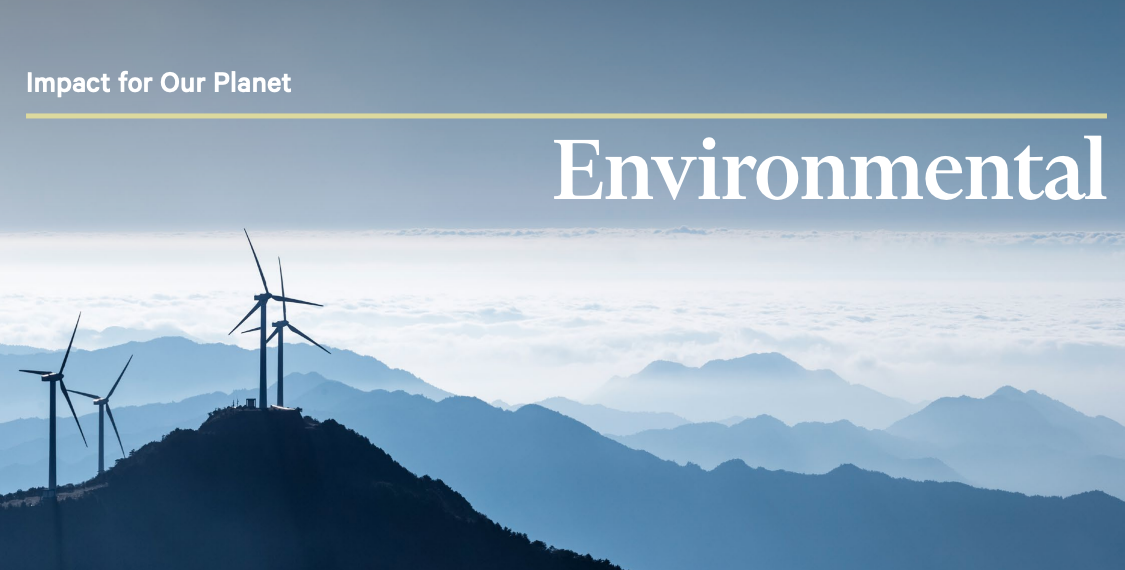 CBRE 2021 Corporate Responsibility Report: Environment
With buildings responsible for 40% of carbon emissions globally and our 7.1 billion square feet of managed property, CBRE has an outsized opportunity to help reduce greenhouse gas emissions through our own operations, services for our investor and occupier clients, and our entire value chain. 
We have set ambitious targets for the next two decades. 
In 2021, CBRE announced our commitment to achieve net-zero carbon emissions by 2040—10 years ahead of the goal set by the Paris Agreement. This builds on our science-based targets to reduce emissions from our own operations by 68% by 2035. As part of this commitment, CBRE signed The Climate Pledge, a cross-sector community of companies and organizations working together to address the climate crisis and solve the challenges of decarbonizing our economy and realize net zero carbon emissions by 2040.
Achieving our aspirations will include a continued focus on:
Emissions and Energy
CBRE has committed to achieving 100% renewable electricity by the end of 2025. In addition, we have committed to transitioning our service fleet to electric vehicles (EV) by 2035. In 2021, we ordered 300 EV vans and 10 EV trucks, representing replacement of over 10% of CBRE vans in the U.S. 
Strategic Partnerships​

Altus Power Our partnership offers integrated renewable energy transformation solutions for clients across North America.
Redaptive, Inc., an integrated energy efficiency solutions and energy financing firm for building owners and occupiers.
Advancing Net Zero
CBRE is a sponsor of the World Green Building Council's Advancing Net Zero program, which seeks to decarbonize the sector by 2050. We provide insights and expertise, contributing to the resources and knowledge sharing critical for advancing net-zero carbon buildings.
Workplace Strategy
By the end of 2021, we opened 100 Workplace360 offices worldwide, representing 49% of our global occupied space. These spaces follow an open format, free-address and paperless environment supported by leading-edge technology tools and platforms. In addition to energy savings, in 2021, we saved 314,483 pounds of CO2 through offices furnished using recycled content. 8 additional locations are already planned for 2022.
Resources and Recycling
CBRE's Digital & Technology and Procurement teams collaborate to support the company's sustainability efforts through the responsible recycling and disposal of technology equipment. For example, in the Americas Region in 2021, we sent approximately 15,000 end-of-life assets—including laptops, servers and monitors—to our asset recovery service. We saved more than 8.5 million kilowatt hours and more than 1,470 Metric Tons of CO2e. That amounts to reducing more than 1,300 passenger vehicles from the road for one year and more than 14,000 barrels of oil consumed. In addition, our vendor planted more than 100,000 tree seedlings that will sequester carbon for 10 years.
Energy & Sustainability Services
CBRE believes sustainability and environmental stewardship is core to real estate and facilities services, and we are rapidly developing new solutions globally that help clients meet their public commitments.
Our team includes more than 575 energy and sustainability experts and experienced professionals within our Advisory and GWS business segments.
We offer a breadth of services for GWS clients, including: GHG inventory management and analytics, decarbonization solutions, efficiency as a service (EaaS), smart buildings systems integration, energy demand management, energy procurement, green energy procurement, certification services, sustainability consulting, green leasing and more.
CBRE follows principles of cost-effective and environmentally conscious property management for all CBRE-managed buildings. The program minimizes property carbon emissions and operational impact through rewarded behaviors and encourages CBRE employees and service partners to advise and assist clients in making financially appropriate environmental decisions for their assets. In addition, we require property managers to register and benchmark office buildings using the EPA ENERGY STAR Portfolio Manager program.
During 2021, CBRE registered and benchmarked 5,941 buildings, representing more than 346.9 million sq. ft., in the ENERGY STAR program.
Sustainable Supplier Screening
We are committed to building a low-carbon supply chain, driving economic growth and uplifting communities while mitigating supply chain risks. 
We conduct supplier ESG screening because we have a responsibility to mitigate negative environmental and social impacts in our supply chain and require our suppliers to conduct their operations in an inclusive, socially responsible and environmentally sustainable manner. 
Globally, 91 CBRE offices totaling more than 3.36 million sq. ft. have been certified under LEED, BREEAM, WELL or Fitwel, representing approximately 53% of our occupied space.
Read the full CBRE 2021 Corporate Responsibility Report