Case Study: Reporting as a Means to an End – Sustainable Development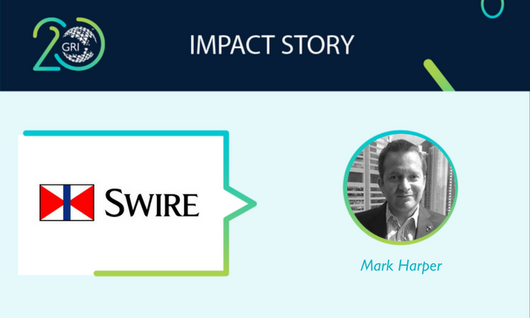 We talked to Mark Harper, Sustainable Development Manager at Swire Pacific, about the challenges and benefits a conglomerate faces with their reporting process.​
Mark Harper: We operate in changing and complex markets. For Swire to succeed in creating long term value, sustainable development needs to be a strategic imperative. We leverage our sustainable development reports to improve stakeholder engagement and to better respond to stakeholder concerns, including emerging issues and risks. Over the past nine years, the Sustainable Development report has been prepared as a management statement for analysts, auditors, and non-governmental organisations. Reporting not only serves as a way to achieve transparency, but also enables us to gauge our progress towards our goals. We have always viewed sustainability reporting as a means to an end, and not an end in itself.
Swire is giant holding company. What kind of reporting challenges are you faced with, given the breadth of activities and the number of companies that make up Swire Pacific?
 
Swire Pacific is the Swire Group's publicly traded arm. It is a highly diversified global business group, with business interests spanning five divisions (Property, Aviation, Beverages, Marine Services, and Trading and Industrial) and major shareholdings in three Hong Kong listed companies: Swire Properties, Cathay Pacific Airways and HAECO. The GRI approach to reporting has been adopted across our group, with over 20 reports being produced by our companies in 2016. At the parent company level, this diversity makes the adoption of a sector based approach to reporting very difficult. To this day, there is a lack of clear reporting guidance for diversified conglomerates and holding companies, particularly in relation to materiality assessment and boundary setting. Across Asia, diversified conglomerates dominate the economy. If global reporting frameworks wish to be truly global in their approach and reach, it is vital that they provide specific guidance to businesses such as ours.
For a sustainability report to be relevant to its audience, it should concentrate on the most important topics for the company. How does Swire define its material topics?
 
Across the Swire Group, we identify topics that reflect the impact that our business has inside and outside the organization for each of our operating companies. As a rule, we use the materiality assessment process outlined by GRI, although the exact nature of process will vary slightly with each operating company. At the holding company level, material issues are identified through the use of our enterprise risk management system and stakeholder engagement.  We use an enterprise risk management framework, according to occurrence likelihood and impact severity, for internal risk identification and evaluation. Stakeholder engagement enables us to understand the priorities and expectations of our stakeholders and their views on our sustainability performance. The material impact of each of our divisions is distinct, therefore within the parent company report we highlight the areas where our divisions have a significant material impact on the overall group performance.
With such a massive workforce, taking care of employees is obviously an important sustainability issue for Swire. What are some of the challenges you face in this context and how has reporting helped make a difference?
 
The diversity of our business means our labor force works under differing environments and in jurisdictions with varied safety cultures. It is therefore important to ensure consistent safety and sustainability messages are communicated at different levels and different companies throughout the group. Sustainability reporting provides a means for the Head Office to set the sustainability agenda and strategy to convince our stakeholders, including the labor force, of the common corporate goals which have been set. This form of reporting helps to cohesively communicate group sustainability performance across the range of diverse industries in which we operate. It allows management to set clear and stretching objectives for the businesses and the focus on safety, as communicated via relevant metrics and KPIs, helps the workforce to clearly understand the strong focus and support for this fundamental component of our overall sustainability work. We use lag indicators such as lost time injuries for this purpose, but are also increasingly adopting leading indicators, among others, to drive continuous improvement.
 
Swire recently joined the GRI GOLD Community. What do you expect to get out of the membership?
 
The standardised approach to reporting, and the common language that the GRI framework provides, allows us to compare our performance and management of key issues with our peers. As a company, we have a commitment to strive for best in class in everything we do, and reporting using the GRI framework has been and continues to represent best practice for sustainability disclosures. We hope that the GOLD membership puts Swire at the heart of the community shaping the future of sustainability reporting, and will provide us the opportunity to gain a better understanding of best reporting practices across the globe.
With the GRI Sustainability Reporting Standards, companies are able to unlock the transformative power of transparency, while contributing to the common sustainability agenda and reaping the benefits of increased stakeholder trust. Join Swire and hundreds of other organizations in the effort to create a sustainable global economy – become a GRI GOLD Community member today!​​