Case Study: GUESS Jeans Taking Leaps in CSR Reporting to Create Positive Impacts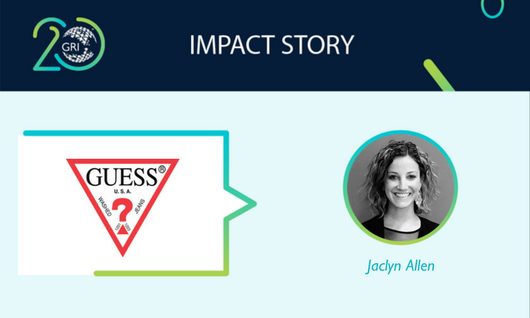 GUESS Jeans recently began reporting using the GRI framework. We spoke with Jaclyn Allen, Senior Sustainability Manager at GUESS?, Inc., who told us how the Los Angeles-based clothing brand and retailer is benefiting from sustainability reporting.
Sustainability reporting ensures that our organization holds itself accountable for non-financial metrics that enhance our business and ability to create positive impacts for our world and our brand. It provides an additional lens through which we can measure performance, namely related to environmental, social and governance issues. Increasingly this type of disclosure is becoming intertwined with our core business. 
At GRI, we are often asked about what motivates companies to begin reporting. Can you tell us about the events that led you to begin sustainability reporting?
The first GUESS Sustainability report, published in 2015, was the result of a shareholder resolution from an investor activist. We are proud that we responded to this directive and have found significant value in taking on reporting as part of the business. While the shareholders may have initially prompted our decision to publish a sustainability report, we have advanced reporting beyond their requirements. We assured the data in our report to be externally verified by an independent third party – an uncommon endeavor in our industry. We have also established ambitious goals on topics such as greenhouse gas emissions reduction, water stewardship and extended product life, and are committed to the education of our employees and our customers to help accelerate and strengthen our efforts. We have come a long way in a short period of time, and aim to go even further. 
As our CEO Victor Herrero says, "Corporate Social Responsibility is not an option – it is a corporate imperative that is consistent with the values of GUESS?, Inc. The way we make our garments is part of our brand value, and protecting workers and conserving the environment are investments in our future. By understanding and prioritizing our social and environmental impacts, we create a stronger brand that will continue to be a worldwide leader in the fashion industry."
As a relatively new reporter, what are some of the challenges you faced and lessons you have learned during this initial period of reporting? And how has GUESS benefited from using the GRI framework?
Our departmental reporting cycles and systems were not originally designed for non-financial disclosure. At times, it was difficult and time consuming to align globally, as well as to answer to the GRI reporting requirements, which can be extensive.
With numerous stakeholders and seemingly endless challenges related to the environment and to people, the GRI framework helps create a credible, methodological and defensible approach to determining priority focus areas. Additionally, robust stakeholder engagement is a fundamental part of the GRI sustainability reporting process. This helps us to focus on the issues we can most influence to create a positive impact.
Our sustainability materiality assessment process and reporting system were created to address GRI's requirements. This has ensured our preparedness for stakeholder inquiries and our ability to fulfil the growing regulatory requirements on issues related to the environment and human rights.
 
Sustainability impacts throughout the supply chain are a major concern in the clothing industry. How is reporting helping GUESS address sustainability risks in its supply chain?
We have a strong social compliance program focused on business partnerships, education and remediation. However, after assessing our social compliance program data according to GRI recommendations, and being the first in our industry to present data with such transparency, we realized that our current approach does not necessarily improve the overall conditions for workers in our supply chain. Thus, one of our goals related to social responsibility is to positively impact workers' lives through local civil society partnerships. For example, we are now working on a pilot project in China to empower workers with a grievance hotline that will contribute to a better working environment.
 
With the GRI Sustainability Reporting Standards, companies are able to unlock the transformative power of transparency, while contributing to the common sustainability agenda and reaping the benefits of increased stakeholder trust. Join GUESS and hundreds of other organizations in the effort to create a sustainable global economy – become a GRI GOLD Community member today!​