Bringing Light to People Across the World
Teachers like Joseph Alter, and their students, are supplying energy to countries without access to electricity, thanks to We Share Solar® Suitcases and support from Wells Fargo.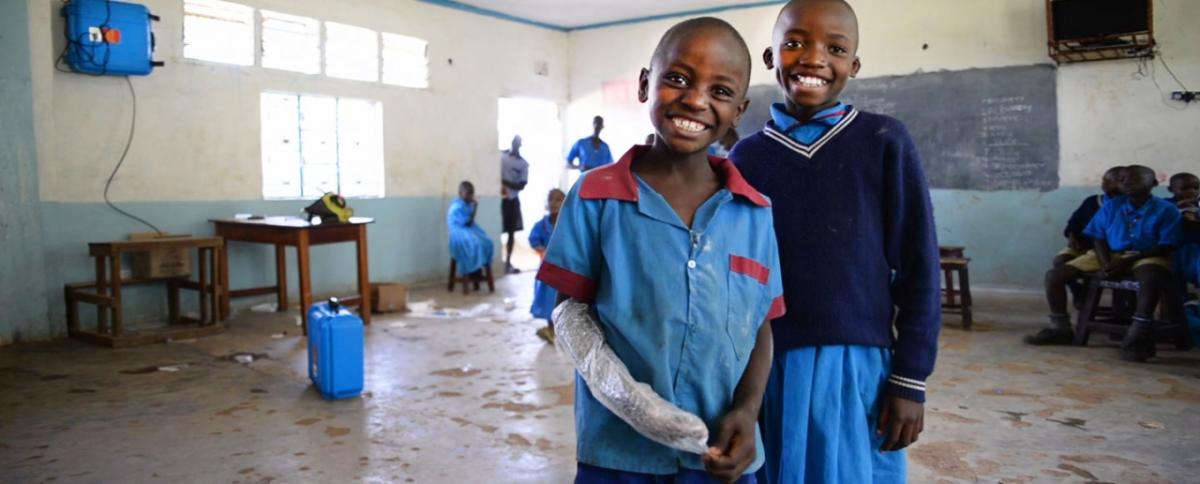 Students at the Kakamega School for the Deaf in Kakamega, Kenya.
Bringing Light to People Across the World
Hilltop Special Services Center teacher Joseph Alter was looking for hands-on learning activities for his high school students in San Francisco when a colleague told him about We Share Solar. Now his students will help provide energy to people in other countries who don't have access to electricity — and they are discovering new career opportunities.
"Knowing there is a greater good behind this helps to enlighten the students' perspective on life," Alter said. "They are a part of a global community they can impact. The solar curriculum allows them to see a future beyond their local community and have an experience that transcends typical curriculum."
We Care Solar is a nonprofit that provides solar energy systems to power medical lighting, mobile communication, and medical devices for health facilities in areas without reliable electricity. We Share Solar® is the nonprofit's education program that trains middle school, high school, and college educators to teach their students how to build We Share Solar Suitcases — stand-alone solar systems that help power schools and community centers in energy-poor regions of the world.
Wells Fargo has awarded a four-year, $2 million grant to support We Care Solar and its We Share Solar program. In addition, Wells Fargo supported workshops in London and Toronto in 2016 where team members based there worked with students and teachers to build 25 total Solar Suitcases, many of which were sent to provide light and power at Kakamega School for the Deaf in Kakamega, Kenya.
"A lot of teachers don't have resources to teach in a hands-on way like this," said Wendy Cross, program manager for We Share Solar. "To be able to provide that — because of Wells Fargo — is so meaningful."
A four-year program was launched in 2017 to plan and fund STEM education programs like these in other cities across the U.S. — including a February kickoff event in San Francisco where about 30 Wells Fargo team member volunteers built lighting systems for the Solar Suitcases.
Inspiring students to be 'change-makers'
In July, 16 teachers, including Alter, from 13 schools in the San Francisco Bay Area attended a two-day workshop where they built Solar Suitcases and learned how to bring the curriculum to their classrooms. They were joined by eight Wells Fargo team member volunteers. The curriculum included designing and making the Solar Suitcases and learning about renewable energy and global energy poverty. "Working with the equipment really allowed us to get a better sense of what we could do with our students," Alter said.
Alter, who teaches multimedia and career and technology education to pregnant and parenting teenagers, has incorporated the curriculum into multiple classes, covering everything from circuits, to careers in the energy industry, to 3-D printing. "In all of my classes, there is a component where I introduced the students to career opportunities," he said. "I think, 'Wow!' when I ponder on the possibility of these young women being introduced to possible careers in electronics. This experience has convinced the young women that this is a new opportunity for them."
Once the students build the Solar Suitcases, their teachers send them to We Share Solar's factory, where quality checks are conducted before they reach energy-poor communities in Kenya or Uganda. "The We Share program provides education in so many ways," Cross said. "It's inspiring students on this side of the world through hands-on education, and it lights ups the lives of youth in places that receive the suitcases. Through making a global connection, it is motivating students to be change-makers in the world. It really gets students here engaged internationally. They're able to provide something we take for granted here — like light to study by — for others across the world."
Alter has seen the impact of making a global connection in his classes. "I really enjoy that this is a global activity," he said. "My students are excited that the Solar Suitcases are sent to Kenya and Uganda. A lot of students who have never seen beyond their city are able to tap into other parts of the world."