Brightening Our Corner Newsletter - September 2021
Brightening Our Corner Newsletter - September 2021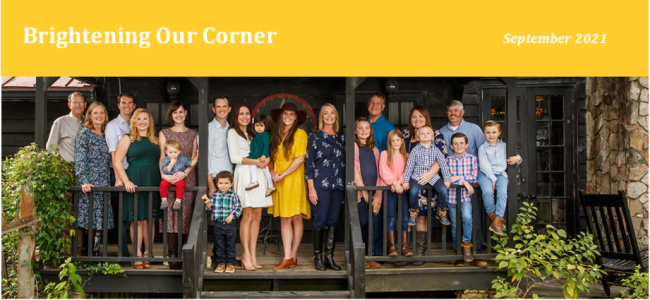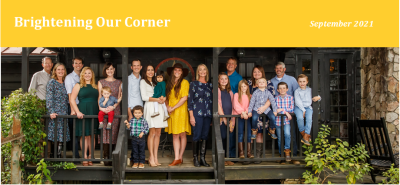 Thursday, September 9, 2021 - 9:30am
Updates from the Biomimicry Institute:
Spider-inspired silk company, Spintex, awarded $100,000 Ray of Hope Prize®
In June, The Biomimicry Institute and the Ray C. Anderson Foundation awarded the 2021 Ray of Hope Prize to  Spintex Engineering. Spintex is a University of Oxford spinout company that manufactures biodegradable textile fibers for use in fashion and high-performance material applications. As the 2021 Ray of Hope Prize recipient, Spintex has been awarded $100,000 in support of their groundbreaking work.
The Prize, created in honor of  Ray C. Anderson, is awarded each year to the world's top nature-inspired startup after finalist teams conclude a 10-week accelerator program. This year, Spintex and nine other participating companies were selected from a pool of 301 applicants from 49 countries. The 10 finalist teams learned about sustainable business practices, met with industry and startup mentors, and refined their scientific communication skills.
The $25,000 runner-up is Aquammodate, a Swedish company that is creating water filtration systems, inspired by diatoms and aquaporin proteins. Their energy-efficient and selective technology produces high purity grade water in a single filter pass, desalination at any scale, and removes industrial pollutants and contaminants such as arsenic, microplastics, and pharmaceutical residues.
Spiders Reveal Solution for Textiles: Turning Liquid Into Thread
Spintex Engineering is the 2021 winner of the $100,000 Ray of Hope Prize. Watch the Video.
Hope in Action - Learning from Nature to Solve Big Problems
Planet Earth and the plants and animals that have existed here for billions of years have been through numerous periods of changing climate, but there have only been 5 mass extinction events throughout the planet's history. Humans appear to be causing a 6th such event, which begs the question — how did we get to this point in which human ingenuity is causing planetary-scale problems, rather than benefiting the plants and animals we share our home with?
The world needs solutions to systemic, human caused-problems. Fortunately, nature (humans included!) has evolved and adapted strategies to many, if not all, of these problems. Click here to see innovation videos from all nine of the 2021 Ray of Hope Prize finalist teams.
Youth Design Challenge is Open for Registrations
Calling all middle and high school educators! The Youth Design Challenge (YDC) is open for registration for the 2021-22 program cycle. Register here.
The YDC serves as a bridge from core concepts to advanced project-focused learning for students. The YDC equips learners with the tools they need to solve the world's pressing problems using the teachings of nature. It provides a framework for educators of all types to introduce biomimicry as a lens for exploration and problem solving — within and beyond the classroom.
Updates from the Ray C. Anderson Center for Sustainable Business:
Announcing the Winner of the 2021 Carbon Reduction Challenge!
In the 2021 Carbon Reduction Challenge, organized by the Center and the Global Change Program, summer interns from Georgia Tech and other local colleges and universities stepped up to propose ways to reduce carbon emissions and costs at their places of employment. First prize ($2,000) was awarded to Suhas Yalamarti, a Georgia Tech business administration major, for his project at ABEC, a leader in manufacturing for the biopharmaceutical industry. Suhas, a supply chain intern, researched and proposed a carbon-conscious method of procuring bubble wrap used to package disposable bags for Custom Single Run® bioreactors. The specialty wrap is produced in very few locations around the world. ABEC has been using air freight to ship the product from the vendor to its site in Fermoy, Ireland. Through his research, Suhas identified an alternate vendor in the U.S. that could ship the product via ocean freight. The transition from air to ocean freight comes with an annual savings of 11,200 lbs. of CO2 and $3,700. Congratulations, Suhas!
Vivian Nora Lukens Memorial Scholarship
The Center and the Georgia Tech Scheller College of Business selected Brigit Joyce as the 2021 recipient of the Vivian Nora Lukens Memorial Scholarship. Brigit is pursuing a business administration major with a marketing concentration. A Fall 2020 special topics course on sustainable marketing piqued her interest in learning more about "doing well by doing good." She said, "From a marketing perspective, I hope I can help to spread the message that sustainability is worthwhile." Read the full story.
Spotlight on Naveed Ahmad (MBA '19)
As an MBA student at Georgia Tech, Naveed took an active role in many campus sustainability offerings. Now, as advisor of Operational Planning and Customer Service at Southern California Edison (SCE), he applies what he learned to his role as president of SCE's sustainability business resource group, EcoIQ. In an interview with Katherine Huded (MBA '20), Naveed discusses his career journey and why utility companies are ground zero for making all companies more sustainable. Read the full interview.
Affiliated Faculty Recognized for Sustainability Research
In April, the National Science Foundation awarded a grant for a project, "Sustainable Supply Chains via Data-Driven Risk Analytics," with Basak Kalkanci as sole principal investigator. In June, Morvarid Rahmani, Karthik Ramachandran, and Beril Toktay, and their former PhD student collaborators, were recognized for their research at the Institute for Operations Research and the Management Sciences (INFORMS) Manufacturing and Service Operations Management (MSOM) Conference. Read more about the NSF grant and the MSOM recognition.
News from The Ray:
The Ray leads on road safety with the expansion of 'Connected' Highway
Over the last five years, the private sector has invested over $150 billion in connected, autonomous and electric mobility. This growing investment comes in response to the nation's largest vehicle manufacturers announcing plans for fully electric fleets, the realization that most new vehicles in 2025 will be "connected vehicles," and the unacceptably high number of deadly crashes on our roads.
The Ray, GDOT, and Panasonic have been leading on this highway safety technology in Georgia with the implementation of our "Connected" Highway project. Read the full story.
The Ray Advances Model for Innovation to South Carolina
The Ray has expanded the demonstration of expertise in sustainable transportation and smart infrastructure development to South Carolina through their newest partnership with South Carolina's Center of Resilience Excellence (CORE SC). The team will utilize the model they have built on The Ray Highway in Georgia to pioneer smart infrastructure solutions alongside CORE SC that will advance safety and mobility for South Carolinians.
The Ray Selects Laura Rogers as New Deputy Director
The Ray announced last month that Laura Rogers will fill the new Deputy Director leadership role for the organization. Laura joined The Ray in May 2020 as Director of Strategic Partnerships. Over the past year, she led the growth of the group's project outreach and provided technical assistance and facilitation to 13 states outside of Georgia, partnering formally and informally with more than 20 transportation organizations at the local, regional and state levels.
The Ray is Hiring Interns
Open positions include:
GIS Specialist Internship
Communications Internship
Technology Evaluation Internship
Landscape Lab Internship
Click here to learn more and apply.
Updates from Drawdown Georgia:
Drawdown Georgia, our roadmap for Georgia's most viable climate solutions, continues to build community and help us all keep our finger on the pulse of what's happening statewide. In the wake of the recent IPCC report, we reported on Dr. Katharine Wilkinson's answers to the question, "What can I do about climate change?", and covered the potential positive impacts of the infrastructure bill on mass transit in Georgia. And in our ongoing series of interviews with climate solvers in Georgia, we feature a recent conversation below with sixth generation farmer and conservationist, Casey Cox, aptly titled "Mother Nature is my Business Partner."
Sign up for the Drawdown Georgia biweekly newsletter.
Explore the Drawdown Georgia Events Calendar.
"Mother Nature is my Business Partner."  Blair Beasley, director of climate strategies, interviews Casey Cox, Georgia farmer, and member of the Drawdown Georgia Leadership Council. Watch the video.
Ecocentricity Blog: One Good Deed
When we decide not to purchase an item we would otherwise want, or when we choose an option that has a long lifespan rather than being disposable in the short or medium term, multiple good things happen.
A good friend of mine asked me a question about two months ago, and I still haven't given her an answer. At that moment, I responded, "That's a great question. I'll need to think about it." Which I have done, off and on. It's a tricky question though, because it can't easily be answered with data, though it does have a quantitative aspect to it. It also has a social science angle relating to human behavior and all of its unpredictabilities. Then there is the fact that answering the question necessitates an "apples to oranges" values judgment. See? It's complicated.
Here is her question - What is the one environmental thing a person can do that will help the most?  Read the full blog.
Upcoming Events:
Chattahoochee Riverkeeper Patron Dinner - 9/16/2021
Building a Better World: Women and Climate Justice - 9/23/2021 - 9/25/2021
Global Climate Action Symposium - 9/27/2021 - 9/29/2021
Biophilic Leadership Summit - 10/10/2021 - 10/13/2021
Southface Visionary Dinner - 10/21/2021 
Subscribe here to receive our quarterly newsletter via email.
Past Editions:
Brightening Our Corner Newsletter - May 2021
Brightening Our Corner Newsletter - February 2021
Brightening Our Corrner Newsletter - November 2020