Brightening Our Corner Newsletter - November 2020
Brightening Our Corner Newsletter - November 2020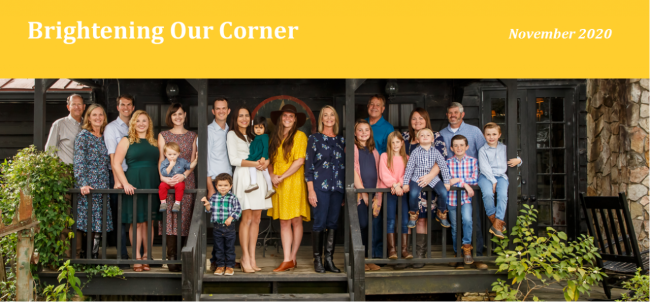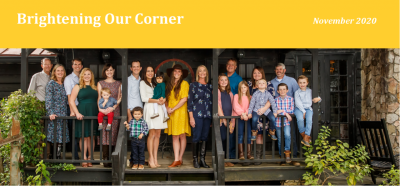 Summary
Ray Anderson always said "Brighten the corner where you are." His foundation still has lots of stories to share in their quarterly newsletter.
Monday, November 23, 2020 - 1:45pm
Drawdown Georgia Has Launched
Drawdown Georgia officially launched on October 17, with a week of celebration and conversation that brought communities across Georgia to the table to talk about how we can accelerate climate solutions that will bring us to Drawdown, that point in the future when emissions begin to decline. The kick off event was complete with a signature cocktail from mixologist Tiffanie Barriere (The Drinking Coach), performances by two young musicians from Atlanta Music Project, and a keynote from Nathaniel Smith of the Partnership for Southern Equity rounding out the night.  Read the full story.
Drawdown Georgia Names Leadership Council Co-Chairs
Launched last month, Drawdown Georgia -- the first state-centered effort to crowdsolve for climate change, announced the formation of a Leadership Council. Chaired by Jasmine Crowe, founder and CEO of Goodr, Inc., Roy Richards, Jr., chairman of the board for Southwire, and Nathaniel Smith, founder and chief equity officer of Partnership for Southern Equity, the Drawdown Georgia Leadership Council will help guide and advance the effort to scale the 20 climate solutions identified as having the most potential to reverse climate change in Georgia in coming years. Read the full story.
Seeking Top Nature-Inspired Startups for the $100,000 Ray of Hope Prize
Applications are now open for the 2021 Ray of Hope Prize®, organized by the Biomimicry Institute in partnership with the Ray C. Anderson Foundation. This $100,000 Prize is awarded annually to the top nature-inspired startup, and applications are due December 4, 2020. Click here for more details.
Biomimicry Brain Boosts
Each month, the Biomimicry Institute is now offering you and your family more tools and resources to find hope and connection through nature-inspired activities during the COVID pandemic and beyond. Parents who are now taking on new roles with instructing their children at home will surely find these to be helpful. The Brain Boosts are a series of reflections, activities and resources tailored to further connection with nature with "students" of all ages. They will come in the form of quotes, videos, podcasts, educational resources, iSites, AskNature strategy pages, and more. Learn more here.
Biomimicry Youth Design Challenge
The Biomimicry Youth Design Challenge (YDC) is a hands-on, project-based learning experience that provides classroom and informal educators with an engaging framework to  introduce bio-inspired design and an interdisciplinary lens on science, engineering, and environmental literacy. It gives middle and high school students a unique STEM  experience and empowers them to envision solutions to social and environmental challenges. Watch the video, and click here for more information.
The Ray Leads the Way in Right-of-Way Solar
In 2019, The Ray, in partnership with Georgia Department of Transportation (GDOT) and Georgia Power, launched the Southeast's first right-of-way (ROW) solar project. This technology not only harnesses the power of clean renewable energy, it provides better use for open ROW at interstate exits and utilizes the ground under solar panels for pollinator-friendly, wildflower habitat. While we often strive for the triple bottom line, pollinator-friendly ROW solar projects can simultaneously deliver benefits to three different sectors: transportation, energy and agriculture.
Now, to advance more of these projects, The Ray has partnered with the Webber Energy Group at the University of Texas, Austin to create the nation's first-ever roadside solar mapping tool! Read the full story.
Give Back to The Ray
Giving Tuesday is the one day of the year Georgians make time to recognize the organizations that are making a difference in our communities and support their work to impact our world. This year it will be held on December 1. This is the perfect opportunity to give back and be a part of our partnership with The Ray to create a zero waste, zero carbon, zero death highway system.
The Ray is a proving ground for a safer, sustainable, more resilient and reliable transportation sector, and a leader in the mission to reduce Georgia's carbon impact. Let's help The Ray reach their $20,000 goal! No matter how big or small, your contribution matters - and it makes a difference.
Don't worry about waiting until December 1 to give your gift! Check this one off your list. Donate to The Ray TODAY.
Thanks for Helping Us CelebRAYte Ray's Legacy
As they say, when one door closes, another one opens. Knowing that we couldn't celebrate the legacy of Ray Anderson in person this year, our Foundation did it virtually for 13 weeks. In lieu of RayDay, we held a CelebRAYtion! We hope that many of you engaged with all of the great social media content that we shared along with 13 of our closest partner organizations that are advancing environmental sustainability. Our gratitude goes out to these organizations for walking this path with us.
As part of the CelebRAYtion, we pledged up to $5,000 of matching grant funds to each of our 13 partner organizations. This is a challenging year, and the support of foundations and the public alike is critically important. We were thrilled to see that across these organizations, a total of $40,220 was raised against our matches. And don't worry – even for those who didn't raise the full $5,000, we still gave them our full grant.
The grand total raised during CelebRAYtion was $105,220.
Interested in exhibiting at RayDay 2021? Fill out this interest form.
Want to reserve your free tickets for RayDay 2021? Click here.
Updates from the Ray C. Anderson Center
2019-20 Annual Report
Despite the challenges faced during the last academic year, the Center is proud of the many ways in which their faculty, staff, students, and partners have contributed to creating a world in which businesses and communities can prosper. In the 2019-20 Annual Report (their first ever), you will read news of their achievements and meet the people committed to helping the Center reach its goals. Read the Annual Report.
Pathway to Carbon Neutrality Unveiled During Drawdown Georgia Launch Week
What will it take for the state of Georgia to reach a point of carbon neutrality? How can the state work towards this goal in an equitable way? These questions were at the heart of a research component of the Drawdown Georgia initiative, which began in the summer of 2019. Scholars, researchers, and scientists from Georgia Tech, Emory University, Georgia State University, and University of Georgia analyzed data to determine which climate solutions have the greatest carbon reduction potential in our state. They applied an additional "beyond carbon" lens to the solutions—assessing what scaling climate solutions means for communities, equity, inclusive economic development, public health, and non-carbon-related aspects of the natural environment. Read the full story.
Ecocentricity Blog: Lists of Ten
I have no idea if an anthropologist would agree, but I'm convinced that humans make lists of ten because we just so happened to evolve with ten fingers. If we'd had four fingers on each hand, I bet we would make lists of eight, and our entire system of mathematics might be based on increments of eight too. Fun fact – that would be called an octal numeral system.
Okay, fine, that fact wasn't so much fun. But you know what is fun? Those lists of ten. They're fun to read, and they're fun to make. So much fun that I decided to make my top ten list of the top ten lists from The Top Tens, a website dedicated entirely to top ten lists. And yes, before you ask, that last sentence was grammatically correct. Here we go:
10) The top ten funniest stand-up comedians – my quibble is that Mitch Hedberg didn't make the cut, but it's a good list;
9) The top ten greatest continents on Earth (past and present) – I just love that someone put effort into such an unimportant topic;
8) The top ten famous people who have been knighted – who knew that Bill Gates received an honorary knighthood?!?!;
Upcoming Events
Georgia Climate Conference 2021 - 4/28-29, 2021
RayDay - 10/17/2021  - 3:00 - 6:00 p.m.
Watch and Listen
"Coffee and Something Stronger" - 3-Part Series on Drawdown GA
Marilyn Brown's interview with Codi Norred
Marshall Shepherd's interview with Codi Norred 
John Lanier's interview with Codi Norred
Biomimicry Fireside Chats
 
"The Nature of Fashion: Moving Towards a Regenerative Model."
"A Conversation on Uprooting Racism & Creating Systemic Change in STEM"
Inaugural Biomimicry Fireside Chat with Janine Benyus and Azita Ardakani
The Ray
 
Allie Kelly, of The Ray during National Clean Energy Week
Ray C. Anderson Foundation
 
Contact
Ray C. Anderson Foundation