Brightening Our Corner Newsletter - May 2022
Quarterly Newsletter of the Ray C. Anderson Foundation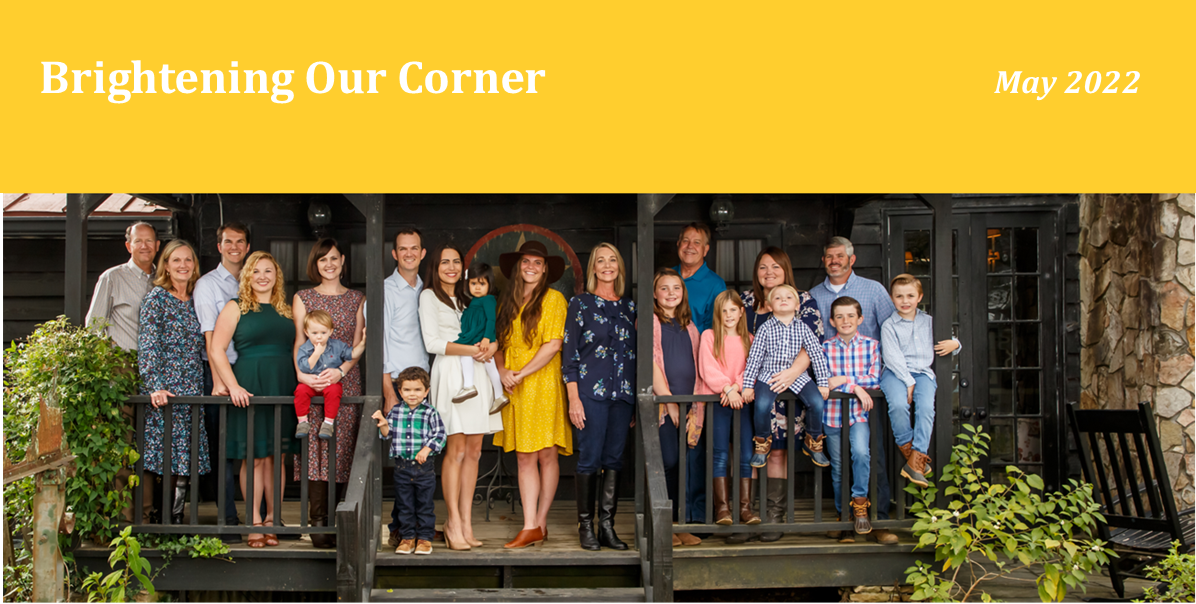 Ray C. Anderson Foundation's Brightening Our Corner Newsletter - May 2022
Updates from the Ray C. Anderson Center for Sustainable Business
Alumna Profile: For Unwana Etuk, Sustainability is a (Literal) Journey
Marching band enthusiasts, rejoice! Unwanna Etuk (BS INTA '19), partnership coordinator and research analyst at The Ray, credits band with kicking off her sustainability journey. Unwanna shares how she translated the leadership skills acquired as a drum major into an early career in sustainability-focused roles. She now applies her passion for building a better world to her work at a living laboratory for sustainable highways—the 18-mile stretch of I-85 known as "The Ray." Read the interview.
Georgia Leaders Discuss the Business of Climate Solutions
In March, Georgia Tech President Ángel Cabrera and Delta Air Lines CEO Ed Bastian discussed how businesses can make positive changes to address urgent issues such as climate change. The conversation, "The Business of Climate Solutions, Local to Global," was moderated by SaportaReport editor Maria Saporta and CNN national correspondent Nick Valencia. The event was part of the Atlanta Press Club's Newsmaker Leadership Series and produced in partnership with the Drawdown Georgia Business Compact. Read the article.
The Time is Now: A Reflection on ClimateCAP 2022
Akihiro Manda, a student in the Full-time MBA Program, and four of his Scheller peers attended ClimateCAP, a global MBA summit on climate, capital, and business. In a reflection on the conference, Akihiro writes, "The world is switching gears to challenge climate change collectively – and that shift presents a multi-trillion-dollar business opportunity. This development should excite not only sustainability enthusiasts but also any individuals who want to be the vanguard of a global transition to sustainable business." Read the reflection.
Looking for more ways to stay connected to the Center? You can follow the Center on Instagram and LinkedIn!
RayDay
RayDay is Coming Back
RayDay will return on Sunday, October 16, 2022 at Serenbe. Details will be provided on the RayDay page. Individual registrations will begin in July. Watch the RayDay Promo Video.
Updates from the Ray C. Anderson Center for Sustainable Business
From a Meme to a Movement: 25 Years of Biomimicry
The Biomimicry Institute hosted a Biomimicry Fireside Chat with special guest Janine Benyus in conversation with Lex Amore on Friday, May 20th. Twenty five years after Janine popularized the term and wrote the seminal book Biomimicry: Innovation Inspired by Nature, we are able to look at the far-reaching effects the movement has had around the globe. Find your place where you belong and watch the recorded event to pay tribute to the natural world, celebrate life's ingenuity, find hopeful pathways forward, and honor others.
Ray of Hope Prize®
Entries closed for the 2022 Ray of Hope Prize on April 29th with 212 applications from 54 different countries. It's going to be a tough year for the judges! The Foundation team is excited to see so much interest and growth in the Prize, as well as the Biomimicry Launchpad. We are also pleased to welcome Sarah McInerney and Dave Hutchins to the Biomimicry team, managing the Ray of Hope Prize and the Launchpad.
Summer Offerings for Youth and Educators
Virtual High School Summer Camp - High school students will enjoy a week of deep learning on how biomimetic design is practiced. The theme for Summer 2022 is "AIR": join us for a virtual, biology-to-design expedition as we learn about the organisms that share our air while discovering the genius of nature. Dates are June 13-17, 2022, 9:00 a.m. - 12:00 p.m. PDT. Register Here.
Biomimicry Summer Summit - High school teachers and university professors are encouraged to attend for practical, up-to-date information on how biomimicry can be introduced into their fall 2022 courses. Learn more.
Updates from The Ray
Circularity in Transportation Panel hosted by The Ray with Pirelli Tire, Novelis and Cox Automotive
The Ray hosted a virtual panel to discuss the industry's most innovative circular economy solutions in transportation with representatives from Georgia's leading organizations in the industry: Pirelli Tire, Novelis and Cox Automotive during Earth Month 2022. Watch the video here.
V2X on The Ray Highway Demo Day
Georgia Department of Transportation (GDOT), The Ray, Kia Georgia and Panasonic recently held a press conference to demonstrate the benefits of a connected vehicle (CV) technology in action in a real-world environment.
VIPs and journalists had the chance to ride along with experts in a CV on The Ray Highway, an 18-mile section of I-85 in Southwest Georgia, near the Alabama border. Watch the video here.
Ecocentricity Blog by John A. Lanier
Janine Benyus's most influential book turns 25 years old this week. I share some reflections on its importance, and I encourage you to join in celebrating it!
I remember exactly when and where I received my copy of Biomimicry. It was June of 2013, and I'd been working for the foundation for just one month. That was pretty good timing, because there was a biomimicry conference scheduled in Boston, and Janine Benyus was a prominent part of that event. I'm fairly sure that was the first business trip I ever took for my current job. Read the blog.
Updates from Drawdown Georgia
Equity as a Compass for Taking Action on Climate Change
In a recent conversation at The Carter Center, Nathaniel Smith, co-chair of the Drawdown Georgia Leadership Council and chief equity officer of the Partnership for Southern Equity, and John A. Lanier, executive director of the Ray C. Anderson Foundation, unpacked how the initiative centers Beyond Carbon considerations like equity and public health at the heart of the movement, not as ideas that would simply be "nice to have." They were also joined by Rev. Dr. Gerald Durley, a lifelong advocate for civil rights and environmental justice and Dr. Na'Taki Osborne Jelks, an assistant professor of environmental and health sciences at Spelman College and a Drawdown Georgia Leadership Council member.
Drawdown Georgia understands the importance of ensuring there are seats at the table for all stakeholders and supporting conversations about climate issues as civil rights issues. That's why the movement is building bridges for a "leader-full" movement using Drawdown's framework as a mentor and guide. Take a deep dive into this conversation by reading the transcript and viewing the video recording of this important conversation.
Marilyn Brown Tapped as First Woman to Receive Class of 1934 Distinguished Professor Award at Georgia Tech
Marilyn Brown is a world-leading expert on renewable energy and energy efficiency, a transformative intellectual thinker, and one of the founders of the field of energy and climate policy.
Brown leads the research program for Drawdown Georgia, which she helped to create with the inspiration and funding of the Ray C. Anderson Foundation.
What Climate Solutions Work Best in Georgia?
Watch this video and hear from various stakeholders who are already involved in the Drawdown Georgia movement. The Ray C. Anderson Foundation is just one of many organizations that are engaged in the goal of reducing Georgia's carbon impact by at least a third by 2030.
Upcoming Events
June 11, 2022 - Chattahoochee Riverkeeper Wild & Scenic Film Festival
June 23, 2022 - Southface's Summer Solstice
August 19, 2022 - Carbon Reduction Challenge
October 3-5, 2022 - SEEA Southeast Energy Summit
October 13, 2022 - Chattahoochee Riverkeeper Patron Celebration
October 16, 2022 - RayDay
Ongoing - Drawdown Georgia Events Calendar
Past Issues of our Newsletter:
Brightening Our Corner Newsletter - March 2022
Brightening Our Corner Newsletter - December 2021