Bridgestone Wins the Mercedes-Benz Environmental Responsibility Award
Bridgestone Wins the Mercedes-Benz Environmental Responsibility Award
The award-winning Reused Water project reinforces the company's commitment to value natural resources.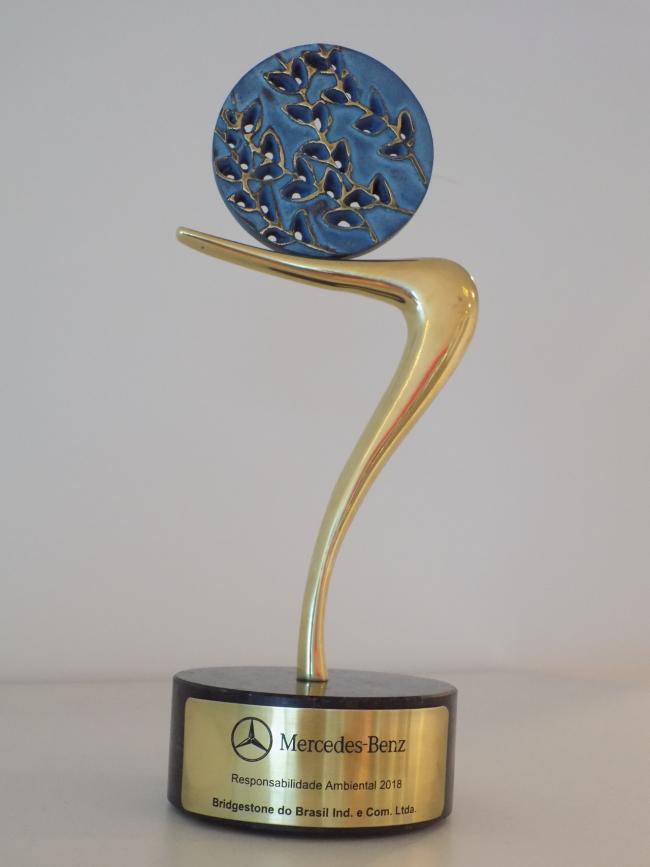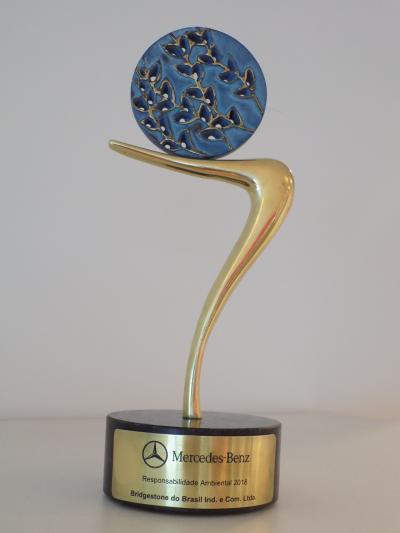 Thursday, October 24, 2019 - 12:10pm
SAO PAULO, October 24, 2019 /3BL Media/ – Bridgestone, the world's largest tire manufacturer, received the Mercedes-Benz Environmental Responsibility Award for the implementation of the Reused Water Project. The announcement of the winners took place on October 15, at an awards ceremony held in São Paulo. 
The Reused Water Project was developed by Bridgestone at the Santo André (SP) plant and focuses on reducing the consumption of industrial water from artesian wells in the production of tires through reused water, thus contributing to the preservation of natural resources. Currently, 65% of the water used in the plant for the production process is reused. 
"This initiative is an important part of our global commitment to social responsibility, Our Way to Serve, which has as one of its Priority Areas the Environment, with the implementation of projects that aim to contribute to an increasingly sustainable society", says Lino Beltrami, industrial director of Bridgestone's Santo André plant. 
The project is also in line with Goal 6 of the UN Sustainable Development Goals (SDGs), which aims to ensure the availability and management of water and sanitation for all, also meeting Goals 6.2 and 6.3 which aim to achieve access to adequate and equitable sanitation and hygiene for all and to improve water quality by 2030, respectively.
Created in 2010, the Mercedes-Benz Environmental Responsibility Award aims to stimulate, disseminate and honor annually the sustainable environmental development implemented in its suppliers and its dealer network, recognizing those who adopt good environmental practices in order to promote the environmental commitment.
###
About Bridgestone do Brasil (BSBR)
Headquartered in Tokyo (Japan), Bridgestone is the world's largest tire and rubber company (according to a survey conducted by Tire Business - Global Tire Company Rankings, based on tire sales in 2016). In addition to tires for use in a wide variety of applications, Bridgestone also operates in the segments of pneumatic springs; chemical products for civil construction applications such as waterproofing materials; industrial rubber; and sporting goods, among others. Its products are sold in more than 150 countries around the world.
Bridgestone do Brasil is a subsidiary of Bridgestone Americas Tire Operations Latin America (BATO LA), which in turn is a subsidiary of Bridgestone Americas, Inc., (BSAM) based in Nashville, Tennessee. BSBR has two tire plants in Santo André (SP) and Camaçari (BA), and two tread plants in Campinas (SP) and Mafra (SC). The company owns the Bridgestone and Firestone brands of tires for passenger vehicles, pick-ups, trucks and buses, tractors and off-road, and industrial vehicles, and Bandag for treads. The company serves the Brazilian replacement, which covers the whole network of resellers, and original equipment, formed by the vehicle assembler industries, in addition to exporting to South and Central Americas, the Caribbean, Mexico and the United States.
Access the digital platforms of Consumption (passenger cars or pick-up trucks) on the websites http://www.bridgestone.com.br/ and http://www.firestone.com.br/) and Commercial (trucks and buses, off-road, agricultural and industrial) at the addresses www.bridgestonecomercial.com.br and www.firestonecomercial.com.br Learn more at www.bridgestone.com.br
Bridgestone
Josiene Santana
santanajosiene@la-bridgestone.com
Tel: +55 11 4433-1639
Máquina Cohn & Wolfe
Igor Taborda
igor.taborda@maquinacohnwolfe.com
Tel: +55 11 4433-1021/ +55 11 98539-7761
Thiago Salles
thiago.salles@maquinacohnwolfe.com
Tel: +55 11 3147-7426