Bloomberg's Commitment to SDG 12: Responsible Production & Consumption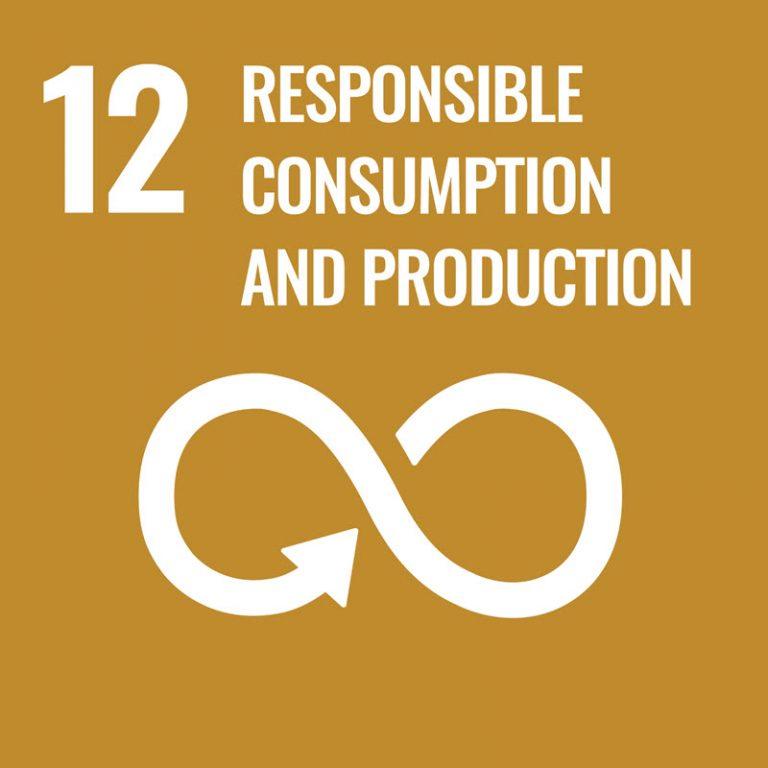 Bloomberg's commitment to SDG 12: Responsible production & consumption
Originally posted on bloomberg.com.
Most of the products we consume daily are produced in a non-sustainable way. They require fossil fuels, resulting in greenhouse gas emissions and chemicals that create waste, posing biohazard. Inefficiencies in supply chains result in further emissions and waste. Once the goods reach consumers, there is even more waste, like edible food that gets thrown away or electronics that should be but are not recycled.
One of the 17 United Nations Sustainable Development Goals (SDGs) specifically addresses these issues and aims to "Ensure sustainable consumption and production patterns." Bloomberg contributes to this SDG through our internal goals for sustainable operations, our growing suite of Bloomberg's ESG products and services, and our efforts to strengthen market-driven action on climate through leadership on a number of global initiatives.
SDG 12 includes eleven targets. In this piece, we are specifically focusing on the following two:
5: By 2030, substantially reduce waste generation through prevention, reduction, recycling and reuse
6: Encourage companies, especially large and transnational companies, to adopt sustainable practices and to integrate sustainability information into their reporting cycle
Reducing waste generation and increasing waste diversion
Aggressive recycling, waste-to-energy utilization in our New York City and London offices, and composting programs in key offices globally have driven our waste-reduction and waste diversion success to date. Our ultimate goal is to reduce the waste we send to landfill to zero and we will continue to seek out and implement new waste-reduction strategies to help us reduce our reliance on single-use items and eliminate items in our operations that cannot be reused, recycled or composted.
In 2020, Bloomberg generated 816 metric tonnes of landfill waste and diverted 76 percent of total waste away from landfills. This 31.4 percent reduction in landfill waste from 2019 is due in part to low occupancy in our facilities during the Covid-19 pandemic, tempered by the health and safety measures we implemented to protect essential staff and employees who returned to our offices throughout the year.
This year, as more employees return to the office, we are implementing updated waste signage to ensure we are disposing of our waste properly. We also continue to encourage our employees to reuse items where applicable, through programs like Fill it Forward, launched right before global COVID-19 lockdowns began in 2020. Additionally, we are evaluating the materials used throughout our operations and looking to use more sustainable and durable materials where possible, specifically in our employee food pantries and our packaging throughout our supply chain.
Adopting sustainable practices and integrating sustainability information
Bloomberg is a trusted and reliable source for environmental, social & governance (ESG) data, which includes company-reported data for more than 400 environmental metrics, including energy use, carbon emissions, waste, and water management. Bloomberg's environmental data on company performance and proprietary and third-party ESG scores can help investors and companies better evaluate assets and report on environmental performance. The Bloomberg Climate Transition Scores for example provide users with accessible insights into a company's climate preparedness compared to its peers.
Our research and analysis by Bloomberg Intelligence (BI) and BloombergNEF (BNEF) help our clients gain actionable insights from ESG data to identify material ESG issues by industry and inform strategic decisions. Bloomberg's News and Media divisions provide extensive content on ESG across multiple platforms, including a dedicated editorial brand focused on climate solutions—Bloomberg Green—and bespoke events that bring forward-thinking business leaders and climate innovators together to advance the conversation and share best practices.
To empower businesses to take action, Bloomberg is also leading efforts—including chairing the Task Force on Climate-related Financial Disclosures (TCFD) and the Climate Finance Leadership Initiative (CFLI)—to increase market transparency on climate disclosures and accelerate a smooth transition to a low-carbon economy.
As a longtime advocate for improving the quality and usefulness of corporate sustainability disclosures, Bloomberg continues to expand our suite of ESG-related solutions to meet a broad range of stakeholder needs. We are working on strengthening market-driven action on climate, and we are determined to walk the talk within our own operations to reduce our environmental impact. We share an update on our progress against these goals in our annual Impact Report and supplemental GRI Content Index (GRI 301: Materials and GRI 306: Effluents and Waste).
Learn more about how Bloomberg's sustainability efforts in our annual Impact Report