Bloomberg Continues Progress Towards Net Zero Emissions by 2025, According to Annual Impact Report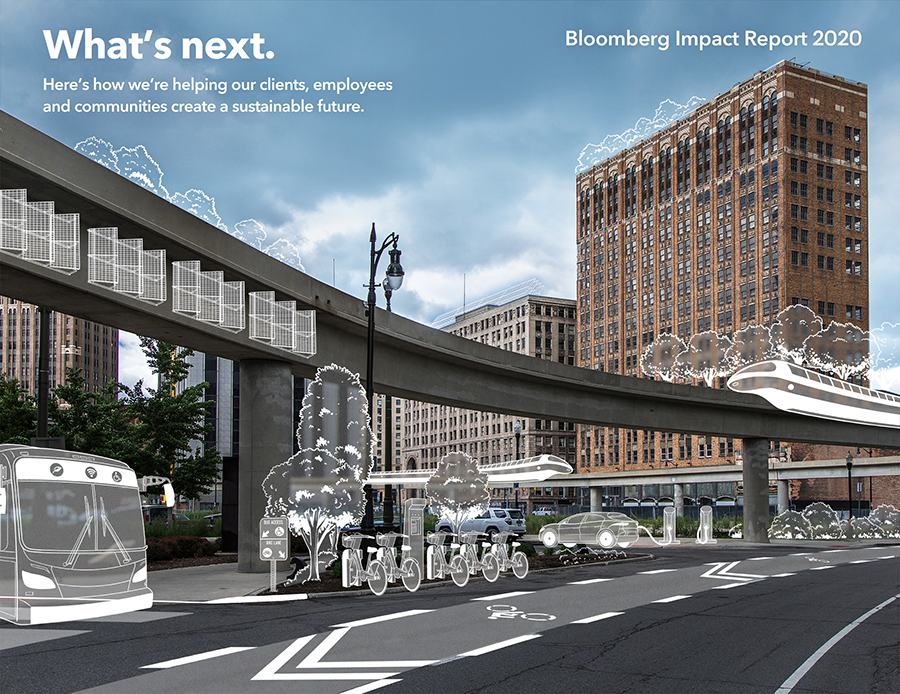 Ambitious Emissions Reduction Targets Officially Validated by the Science Based Targets Initiative
Bloomberg Leading Efforts to Mobilize the Markets to Fight Climate Change and Bring Transparency to Climate Risk Data
Bloomberg LP continues to make progress towards its commitment to net-zero emissions by 2025, according to the company's 2020 Impact Report. As a member of the UN's Race to Zero campaign, Bloomberg's ambitious emissions reduction targets are now officially validated by the Science Based Targets initiative (SBTi), the leading global body that assesses the scientifically soundness of private sector climate action.  In 2020 Bloomberg also refreshed its materiality assessment and strategy, which is now aligned with the UN Sustainable Development Goals (SDGs).
The Impact Report outlines how Bloomberg is leading efforts to mobilize markets to fight climate change and bring transparency to climate risk data to better understand how climate can impact businesses and economies. Given the global ramifications of the COVID-19 pandemic, the report in particular illustrates Bloomberg's support for communities and businesses in need throughout the pandemic.
"Despite the enormous challenges of the COVID-19 pandemic, the world is well-positioned to take great steps forward in the fight against climate change," said Michael R. Bloomberg, founder of Bloomberg LP and Bloomberg Philanthropies. "The year ahead can set the stage for a decade of transformational change – but only if we act boldly and urgently. Bloomberg is determined to help lead the way, and this report outlines the progress we're making." Read his letter here.
Highlights from the 2020 Impact Report include:
Environmental Impact
Reduce our emissions in line with a 1.5°C future
Bloomberg joined the Race to Zero by committing to reach net zero carbon emissions by 2025. This effort will be achieved through procurement of renewable energy, aggressive emissions reductions and investments in projects that generate sufficient carbon credits to offset the remaining operational emissions that we cannot eliminate.
Additionally, Bloomberg signed up to the Business Ambition for 1.5°C campaign and has set a science-based emissions reduction targets by 2030, which are in line with required global emissions reductions necessary to limit global temperature rise to 1.5 degrees Celsius.
In 2020 Bloomberg received 50% of its electricity from renewable sources, halfway to our RE100 goal of 100% by 2025.
Support coherent, impactful climate action
Bloomberg continued its leadership in driving forward the work of the Task Force on Climate-related Financial Disclosures (TCFD). The TCFD recommendations have been gaining continuous support as demand for consistent and comparable climate-related financial information and disclosures have gained momentum. As of April 2021, nearly 2,000 organizations supported the TCFD's recommendations.
Bloomberg launched its Climate Transition Scores for 39 companies in the oil and gas sector. BloombergNEF also expanded its energy transition research and analysis to over 3,600 research reports.
Bloomberg offers environmental, social and governance (ESG) data on 11,700+ companies in 100+ countries, with more than 10 years of history. In 2020, Bloomberg increased the ESG data fields tracked on the Terminal by 23% and launched the Bloomberg Environmental & Social Scores for 560 companies in 4 industries.
Bloomberg Editorial & Research significantly increased its ESG and climate change reporting and together with Bloomberg Media launched a new multi-platform brand, Bloomberg Green.
Social Impact
Invest in our people
Bloomberg invests in data-driven initiatives to increase diversity and inclusion. In 2020, Bloomberg established a D&I sourcing team in the U.S. to actively recruit and nurture diverse talent, launched an online D&I learning center to give employees access to core curriculum modules on disability, gender and cultural inclusion in the workplace, and expanded its mandatory inclusion training to all employees.
Bloomberg harnesses the skills and resources of its employees through its Corporate Philanthropy program to create lasting impact. In 2020, 15,750+ employees from 118 cities volunteered, donated or participated in Best of Bloomberg employee engagement programs.
Drive change on critical social issues
Bloomberg significantly expanded its social data (i.e. on race, gender, ethnicity) available on the Terminal for more transparency on companies' diversity, including the addition of EEO-1[1] data and a 17% year over year growth of companies included in the 2021 Gender-Equality Index.
Increased representation of people of color, women and other marginalized communities across our media platforms around the world through programs like New Voices, providing media training for female and black executives.
The Impact Report is third party verified, is in accordance with the GRI (Global Reporting Initiative) and SASB (Sustainability Accounting Standards Board) frameworks, and integrates the recommendations of the Task Force on Climate-related Financial Disclosures (TCFD). The 2020 Impact Report can be viewed and downloaded at www.bloomberg.com/impact, along with the GRI Content Index and SASB Disclosures.
Contact
Veronika Henze
Bloomberg LP
+1-646-324-1596
About Bloomberg LP
Bloomberg LP, the global business and financial information and news leader, gives influential decision makers a critical edge by connecting them to a dynamic network of information, people and ideas. The company's strength – delivering data, news and analytics through innovative technology, quickly and accurately – is at the core of the Bloomberg Terminal. Bloomberg's enterprise solutions build on the company's core strength: leveraging technology to allow customers to access, integrate, distribute and manage data and information across organizations more efficiently and effectively. For more information, visit Bloomberg.com/company or request a demo.
Follow Bloomberg and The Terminal on Twitter and on LinkedIn.
###
[1] Mandatory reporting on gender and race/ethnicity of a company's workforce submitted to the U.S. Equal Employment Opportunity Commission