2022 BIER Stakeholder Spotlight: Dan Bena
2022 BIER Stakeholder Spotlight: Dan Bena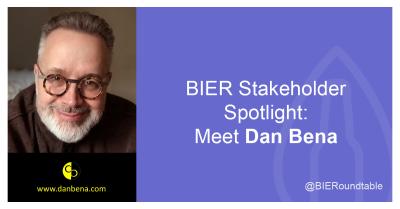 Thursday, July 21, 2022 - 3:35pm
Name: Dan Bena, CEO | ESG Executive | Coach & Mentor | Water Steward | Writer | Board Member | Hon. Professor | Trustee
Company: DanBena.com
Connect with Dan on LinkedIn and Twitter
Check out Dan's latest book, Book 500 Words, or less: true stories of purpose, passion, and life lessons
Discover Dan's causes and organizations
Welcome to our series aimed at spotlighting the individual leaders within BIER member companies and stakeholder organizations. Learn how these practitioners and their companies are addressing pressing challenges around water, energy, agriculture, climate change, and what inspires each of them to advance environmental sustainability in the beverage sector and collectively, overall.
Briefly describe your role and responsibilities and how long you have worked with your organization.
Nothing brief about the answer to that! I started my own purpose and ESG consultancy when I left PepsiCo four years ago, I'm blessed to be an Honorary Professor for Glasgow Caledonian University and Trustee of its New York College, and I am fortunate to serve on the Boards for several terrific non-profits. But I think most pertinent for this chat is that I've been a Senior Consultant for Antea Group for the past two years, the organization that has facilitated BIER from the very beginning. In addition to providing c-suite purpose and ESG insights to clients, I also Chair their new Strategic Advisory Board, a phenomenal and diverse group of leaders with expertise in their fields.
How has the organization's sustainability initiatives evolved over the years and what are your priorities for 2022?
Antea Group is a couple of decades old, with the parent company based in The Netherlands. I work specifically for Antea Group USA, so my answer is in that context. For those who might not be familiar, Antea Group has a terrific reputation thanks to its strong technical foundation in Environment, Health, and Safety services. Over the years, we've successfully added sustainability to that suite of services and expertise, too. Most recently, which is a clear priority for this year, we've begun to amplify the ESG Advisory Services that we provide. Now, I know you're thinking that ESG covers a ton of ground, and you're right, so we are being very thoughtful and intentional about building upon that strong technical foundation we've established over decades, and applying it to the absolutely explosive interest in ESG.
What continues to amaze me is the depth and breadth of the top-notch expertise we have in-house at Antea Group, but also across the global network of partners that Antea Group helped to establish and facilitate, called the Inogen Alliance. I mean, it represents about 5,000 consultants with completed projects in over 150 countries. My gosh…that is an exciting reservoir of skills and expertise! Very exciting road ahead.
Learn more about Dan Bena in this BIER Stakeholder Spotlight.