Balancing Modern Power: The Convergence of Natural Gas and the Electric Market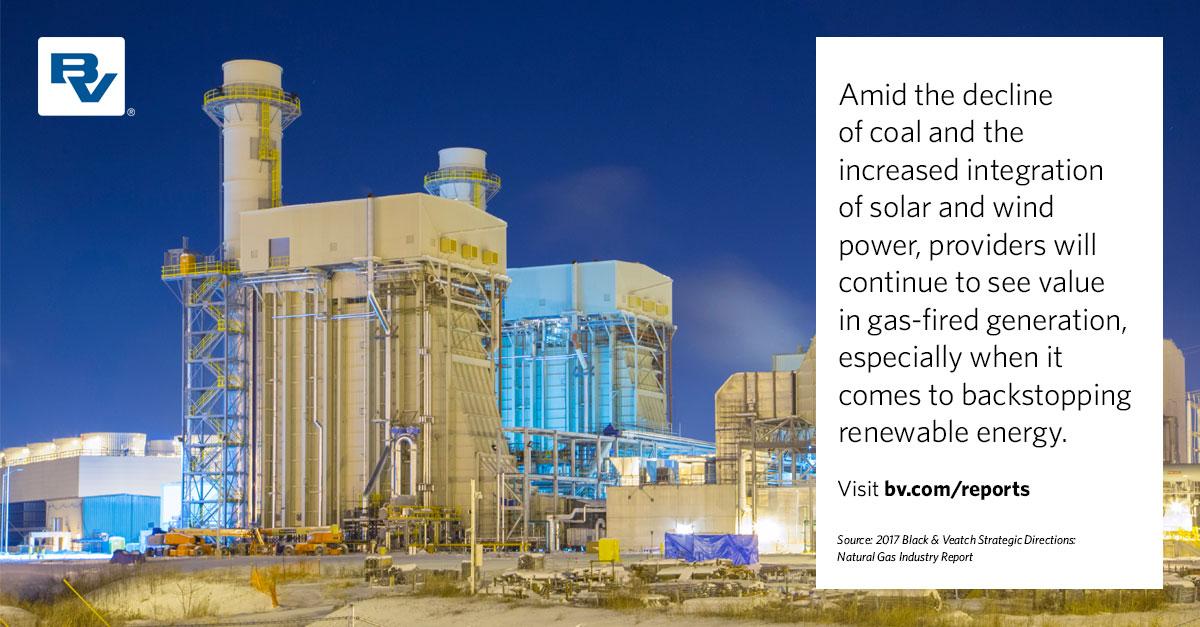 Balancing Modern Power: The Convergence of Natural Gas and the Electric Market
One might think the proliferation of renewables would spell the demise of natural gas, but market leaders know that gas-fired generation will continue to play an important role even as an influx of renewable energy reshapes the American power landscape.
Download the 2017 Natural Gas Industry Report
Clean-burning, cost-effective and reliable — the benefits of natural gas are undeniable. Amid the decline of coal and the increased integration of solar and wind power, providers will continue to see value in gas-fired generation, especially when it comes to backstopping renewable energy.
Survey results support this view, with nearly one-third of respondents (27 percent) planning to balance new renewable energy with gas resources.
However, the data also show that a substantial chunk of the industry does not plan to significantly increase baseload generation over the next three to five years. Nearly half of respondents (45 percent) have no plans to install gas-fired generation. This isn't surprising; today's flat load growth and growing supply of renewable energy do not leave much demand for more natural gas baseload generation.
A Role in the Evolving Power Landscape
With reliability and responsiveness driving investment, cost-effective natural gas assets will continue to have a place in balancing the modern electric system.
Distributed generation (DG) tends to rely heavily on renewables — especially on the larger scale, where solar and wind power easily can be applied. But these power sources are notoriously intermittent; until energy storage becomes more robust and cost-effective, natural gas will be critical for filling the gaps.
We are even seeing advanced technologies such as microgrids rely on gas-fired generation as the primary integration for renewables. For example, there is a resurgence in the use of natural gasfired reciprocating internal combustion engines (RICE) for microgrids. Because RICE power is quickly available on demand and can run on clean, low-cost gas, it is often the microgrid selection to backstop DG.
As this trend grows, a stagnant marketplace will drive original equipment manufacturers (OEMs) to seek out new avenues of growth. RICE manufacturers are now making big moves to adapt their offerings, and even acquire complementary services, as they work to capture market share. Acquisitions, continued service expansions and more options on the technological side will take place as OEMs fight to claim market share and more players move into the market.
As this continues, OEMs can expect to encounter new challenges as they realign their business objectives and move into the renewable energy integration and engineering, procurement and construction spaces.
Continuing Uncertainty and a Need for Regulation
The survey pointed to uncertainty within the industry due to a rapidly evolving marketplace and a murky regulatory landscape. Respondents are struggling to understand what is going to become mainstream and where they should invest capital.
There are so many unknowns that Black & Veatch has been working directly with traditional utility clients to develop tailored solutions. The company's technology-agnostic stance and bigpicture mentality means that our professionals provide customized support, allowing clients from across the spectrum — from utilities to independent power producers to OEMs — to focus on what they do best.
Where will natural gas have a strong play as we continue to move forward into a world of renewable energy and microgrids?
Black & Veatch recently helped American Electric Power (AEP), Duke and Alliant by providing insight into technology trends, marketplace experience and collaborating in new business plays.
Understanding the Interplay of Microgrids
Another example of an industry challenge is understanding the addition, integration and implementation of microgrids. As discussions of the applicability of microgrids have increased, it is clear that the industry doesn't have a universal definition or overall understanding of their impact. Is a microgrid anything that can be islanded? Or is it something more?
There is a clear need to better define microgrids across the industry, which also would serve as the first step in modifying the regulations to allow traditional power generation providers to recover microgrid costs.
Regulations usually dictate who should pay for what, and what's legal to recover, but those regulations do not align with today's DG landscape. Regulations will help determine the path forward for natural gas as it continues to integrate with renewable energy and advanced technologies. In short, the regulations need to catch up; until that happens, uncertainty will continue to run roughshod over the industry.