Baker Hughes Presents- The Global Methane Pledge: Challenges and Opportunities for Emissions Management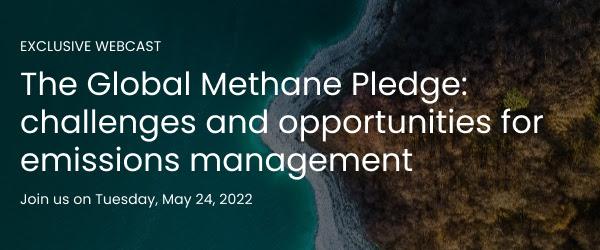 Date: Tuesday, May 24, 2022
Time: 02:00 PM British Summer Time
Duration: 1 hour
Late 2021 saw the US, EU and partners launch the Global Methane Pledge, an initiative to reduce global methane emissions with the objective of limiting warming to 1.5°C.
With clear intention for action in place, the focus is on developing effective emissions management strategies that deliver predictable outcomes - a road of both immense opportunity and challenge for operators and regulators alike.
In this session, Ben Linke, Vice President of Emissions Management at Baker Hughes, will lead a discussion with industry thought leaders and policy experts on the technology, partnerships and initiatives that are helping drive change and action across our industry.
Speakers
Fiji George | Senior Director, Climate & Sustainability, Cheniere Energy
Fiji George has more than 27 years of experience covering corporate climate and sustainability strategy, fundamental science, regulatory and policy experience along natural gas value chain- exploration/production, gas processing, transmission & storage, and liquified natural gas (LNG). His expertise focuses on researching and implementing sustainable solutions for prudent development and use of natural gas and LNG in a low-carbon economy, and integrating corporate environmental, social & governance (ESG) programs to support the energy transition.

Mr. George was a member of theNational Academies of Sciences, Engineering and Medicine committee that published a detailedstudy on methane emissions. He is a co-author on multiple peer-reviewed scientific papers, and the architect of the ONE Future Coalition voluntary methane program design. At Cheniere, he leads the development of corporate policies and positions on climate and sustainability issues, including integration of climate considerations into corporate strategies and novel energy transition business plans such as the Cargo Emissions (CE) Tag, Quantification Monitoring Reporting & Verification (QMRV), and Lifecycle Analysis (LCA).

Prior to Cheniere, held technical and management corporate positions at Southwestern Energy, Shell Exploration & Production Company and El Paso Corporation and also with the consulting firms of ENSR and ERM-West. He holds a master's in Civil (Environmental) Engineering from Texas A&M University and a bachelor's in Mining Engineering from Anna University, India.
Georges Tijbosch | Chief Executive Officer, MiQ
Georges Tijbosch is Chief Executive at MiQ, a not-for-profit climate tech foundation undertaking cutting-edge work to reduce methane emissions in the oil and gas sector.

Georges is the former Director of Origination at Centrica, where he managed the team responsible for Centrica's large gas and power transactions. These included strategic gas supply deals, the strategic acquisition of innovative power trader NEAS Trading, and European green certificate deals.

Before that, Georges was a director for ten years at London investment bank commodity trading desks. His previous positions include Director of Energy Sales at Goldman Sachs, Head of EMEA Energy Marketing at Bank of America Merrill Lynch, and Head of EMEA Commodity Finance at JP Morgan.

Georges began his career in 1996 at BP Benelux as Sales and Marketing Manager for fuels and lubricants, and joined BP's London trading floor in 2000 as Senior Marketer, Oil Derivatives. He holds a master's degree in chemical engineering from the Université Libre de Bruxelles, Belgium.
Louise Tricoire | VP Customer Line CO2, TotalEnergies
Louise Tricoire is VP Customer Line CO2 in the newly created OneTech Branch of TotalEnergies which gathers the 3.400 engineers, scientists and researchers of the Company.

Since 2019, she has been active in reducing the emissions of TotalEnergies' assets, at the heart of the Company strategy. She first created the CO2 Fighters Squad to make the best of Low Carbon Businesses developed in TotalEnergies Gas, Renewable and Power Branch, towards the decarbonization of our assets.

Since summer 2021, she has been heading the CO2 Customer Line, building up on all OneTech's technical expertise to accelerate the development and implementation of the best solutions to decarbonize our sites: energy efficiency, flaring reduction, methane emissions reduction, electrification with renewable energy, carbon capture and storage, which are all levers systematically considered to decarbonize TotalEnergies' assets.

Before this experience, she held various business and management positions in TotalEnergies, in the fields of LNG, Fuel marketing and other downstream marketing activities.

She lived & worked in numerous geographies including France, the America's and Caribbean, South Eastern Europe and India.

She started her career in 1997 as a consultant at PriceWaterhouseCoopers. Louise is a graduate of Centrale Paris' engineering school in France.
Ben Linke | Vice President, Emissions Management, Baker Hughes
Ben Linke is the Vice President of Emissions Management for Baker Hughes. In this role, Ben leads in helping the industrial and energy sectors better understand, control and reduce emissions.

Previously, Ben was Vice President for the Services & Offshore business within Baker Hughes' Oilfield Equipment product company. Responsible for P&L, operational and execution activity for subsea wellheads and premium connector and casings, Ben's remit also extended to installation and commissioning, life of field services and intervention services.

Ben also served as Global Operations Executive Director for Baker Hughes Subsea Services where he was responsible for installation and commissioning along with life of field operations globally. Prior to that, he was the Strategic & Operations Sourcing Director for GE Oil & Gas – Oilfield Equipment, where his remit included global procurement strategy, supplier relationships and logistics.

He also served as Executive Director for GE's Corporate Audit Staff with responsibilities for operational and strategic projects as well as financial and compliance audits across GE Oil & Gas, GE Latin America and GE Supply Chain. He spent over 5 years on various assignments and leadership roles across GE in the USA, UK, Italy, Brazil and elsewhere.

Ben joined GE's Financial Management Program in 2009, where he worked on assignments in GE Healthcare in Germany, Sweden and the USA. He joined GE in 2004.

Ben and his family reside in the United Kingdom. He is originally from Cologne, Germany and an International Management graduate from FHDW – Bergisch, Gladbach in Germany.
Wendy Lam | Product Director, Emissions Management, Baker Hughes
Wendy Lam is a product director for emissions management at Baker Hughes, a global energy technology company.

Her role includes oversight for emissions detection and measurement solutions. Prior to this role, Wendy led technology collaborations and commercialization for Baker Hughes' global subsea business.

Wendy has also held various commercial and operational leadership roles at Rolls-Royce, GE Healthcare and KPMG Consulting.

Wendy studied Mechanical & Industrial Engineering in Canada (University of Waterloo, University of Toronto), holds an MBA from INSEAD and is on the Board of the INSEAD Global Energy Club.