Arrow Electronics Spotlights the Tech Entrepreneur's Journey at Denver Startup Week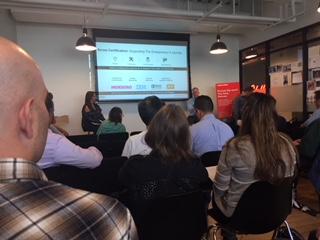 DENVER, October 26, 2017 /3BL Media/  – Arrow Electronics hosted "The Entrepreneur's Journey" at General Assembly during this year's Denver Startup Week 2017, offering an inside look at how two successful entrepreneurs overcame the challenges of developing and bringing smart, connected internet of things (IoT) products to market.
Chris Crowley, co-founder of Eversleep, and Chris Richter, co-founder of WaterBot, joined Jen Beasley, senior manager of business development at Arrow, to discuss everything from funding to prototyping and manufacturing.
"Arrow's global operations are headquartered right outside Denver, and Startup Week is a fantastic opportunity for us to connect with tech startups doing really exciting work here in our own backyard," Beasley said. "It was great to showcase the success of Eversleep and Waterbot, two inspiring startups that we're currently guiding along the complicated path to market. General Assembly is a great partner to the tech community here in Denver, and we look forward to our next collaboration."
"General Assembly was thrilled to host the experts from Arrow, Eversleep and Waterbot for an engaging Startup Week discussion around the real-life challenges of bringing a new tech product to market," said Kylie Borgias, local marketing producer for General Assembly in Denver. "Educational and immersive programming like this is right in General Assembly's wheelhouse—we exist to add value and educational training around in-demand skills like product-development in an increasingly technological economy."
Arrow serves as an IoT solutions aggregator, with a complete technology stack—from sensor to cloud, along with expert professional and managed services. With over 125,000 customers around the world, Arrow helps large enterprises and small startups alike design and build products, scale efficiently and cost-effectively, and get to market faster.
Arrow also collaborates with the global crowdfunding site Indiegogo to help guide technology startups and professional makers through the complex process of trying to bring a new product to market. Learn more by visiting arrow.com/indiegogo.
About Arrow Electronics
Arrow Electronics is a global provider of products, services and solutions to industrial and commercial users of electronic components and enterprise computing solutions. Arrow serves as a supply channel partner for more than 125,000 original equipment manufacturers, contract manufacturers and commercial customers through a global network of more than 465 locations serving over 90 countries. Learn more at www.fiveyearsout.com.