Arrow Electronics-Sponsored Student Team Takes 2nd Place at World Robot Olympiad
Arrow Electronics-Sponsored Student Team Takes 2nd Place at World Robot Olympiad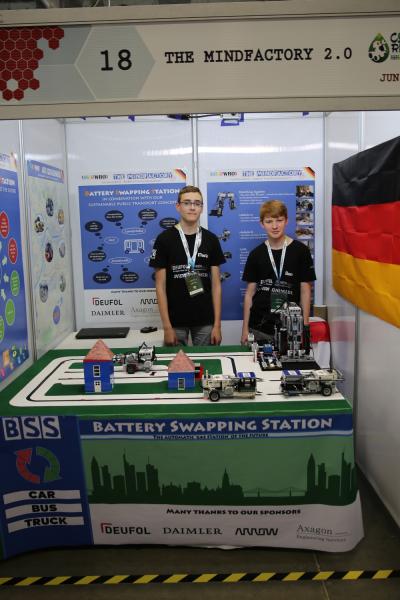 Monday, December 18, 2017 - 9:55am
A team of two German 15-year-old students sponsored by global technology-solutions provider Arrow Electronics won second place in the Open Junior category at the 2017 World Robot Olympiad (WRO) finals in San Jose, Costa Rica last month.
Martin Vekony and Ben Luca Huber from the Arrow-sponsored team, "The Mindfactory 2.0," won a silver medal for an innovative project focused on battery management for electric vehicles. The team developed a fully automatic, miniature model of a battery replacement station for electric cars that avoids the long charging cycles normally associated with these vehicles.
Arrow also sponsored the team's trip to the 2016 WRO finals in India, where they finished in fifth place for a robotic system they designed to reduce the waste of packaging material in online commerce.
The WRO is an international robotics competition that aims to inspire children and young people to get involved in science and technology. For additional information, visit. http://www.wroboto.org/.
About Arrow Electronics
Arrow Electronics is a global provider of products, services and solutions to industrial and commercial users of electronic components and enterprise computing solutions. Arrow serves as a supply channel partner for more than 125,000 original equipment manufacturers, contract manufacturers and commercial customers through a global network of more than 465 locations serving over 90 countries. Learn more at fiveyearsout.com.