Arrow Electronics Engages Local Business Students in Global Learning Opportunity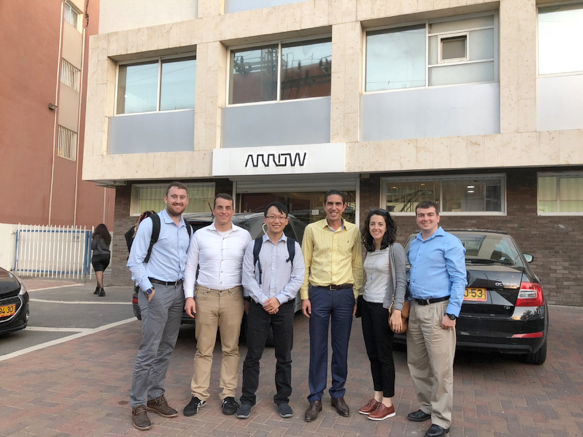 Students from the University of Denver's Daniels College of Business at Arrow Electronics in Tel Aviv, Israel.
Colorado-based global technology-solutions provider Arrow Electronics recently hosted students from the University of Denver's Daniels College of Business at its Tel Aviv, Israel location as part of the students' global consulting course. The collaboration provided the second-year Master of Business Administration (MBA) students with a unique, hands-on business learning opportunity, with Arrow benefitting from their fresh perspectives. 
The students began collaborating with Arrow's Israeli enterprise computing solutions business in September. The two-week-long on-site trip occurred after 10 weeks of remote collaboration, during the project's mid-point. 
Emily Masters, a Denver MBA student working with Arrow in Israel, said, "The Arrow Israel team has been engaging and transparent about their industry and the opportunities that exist with the goal of growth in a multi-channel IT distribution business model. After having been on site, we are especially excited to continue our project, with the goal of providing valuable insights and recommendations."
The Denver MBA students will present their final recommendations to Arrow's Israeli team in March 2018.
About Arrow Electronics
Arrow Electronics is a global provider of products, services and solutions to industrial and commercial users of electronic components and enterprise computing solutions. Arrow serves as a supply channel partner for more than 125,000 original equipment manufacturers, contract manufacturers and commercial customers through a global network of more than 465 locations serving over 90 countries. Learn more at fiveyearsout.com.