Arrow Electronics Applauds Collegiate Inventors Competition Winners
Arrow Electronics Applauds Collegiate Inventors Competition Winners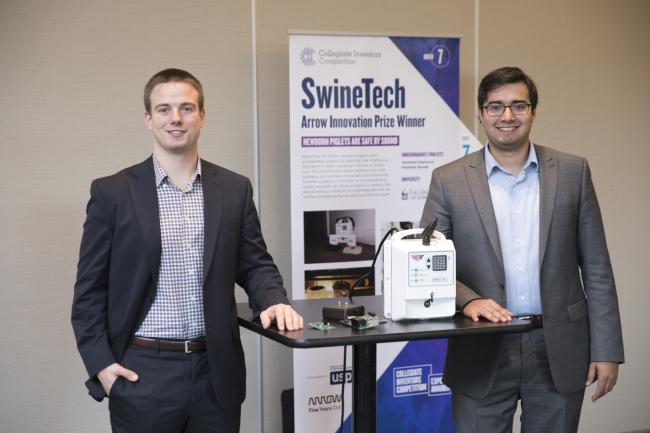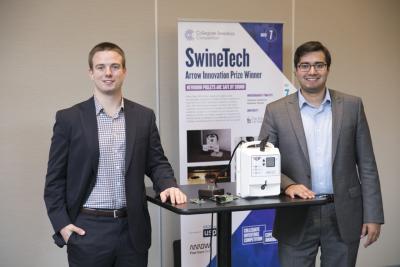 Friday, December 15, 2017 - 11:35am
Arrow Electronics congratulated Matthew Rooda and Abraham Espinoza with the University of Iowa spin-out company SwineTech for winning the top undergraduate award last month at the 2017 Collegiate Inventors Competition. The SwineTech team also walked away with the first-ever Arrow Innovation Prize at the annual competition, which advanced the pair of young innovators to the final round of judging with all expenses paid.
Rooda and Espinoza's SmartGuard invention helps prevent piglets from being accidentally crushed by their mothers. When a piglet is in distress, the device sends a vibration to a wearable patch on the mother, prompting her to stand up and free her trapped piglet.
The award winners, recent college graduates, are working with Arrow Electronics experts to help scale and grow their startup agricultural technology business.
"Arrow is proud to sponsor the Collegiate Inventors Competition and support the exceptional work of innovative students like SwineTech's Matthew and Abraham," said Arrow Corporate Social Responsibility Manager Alex West. "We look forward to helping guide these two young innovators as they scale and grow their business, and to our ongoing partnership with the National Inventors Hall of Fame."
The Collegiate Inventors Competition was founded in 1990 to recognize and reward top collegiate inventors from all fields of study. Operated by the National Inventors Hall of Fame, the competition showcases emerging student ideas and technologies that will shape our society in the near future.
"Our partnership with Arrow has grown over the past five years into something we are both incredibly proud of. Their support for the Collegiate Inventors Competition was taken to new heights this year with the Arrow Innovation Prize, and we look forward to what's next," said National Inventors Hall of Fame Chief Strategic Officer Hannah Paulin.
The Collegiate Inventors Competition specifically recognizes and rewards the innovations, discoveries and research led by university students and their advisors for projects leading to inventions that may have the potential of receiving patent protection. Since its inception, the competition has awarded more than $1 million to winning students for their innovative work and scientific achievement through the help of sponsors like Arrow.
To learn more about the Collegiate Inventors Competition, please visit www.collegiateinventors.org.
About Arrow Electronics
Arrow Electronics is a global provider of products, services and solutions to industrial and commercial users of electronic components and enterprise computing solutions. Arrow serves as a supply channel partner for more than 125,000 original equipment manufacturers, contract manufacturers and commercial customers through a global network of more than 465 locations serving over 90 countries. Learn more at fiveyearsout.com.