Aligning Your Volunteer Program With Employee Interests [Webinar]
Aligning Your Volunteer Program With Employee Interests [Webinar]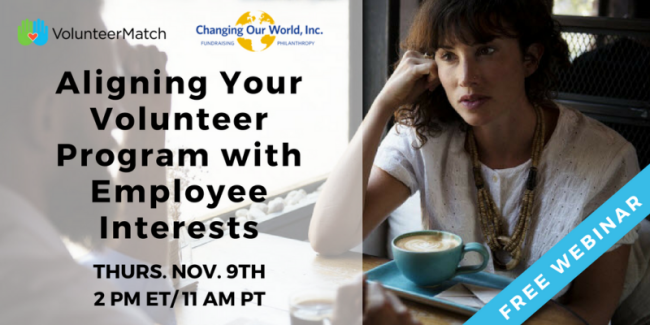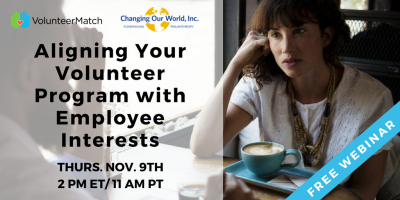 Tuesday, October 24, 2017 - 5:20pm
Studies show that employees seek out companies that embody socially responsible values and provide an outlet for volunteering. You've checked those boxes yet can't seem to get your employees to participate in your volunteer program.
Where's the disconnect here?
As it turns out, people give for reasons that are uniquely personal to them: To eradicate an illness that has affected a loved one, to build a new skill they've always wanted to learn, or to champion a cause they feel inexplicably drawn to. If volunteerism is standardized at your company through a one-size-fits-all approach, employees are more likely to say, "No thanks. Not interested."
What can be done?
On Thursday, November 9, 2017, at 2 pm ET/ 11 am PT, VolunteerMatch — the web's largest volunteer engagement network — and Changing Our World — a philanthropic consulting firm specializing in corporate social engagement and fundraising — will present solutions to this common, yet solvable, challenge.
You'll learn:
The current landscape of employee volunteerism, including the rise of skills-based volunteerism and employee choice.
How to figure out what your employees want out of your volunteer program.
Tips for balancing unique employee desires with your strategic company goals.
Success stories from companies that are successfully overcoming this challenge.