Albertsons Unveils ESG Framework, Sets New Sustainability Targets
By Catherine Douglas Moran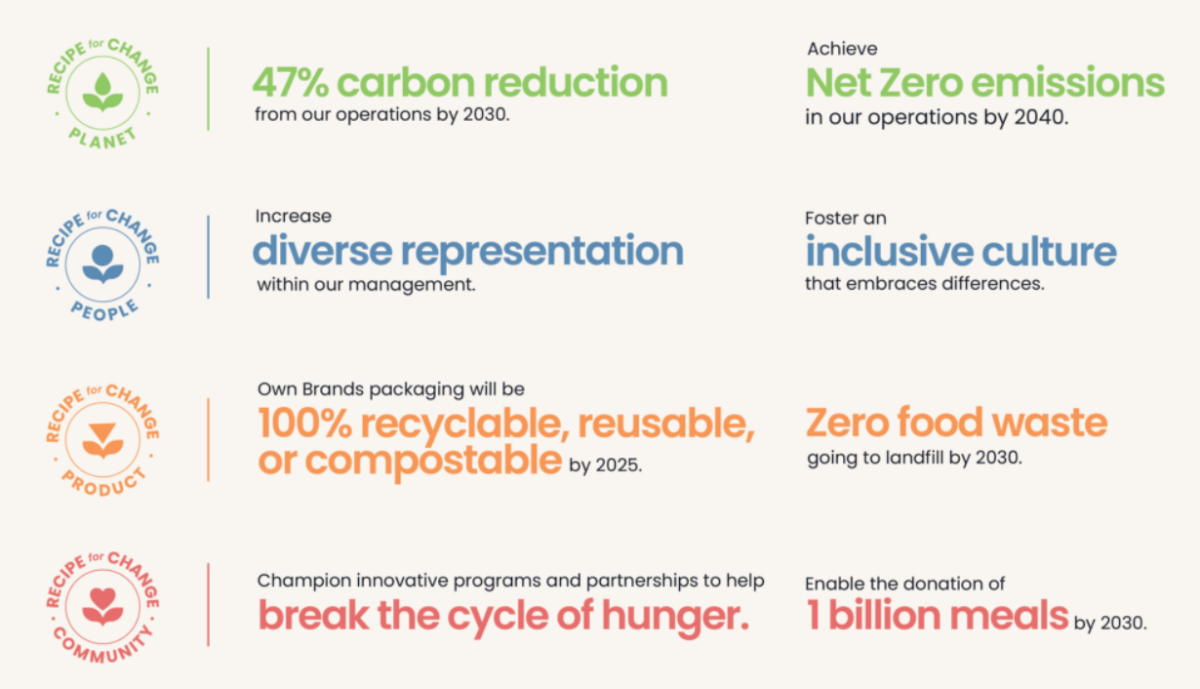 Courtesy of Grocery Dive: Albertsons Companies' main targets under its "Recipe for Change" ESG framework
Originally posted by Grocery Dive
Albertsons announced on Wednesday a set of Environmental Social Governance (ESG) initiatives and unveiled new sustainability targets, including a carbon reduction goal. 
Called "Recipe for Change," the ESG framework has four main pillars — planet, people, product and community.
"It's important to me that people know we're not new to the sustainability space. But we want to make sure we're stepping into the spotlight and making sure that we're helping people understand the big ambitious goals that we've set and that we are intent on delivering them," said Long.
As part of the ESG framework announcement, Albertsons has unveiled new targets, including a 47% carbon reduction from its own operations by 2030; zero food waste going to landfills by 2030; and net-zero emissions in its own operations by 2040.
Albertsons also pledged to increase "diverse representation" among its management ranks, provide 1 billion meals to people facing food insecurity by 2030 and restated its goal of making private label packaging 100% recyclable, reusable or compostable by 2025.
Grocery Dive talked with [Suzanne] Long, who became Albertsons' first chief sustainability officer last fall and has headed up Albertsons' ESG efforts since late 2020, about how the grocery chain aims to tackle its goals, the challenges it sees ahead, and what investors and consumers can expect in terms of transparency with the company's sustainability progress. 
Read the full Q&A with Suzanne Long, Albertsons Companies' Chief Sustainability and Transformation Officer, here.