Advancing the Long-Termism Movement: The Strategic Investor Initiative's CEO Investor Forum
SII Vantage Point Volume 2, Issue 6: Emerging Practices in Long-Term Plans and Measuring Their Impact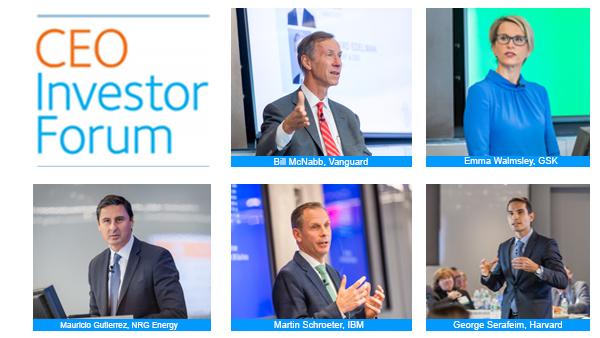 SII Vantage Point, Volume 2, Issue 6 – Emerging Practices in Long-Term Plans an…
In an effort to update corporate leaders and investors on the latest trends and research, the National Investor Relations Institute (NIRI) and the Strategic Investor Initiative (SII) will hold a joint webinar called "Changing the Conversation: Sharing Your Company's Long-Term Plans." The online event will take place on November 15, 2018 at 2:00 PM, Eastern time and will address three central themes:
Evidence: The webinar will include a presentation of SII's research collaboration with Harvard Business School, in which early evidence shows that long-term plans are economically significant (see more below).
Practitioner perspectives: Investor Relations Officers at leading companies talk about their experience of developing and delivering a long-term plan, and the benefits and institutional learning that came from it.
Forecasts: What's next for long-term capital markets? Scaling the long-term plan.
Speakers include:
Valerie Haertel, IRC, BNY Mellon, Immediate Past Board Chair, NIRI (moderator)
Anthony Di Meo, Director Investor Relations, BD
Professor George Serafeim, Harvard Business School
Amy Springsteel, AVP Corporate Responsibility, Voya Financial
Mark Tulay, Managing Director, SII, CECP
The event is free and open to the public although registration is required. Register here today!
Click to read the full newsletter, see past issues, and sign-up to receive future issues.