The ABCs of Financial Literacy Month
The ABCs of Financial Literacy Month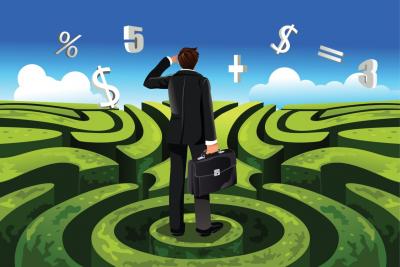 Wednesday, April 17, 2019 - 10:05am
These days managing your personal finances or even following the business news can be overwhelming if you don't have mastery of basic financial jargon. A basic financial vocabulary helps fill in the blanks in understanding a confusing and volatile market.
"There is so much information in the marketplace today that it is hard to decipher what is most meaningful to you personally and to your business," said Barton Burns, Vice President, Wealth Planning with Comerica Bank. "By expanding your financial vocabulary, you become a better manager of your own wealth, a more savvy investor and can better understand this fluctuating economy."
April's Financial Literacy Month presents the perfect opportunity to get up to speed on the vocabulary you need to know when pursuing your financial goals. Below is a basic list of terms to help you function in the financial world:
Assets: Items you own that can be converted to cash – any property, real estate, tangible goods, cash, etc.
Capital: A sum of wealth – be it cash or property – which can be used to create more wealth through investing. You hear a lot about being "well-capitalized" these days.  In a bank, for example, capital is an indicator of strength.
Cash Flow: The movement of cash in and out of a business. Cash flow is a measure of a company's financial health and is determined by subtracting total company expenditures from total profit, less taxes.
Collateral: Any item of value that can be taken back by a lender to cover an unpaid debt or loan. Banks require you have sufficient collateral before issuing a home or car loan.
Debt: An amount owed to a person or organization for funds borrowed. Debt can be represented by a loan note, bond, mortgage or other form stating repayment terms and in some cases, interest requirements.
Equity: Ownership in a corporation in either common stock or preferred stock. In real estate, it is the difference between what a property is worth and what the owner owes against the property (i.e. the difference between the house value and the remaining mortgage payments on a house).
Inflation: A general rise in the level of prices of goods and services.  Most commonly referring to consumer goods, inflation results in less value for your dollar.
Liability: A financial obligation, debt, claim or potential loss.
Net Worth: The value of a person's assets, including cash, minus all liabilities.
For these and more financial tips from Comerica, visit www.comerica.com/insights.
This article is provided for informational purposes only. While the information contained within has been compiled from source[s] which are believed to be reliable and accurate, Comerica Bank does not guarantee its accuracy. Consequently, it should not be considered a comprehensive statement on any matter nor be relied upon as such.