3BL Media 'Learn From Home' Series Features Medtronic CEO Geoff Martha, June 16
Register now for 'Stories & Strategies for Putting People First'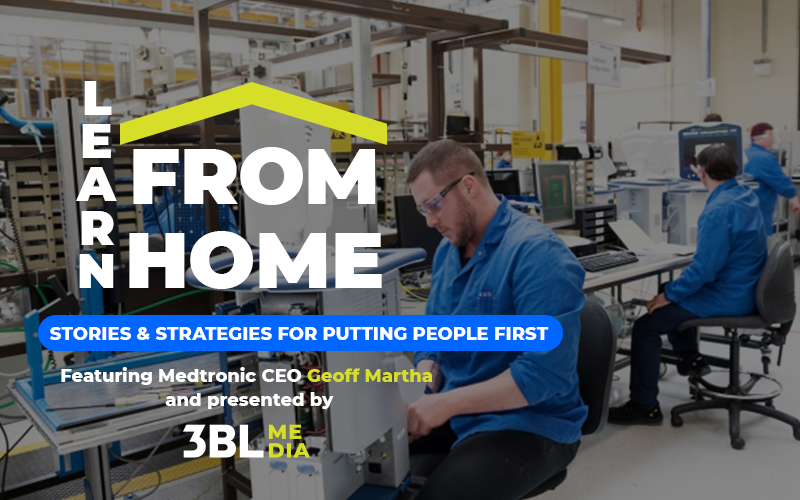 NEW YORK, May 28, 2020 /3BL Media/ -- 3BL Media, the leader in environmental, social and governance (ESG) communications for the world's largest companies, will feature Medtronic CEO Geoff Martha on June 16 as part of the "Learn From Home" live event series.
Join TriplePundit senior editor Mary Mazzoni for "Stories & Strategies for Putting People First," a live interview with the new leader of one of the world's largest medical technology companies, with 90,000 employees in 150 countries. Register here.
"Geoff Martha took the reins of Medtronic in April during the first wave of the COVID-19 pandemic and demonstrated bold ESG leadership immediately," said Dave Armon, CEO of 3BL Media. "We are honored to welcome Geoff as he shares the story with Mary Mazzoni and a live audience."
3BL Media created the "Learn From Home" series as the U.S. workforce went into self-isolation in March. Leveraging the expertise of TriplePundit, which has been covering sustainable business since 2005, the series focuses on bold and authentic corporate leadership.
In March, Medtronic took the unprecedented step to publicly share the design specifications for the PB560 ventilator, an affordable, portable ventilator that can be used in clinical settings and at home, to enable rapid manufacturing by other companies.
Martha and Mazzoni will discuss how Medtronic has shared technology, worked even closer with partners, and ensured the safety of its global workforce during the pandemic. Live Q&A will follow the interview. Professionals working in corporate responsibility, ESG, sustainability, communications, investor relations, marketing and other senior leadership roles are invited to attend.
Register here.
About 3BL Media
3BL Media delivers purpose-driven communications for the world's leading companies. Our unrivaled distribution, leadership and editorial platforms inspire and support global sustainable business. Learn more here.
3BL MEDIA CONTACT
Margie Kuchinski of 3BL Media, mkuchinski@3blmedia.com or +1.413.320.4807