3BL Media 'Learn from Home' Live Event, Wednesday May 13: Corporate Citizenship and Reputation, Featuring Sustainability and Comms Leader Dave Stangis
3BL Media 'Learn from Home' Live Event, Wednesday May 13: Corporate Citizenship and Reputation, Featuring Sustainability and Comms Leader Dave Stangis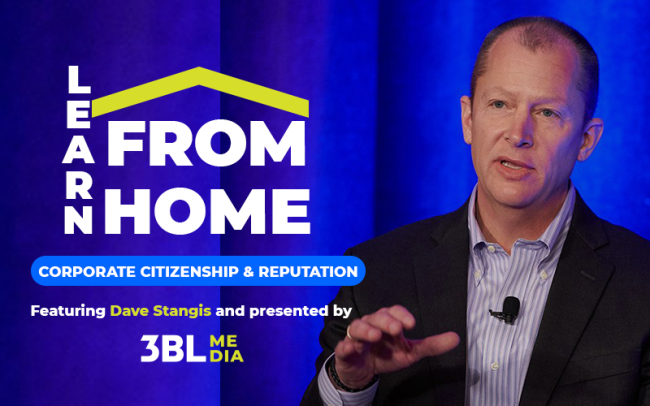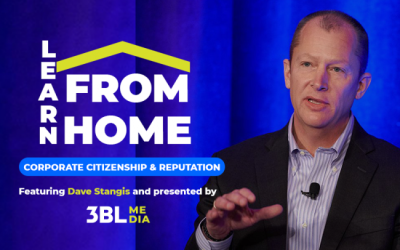 Friday, May 8, 2020 - 12:30pm
The human and economic toll of the coronavirus pandemic has been devastating. The role of business in the response to COVID-19 is crucial.  Join 3BL Media's Robbie Lock for a lively discussion with Dave Stangis, CEO & founder of 21C Impact and former chief sustainability officer, vice president, public affairs and corporate responsibility for Campbell Soup Company, on Wednesday May 13 at 1 p.m. ET for "Learn from Home: Corporate Citizenship and Reputation," a free webcast with live Q&A. 
Stangis, respected for his decades of leadership in corporate communications and sustainability,  will share insights on how sustainability provides business value, the imperative of anchoring your strategy to stakeholder priorities and best practices for navigating change.
During his 11 years at the Campbell Soup Company, Stangis led strategy, communications and stakeholder engagement as the chief sustainability officer, vice president, public affairs and corporate responsibility. From operational sustainability performance to brand reputation and risk management, Stangis navigated a wide range of issues to elevate Campbell Soup to an environmental, social and governance (ESG) leader.  
We'll also discuss the 'why' and 'how' of Stangis' sustainability journey, by breaking down key parts of his 2017 book, "21st Century Corporate Citizenship: A Practical Guide to Delivering Value to Society and Your Business," co-authored by Katherine Valvoda Smith.
The 3BL Media "Learn from Home" series was launched in March to cover corporate responsibility topics from a practitioner perspective. On April 1, the series featured Mary Mazzoni and Leon Kaye of TriplePundit, which has been covering sustainable business since 2005. An April 28 segment featured a discussion about Stakeholder Relations in a Time of Crisis with 3BL Media CEO Dave Armon and the team that has distributed more than 500 COVID-related releases since the beginning of March. 
About 3BL Media
3BL Media delivers purpose-driven communications for the world's leading companies. Our unrivaled distribution, leadership and editorial platforms inspire and support global sustainable business, reaching 10+ million change-makers.
Contact:
Margie Kuchinski
Director of Brand Marketing, 3BL Media
mkuchinski@3blmedia.com
US: 866.508.0993 x14