30 Winners of 2022 Retool Your School Campus Improvement Grants Announced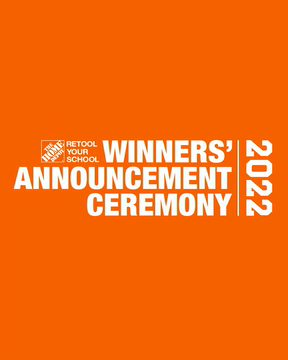 Originally published on Built From Scratch
The Home Depot launched the Retool Your School program 13 years ago to provide support for our nation's Historically Black Colleges and Universities (HBCUs). As of 2022, The Home Depot has invested more than $5.25 million dollars to update and upgrade HBCU campuses. 
"Grants from The Home Depot have helped HBCUs make more than $5 million worth of improvements, including the creation of outdoor eco-classrooms, renovation of health facilities, revamping of residence halls and more," says Home Depot's Chief Diversity, Equity and Inclusion Officer Derek Bottoms. "Through Retool Your School, we've provided support to nearly 70 percent of the nation's HBCUs."  
For the first time since 2019, the Retool Your School winners' ceremony took place in-person as a live-streamed hybrid event on Tuesday, April 26. HBCU alumni attended to celebrate the event, including:  
Host Laz Alonso, Howard University Alumnus and actor 
Guest Speaker Terrence J., North Carolina A&T Alumnus, actor, model and entertainment reporter 
DJ Stormy, Alabama State University Alumna and international DJ  
HBCU winners received individual campus improvement grants ranging from $20,000 to $75,000. The Campaign of the Year award will provide a $45,000 grant for the most engaging marketing campaign, as voted on by The Home Depot marketing leadership. 
"With nearly 10 million votes counted, we were thrilled to meet the HBCU representatives in person this year and come together to celebrate the power of this community," says Tiffany Mitsui, the multicultural marketing lead at The Home Depot. "I couldn't be more proud of all the hard work our HBCUs did to get here!" 
Congratulations to the winners: 
Campaign of the Year 2022 Winner: Alabama State University 
Cluster 1 School Winners (4,000 students or more)
Alabama A&M University                              
Alabama State University  
Jackson State University 
Southern University and A&M College 
Albany State University 
Grambling State University 
Winston-Salem State University 
Fayetteville State University                          
Prairie View A&M University 
Florida Agricultural and Mechanical University 
Cluster 2 School Winners (1,201 – 3,999 students)
Coahoma Community College 
Alcorn State University 
Tuskegee University 
Benedict College 
South Carolina State University 
Mississippi Valley State University 
University of Arkansas at Pine Bluff 
Elizabeth City State University 
West Virginia State University 
Hampton University 
Cluster 3 School Winners (1,200 students or less)
Tougaloo College 
Texas College 
Fisk University 
Johnson C. Smith University 
Lane College 
Southwestern Christian College 
Wilberforce University 
Saint Augustine University 
Edward Waters University 
Rust College 
The Home Depot is dedicated to continuing its commitment, celebrating the legacy and pride of HBCUs. To learn more, visit  RetoolYourSchool.com. 
Keep up with all the latest Home Depot news! Subscribe to our bi-weekly news update and get the top Built from Scratch stories delivered straight to your inbox.