21 Savage and Get Schooled Launch the "21 Savage Bank Account" Campaign to Teach Teens Money Managing Basics
21 Savage and Get Schooled Launch the "21 Savage Bank Account" Campaign to Teach Teens Money Managing Basics
21 Savage's Leading by Example Foundation to give 21 teens $1,000 to start their own bank accounts and take on financial literacy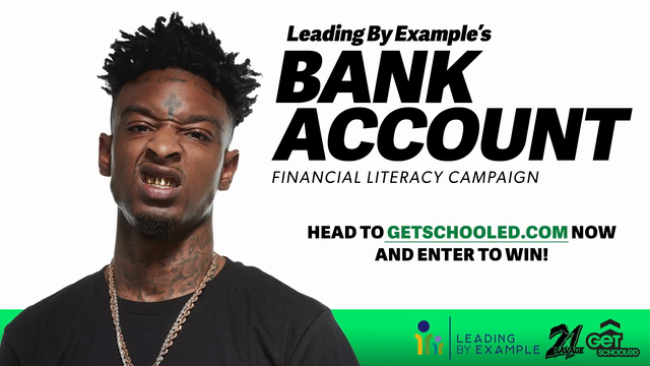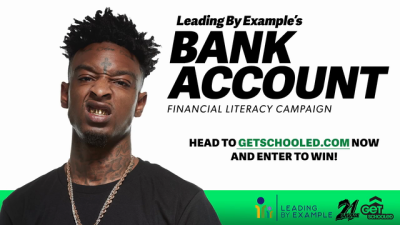 Monday, March 19, 2018 - 9:30am
NEW YORK, March 19, 2018 /3BL Media/ - Today, 21 Savage and Get Schooled launched, "21 Savage's Bank Account," a campaign to teach teens money basics. The campaign, announced on Ellen today, includes a digital badge, 21 Savages' money tips for young moguls, as well as the opportunity for young people to receive $1,000 from 21 Savage's Leading by Example Foundation to start their own bank account and gain knowledge in financial literacy. Savage is giving the first 21 accounts to deserving teens and people are encouraged to donate and sponsor for just $1,000 a kid at www.getschooled.com.
"My biggest record to date is called Bank Account. It's ironic because growing up in Atlanta, I knew almost nothing about bank accounts," said 21 Savage, "Now that I do have money in my bank account, I want to help kids with a background similar to mine to get smart about their money."
According to a 2015 study of Organization for Economic Cooperation and Development study, about half of all U.S 15 year olds said they had a bank account. Those teens were more likely have to have the skills required to make good financial decisions and solve financial problems.  Unfortunately, only one-third of low-income students reported having bank accounts, compared to 70% of their wealthier peers.
"Members of the Get Schooled community who have graduated from high school consistently tell us that money issues are the #1 reason why their aspirations to earn a college degree derail," said Marie Groark, Executive Director of Get Schooled. "We are excited to partner with 21 Savage, whose authentic voice on this issue along with his incredible reach can have a meaningful impact on tens of thousands of young people."
21 Savage and Get Schooled have teamed up to ensure all young people have the knowledge they need to make good financial decisions by creating the "Bank Account Badge." The badge includes:
21 Savages' 10 money tips for young moguls – 21 Savage's best money management tips

What's up with all these banking fees – break down of the kinds of fees banks charge and how to avoid them

Knock it off – a look at generic vs brand name shopping

How to open a bank account – step by step guide to opening an account

What types of banking accounts are there – crash course in the various types of accounts students can open

Apps to help you make and stick to a budget – we give students a list of the best mobile apps to help them manage their money

How to make a budget - this interactive tool walks students through creating a budget

Power of the swipe: debit vs. credit – give students a crash course in the difference between debit and credit and how to use both

I want it but do I need it – tips to help students evaluate when to buy and when to window shop only

21 Savage PSA - a direct message from 21 Savage on why learning how to manage your money is key to your future success
Young people who complete the badge found on www.getschooled.com will be eligible to cash in points for "21 Savage Bank Account" swag in the Get Schooled reward store including stickers, t-shirts and more. Young people will also be eligible to earn a bank account along with a $1,000 deposit to get them started by answering one of two prompts:
Having a clear picture of where you are and where you want to be financially can help you establish financial goals. How would winning $1,000 help you make progress on your financial goals?

Financial freedom doesn't just happen; you have to plan for it. How would you use an investment of $1,000 to fund your future?
This campaign is part of a broader campaign to expand the number of children's savings accounts for low-income families spearheaded by Prosperity Now and others. Children's Savings accounts (savings accounts for any young person under the age of 18) have been shown to give young people a solid financial footing, increase the number of families who rely on banks rather than predatory lenders, and increase savings for education, homeownership or retirement.[1] 
To learn more about the 21 Savage Bank Account campaign and get involved go to www.getschooled.com.
About Get Schooled
Get Schooled is an award-winning non-profit organization that directly engages and motivates students to graduate from high school and succeed in college.  With nearly a million members, Get Schooled offers students a range of supports including college advisor text help and digital content. Get Schooled has developed a track record of success because it engages with young Americans using the media, technology, and popular culture that is an integral part of their lives. Named a Fast Company "Most Innovative Company" for its use of gamification to inspire and engage young people, Get Schooled was founded in 2010 through a partnership between Viacom and the Bill & Melinda Gates Foundation. For more information visit www.getschooled.com.
About Leading by Example
A major force in the music industry, mogul, executive, mega producer and recording artist, DJ Khaled, known as the "Anthem King" and commonly referred to as the "Quincy Jones of Hip Hop & R&B", has made dozens of chart topping hit records featuring JAY Z, Kanye West, Drake, Chris Brown, Ludacris, T.I., French Montana, Future, Big Sean, Rick Ross, John Legend, Nicki Minaj and Lil Wayne, among others. In 2006, he launched innovative label deals and started We The Best Music Group. His 2010 hit song "All I Do is Win" went 3x platinum, sold over 3 million singles, and crossed over all music genres to become a mainstream hit, solidifying him as a force to be reckoned with. That same year he also released "I'm On One" feat. Drake, Rick Ross, and Lil Wayne. Khaled went on to release the hit single "No New Friends" featuring Drake, Lil Wayne and Rick Ross, which reached gold status and has sold over 500,000 singles worldwide. DJ Khaled has sold over 15 million singles in his career.