2022 Inaugural Benefit and Showcase Empowers Entrepreneurs in Hawa'ii and Polynesia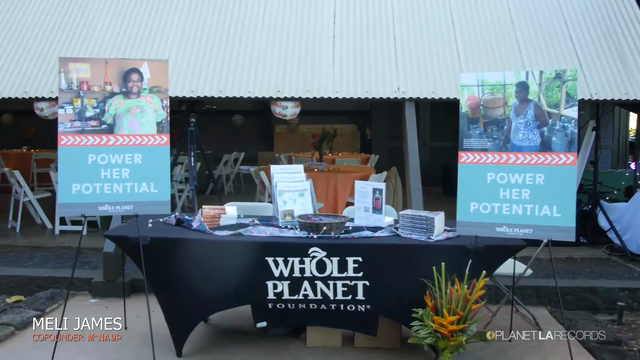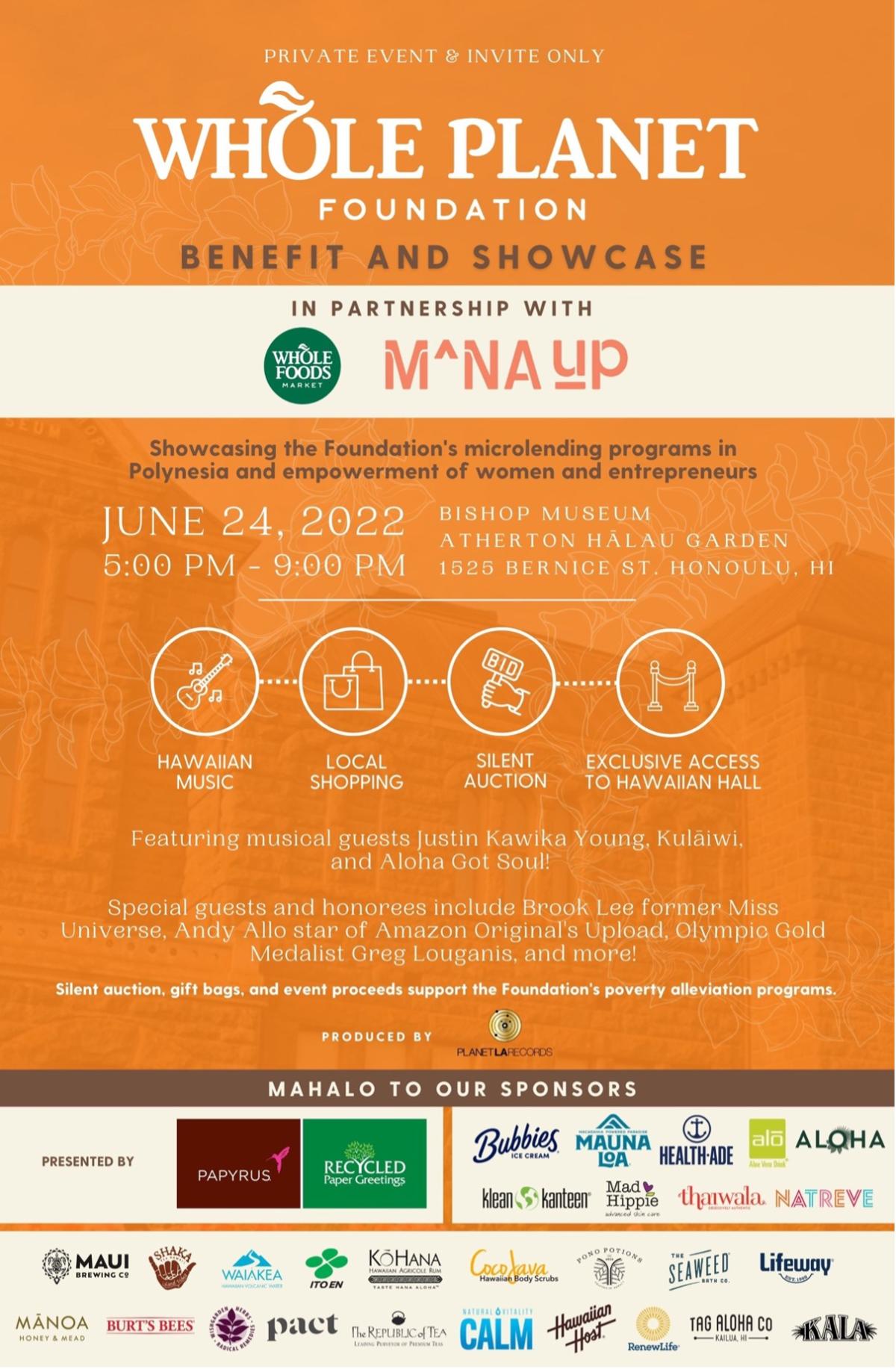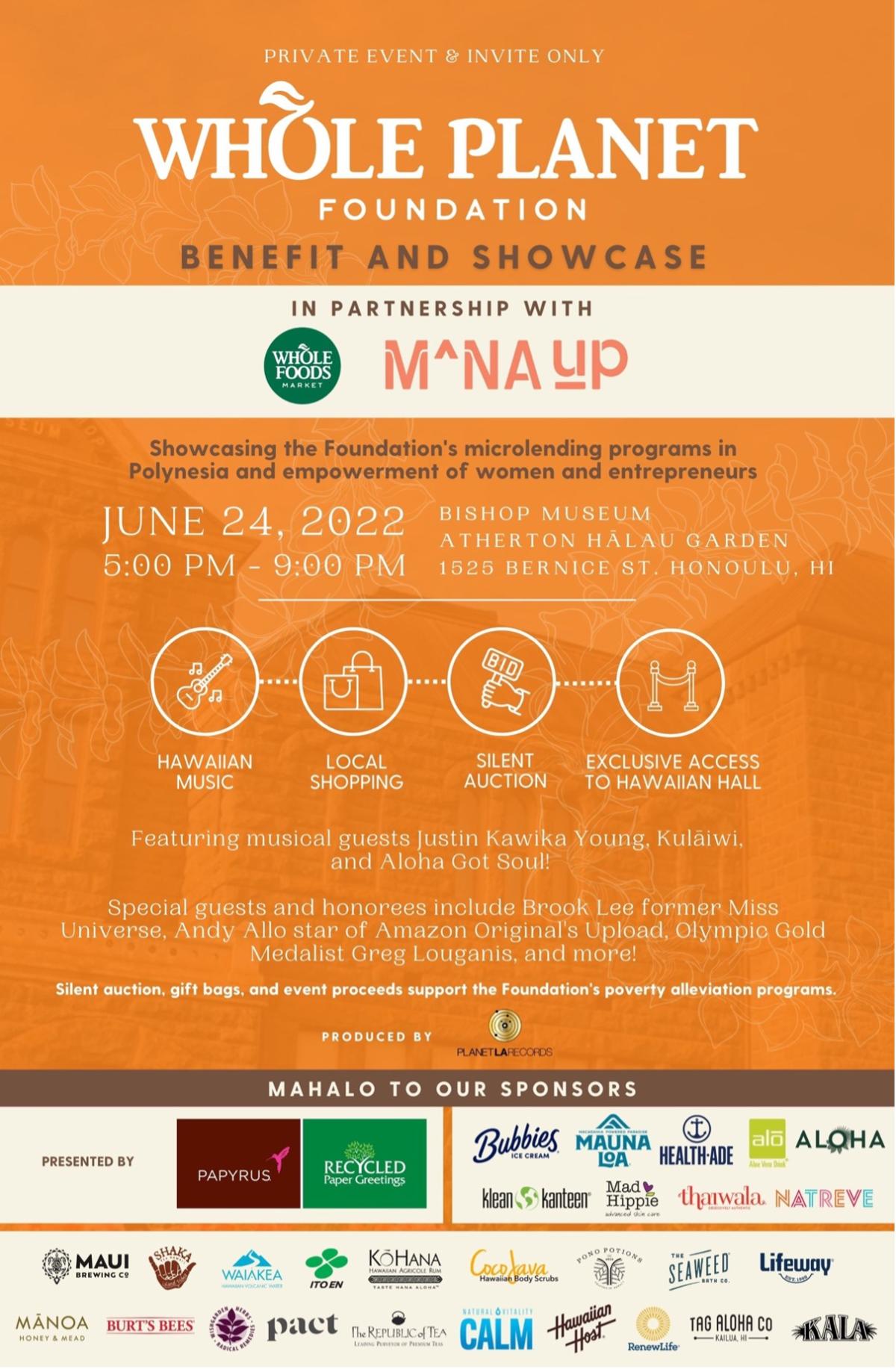 On June 24, 2022 at the Bishop Museum in Honolulu, Planet LA Records produced the Inaugural Benefit and Showcase for Whole Planet Foundation in partnership with Mana Up and Whole Foods Market stores in Oahu, collaboratively providing opportunities to entrepreneurs in Hawaii and Polynesia.
The private event was attended by over 200 invited guests and featured emcee Brook Lee, former Miss Universe, honored Andy Allo, star of Amazon's Upload show and Greg Louganis, four-time Olympic gold medalist and whose birth father is of Samoan origin, for their decade of support of Whole Planet Foundation events.  Hālau Mele offered a special blessing at the start of the celebration and in the Hawaiian Hall of the Bishop Museum.  The event showcased artists and performances by Kulāiwi and Justin Kawika Young and welcomed celebrity guests including Amy Hill and Dustin Nguyen, among others.
Guests learned more about local vendors and entrepreneurs through a marketplace featuring more than 20 Mana Up companies including Tag Aloha Co., Vitalitea Hawai'i, Kapa Nui Nails, 'Ulu Mana, Big Island Coffee Roasters and Utara Organics, plus a bar with specialty cocktails handcrafted by Kō Hana Rum and Pono Potions. The event highlighted other local brands including Bubbies Ice Cream, CocoJava Hawaii, Hawaiian Host, Maui Brewing Co., Mauna Loa, Waiākea Hawaiian Volcanic Water, Manoa Honey, Shaka Tea and more.
Special thanks to presenting sponsor Papyrus-Recycled Paper Greetings, Inc., leading sponsors Mauna Loa, Bubbies Ice Cream, Health-Ade, ALOHA and contributing sponsors ALO Drink, Klean Kanteen, Natreve, Mad Hippie and Thaiwala who featured their products at the event and have donated to support Whole Planet Foundation's poverty alleviation programs.  Whole Foods Market stores in Oahu also hosted a pre-event reception on June 23 with partners and donated a beautiful variety of local foods and floral arrangements for the events.  Other event supporters include Burt's Bees, Natural Vitality, Renew Life, Country Archer, ITO EN, Kala Brand Music Co., Lifeway Kefir, PACT, The Republic of Tea, Seaweed Bath Co., Sennheiser, Tag Aloha Co. and WishGarden Herbs. ALOHA generously provided branded gift bags for the event.
The event raised more than $5,100 from sponsorship and drawing proceeds for microcredit, or small loans usually less than $200, provided to impoverished entrepreneurs to create or expand their own businesses, often homebased, for the chance to generate income for themselves and their family members.  Watch the event video here, by videographer Jacob Emery.
Learn more at wholeplanetfoundation.org, manauphawaii.com or at planetlarecords.com.