2021 National Latino Leaders to Be Honored at the 6th Annual National Latino Leadership Conference
2021 National Latino Leaders to Be Honored at the 6th Annual National Latino Leadership Conference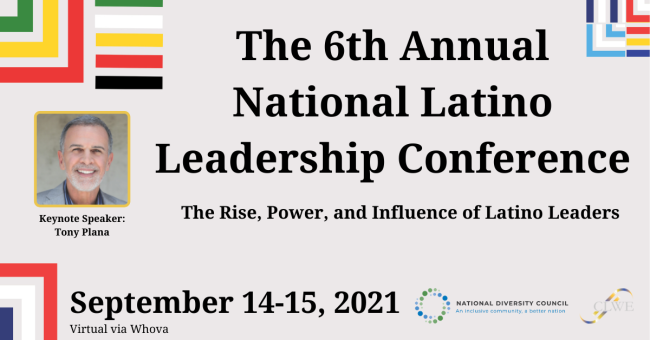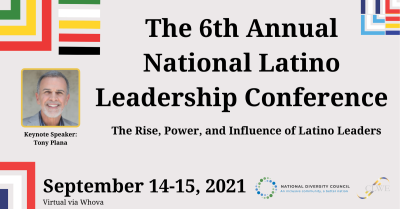 Tuesday, August 10, 2021 - 7:20pm
MIAMI, August 10, 2021 /3BL Media/ - The Council for Latino Workplace Equity (CLWE), an initiative under the National Diversity Council, will host the Sixth Annual National Latino Leadership Conference from September 14th-September 15th via Whova/Zoom. This year's theme is "The Rise, Power, and Influence of Latino Leaders".
The 2021 National Latino Leaders list highlights individuals who have achieved success in their career while paving the way for other Latinos to advance in the corporate arena. These individuals contribute to creating and promoting a culture where Latino talent is supported and leveraged for organizational success. They demonstrate leadership excellence and high visibility in the Latino community and maintain a record of professional accomplishments.
"Today, more than any other time, it is imperative we recognize and honor our National Latino Leaders," said Angeles Valenciano, CEO of the National Diversity Council. "The honorees are the definition of the richness of the Latino culture and are exemplary individuals paving the way for the Latino community at large."
To see the full list of the 2021 National Latino Leaders awardees please visit; https://clwe.org/tophispanicleaders/2021/
2021 National Latino Leaders Award
Allison Quintanilla Plattsmier
Founder & CEO, AQP Consulting
Alva Carrasco 
President, Latinos in Transit
Brenda Victoria 
Global Vice President of Talent, World Fuel Services 
Christopher Pinel 
Global Head of Agency, Americas, Liftoff Mobile
Daisy Auger-Dominguez
Chief People Officer, VICE Media Group 
David Flores 
Director of Client Services and Program Performance, GreenPath Financial Wellness 
Elizabeth Martinez 
President & CEO, Big Brothers Big Sisters Central Ohio 
Frank Carbajal 
Founder & President, Es Tiempo
Ina Minjarez 
Texas State Representative House, Texas House District 124
Irma Olguin 
CEO & Co-Founder, Bitwise Industries 
Julio Pimentel 
Dean's Diversity Fellow & Ph.D. Candidate in Cancer Biology, Wayne State University
Karla Hernandez DeCuir 
Sr. Director of Enrollment Management & External Affairs, University of Houston-Victoria
Leticia M. Diaz
Dean and Professor of Law, Barry University of Law. 
Ligia Noemi Cushman 
National Child Welfare Consultant, AdoptUSKids 
Liliana Ramirez 
Global Director, Lean Manufacturing and Culture, Ford Motor Company 
Lorna Hernandez 
Vice President, HR, Ricoh 
Luis G. Lobo 
Executive Vice President, Head of Multicultural Banking, BB&T
Luis Santos
Attorney, Ford & Harrison LLP
Manny Velásquez-Paredes
Director, Student Affairs, University of North Florida
Michelle Martinez Reyes 
Chief Relations Officer, Kelley Kronenberg 
Myriam Vidalon 
Senior Vice President Diversity, Talent and Culture, NielsenIQ
Neddy Perez 
Chief Global Diversity & Inclusion Officer, McCormick & Company
Noe Del Bosque 
Director of Plant Operations, UT Health East Texas 
Pablo Zurzolo 
Vice President, Americas Marketing, Tech Data Corporation 
Dr. Peter Fuentes 
Chief Dental Officer, LIBERTY Dental Plan 
Pilar Ortiz 
International Speaker, Author & Coach, US National Speakers Association 
Sandra Campos 
Former CEO, DVF, Founder of Fashion Launchpad, Investor, Diane Von Furstenberg 
Registration for The 6th Annual Latino Leadership Conference is currently open and can be purchased starting at $149 at www.clwe.org. For more information about this event please contact: Emily Pickett at emily.pickett@nationaldiversitycouncil.org
About the Council for Latino Equity Council  
The Council for Latino Workplace Equity is a resource and platform to foster workplace equity for Latino talent. It highlights the pertinent issues concerning Latinos in the workplace in order to advance equal opportunities and incite change within organizations. For information about the CLWE is available at www.clwe.org.
Media Contact 
Katrina Glenn
Communications Supervisor
National Diversity Council
katrina.glenn@nationaldiversitycouncil.org