From the 2021 Fifth Third ESG Report: Caring for Employees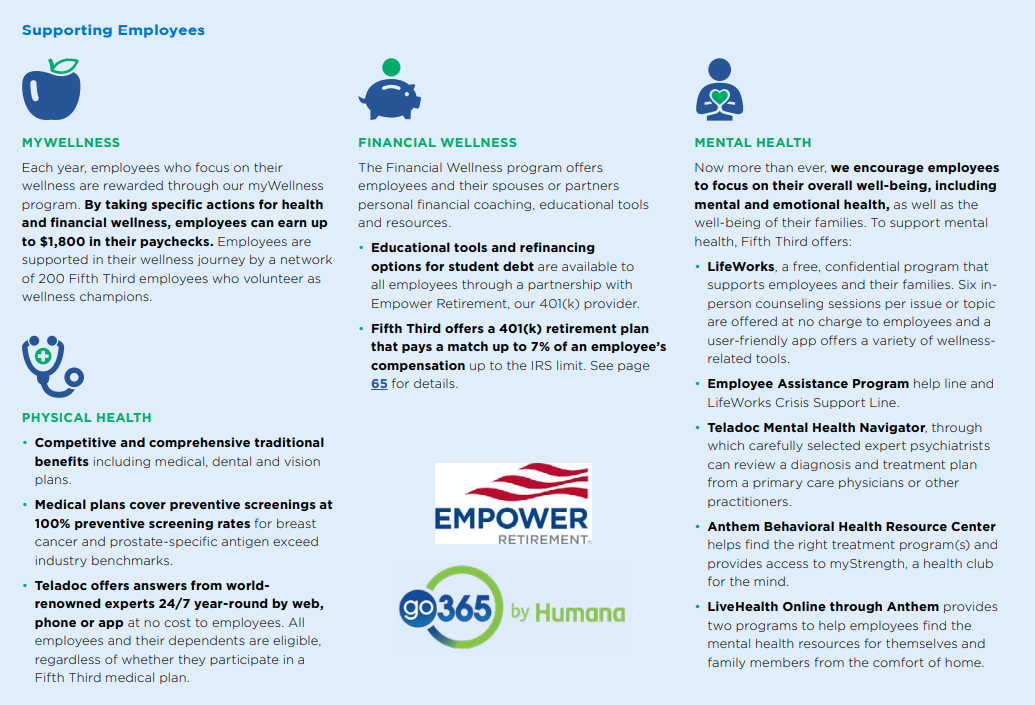 The physical, financial and personal health and well-being of Fifth Third employees is among the Bank's highest priorities. Engaged and supported employees enable us to do and be our best and to provide the best service to our customers and communities. 
Fifth Third strives to provide benefits that are comprehensive, competitive and, most important, supportive of the overall well-being of employees.
As the pandemic continued in 2021, Fifth Third implemented additional benefits to support employees and promote a healthy and safe working environment. Fifth Third issued:
Up to $2,250 in special payments to more than 7,500 front-line employees.
An extra vacation week in 2021 for most employees.
Continued to offer non-worked paid time off and additional sick time.
New Wellness points available via the Go365 program for completion of COVID-19 vaccinations.
Discounted parking.
Lunch provided for operation centers.
Expanded Back-up Care from 15 to 30 days.
Supporting Employees
MyWELLNESS:
Each year, employees who focus on their wellness are rewarded through our myWellness program. By taking specific actions for health and financial wellness, employees can earn up to $1,800 in their paychecks. Employees are supported in their wellness journey by a network of 200 Fifth Third employees who volunteer as wellness champions. 
PHYSICAL HEALTH:
Competitive and comprehensive traditional benefits including medical, dental and vision plans.
Medical plans cover preventative screenings at 100%.
Teladoc offers answers from world-renowned experts 24/7 year-round by web, phone or app at no cost to employees. All employees and their dependents are eligible, regardless of whether they participate in a Fifth Third medical plan.
FINANCIAL WELLNESS:
The Financial Wellness program offers employees and their spouses or partners personal financial coaching, educational tools and resources.
Educational tools and refinancing options for student debt are available to all employees through a partnership with Empower Retirement, our 401(k) provider.
Fifth Third offers a 401(k) retirement plan that pays a match up to 7% of an employee's compensation up to the IRS limit. See page 65 for details.
MENTAL HEALTH
Now more than ever, Fifth Third encourages employees to focus on their overall well-being, including mental and emotional health, as well as the well-being of their families. To support mental health, Fifth Third offers:
LifeWorks, a free, confidential program that supports employees and their families.
Employee Assistance Program help line and LifeWorks Crisis Support Line.
Teladoc Mental Health Navigator.
Anthem Behavioral Health Resource Center.
LiveHealth Online through Anthem. 
For more information about how Fifth Third supports its employees, read the full 2021 ESG Report.