2017 in Review: Sustainability Reporting to Fight Climate Change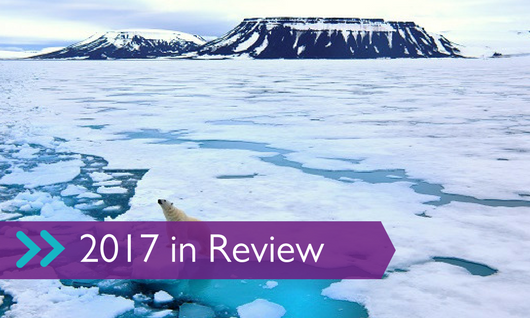 This year has been challenging for sustainability in many respects, but there have also been exciting developments in the sustainability reporting landscape. In this short series, we look back at GRI's efforts, and look into what 2018 has in store. ​
In 2017, we saw some of the most devastating impacts of climate change. We witnessed groundbreaking policy changes and shocking political backward steps. People took on seemingly insurmountable issues – and won – and the corporate world took leaps forward to support sustainable development.
The 240km/hour winds of Hurricane Maria tore through Puerto Rico, devastating the island, and leaving hundreds dead and hundreds of thousands stranded. It was the height of a hyperactive hurricane season, in which 16 named hurricanes – six of them major – impacted people around the world.
The effects of climate change have never been more visible, and organizations like GRI have been working to mitigate climate change by changing the way companies behave. In June, the Task Force on Climate-related Financial Disclosures released recommendations suggesting how companies could account for their climate-associated risks, helping connect the pressing global issue with the bottom line. GRI organized a workshop at the Sustainable Stock Exchanges initiative event run alongside COP23 in November to help stock exchanges follow the recommendations.
The main COP23 event, held in Bonn, Germany from 6 to 17 November, faced political challenges before it started: it was the first negotiation since President Trump pulled the US out of the Paris Agreement. World leaders came together to make progress on the 2015 agreement, but some were already calling for the US delegation to be banned from talks.
Despite the setback, COP23 made clear progress. The Ministerial on Climate Action (MoCA) coalition, including the EU, China and Canada, is a concrete example of how developed and developing countries are working together to fight climate change. And more than 20 countries joined the "Powering Past Coal Alliance", which was launched at COP23, to restrict the use of coal.
Reporting plays an important role in communicating the progress of companies and countries fighting climate change, and with the GRI Sustainability Reporting Standards, they can report on this and other emerging issues.
For more sustainability news and updates from GRI, subscribe here to our monthly newsletter.