100 Community Impact Projects Chosen for 2023 Lowe's Hometowns Program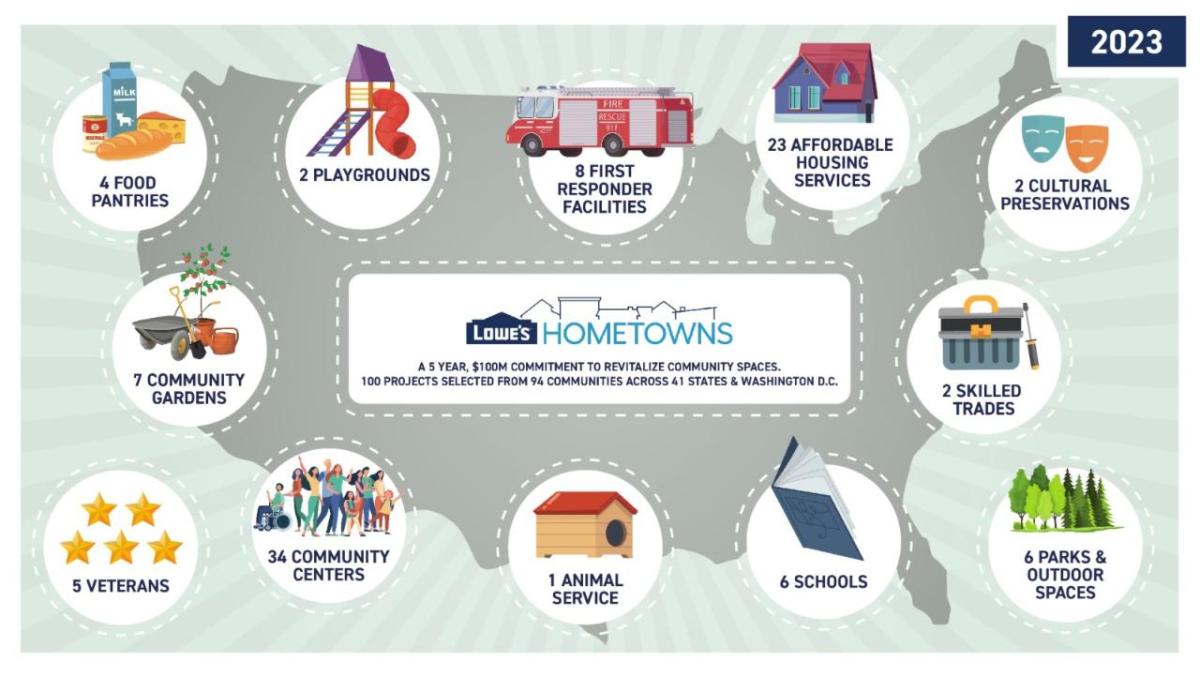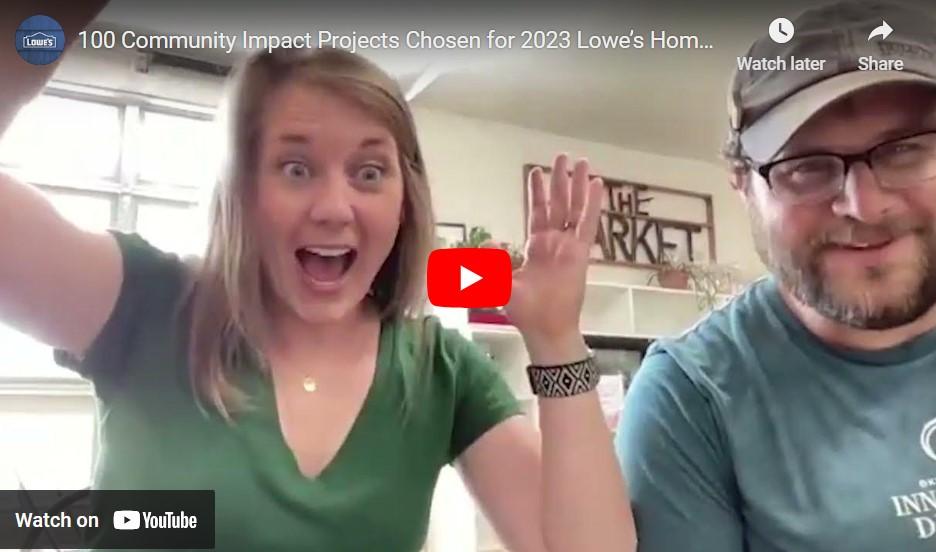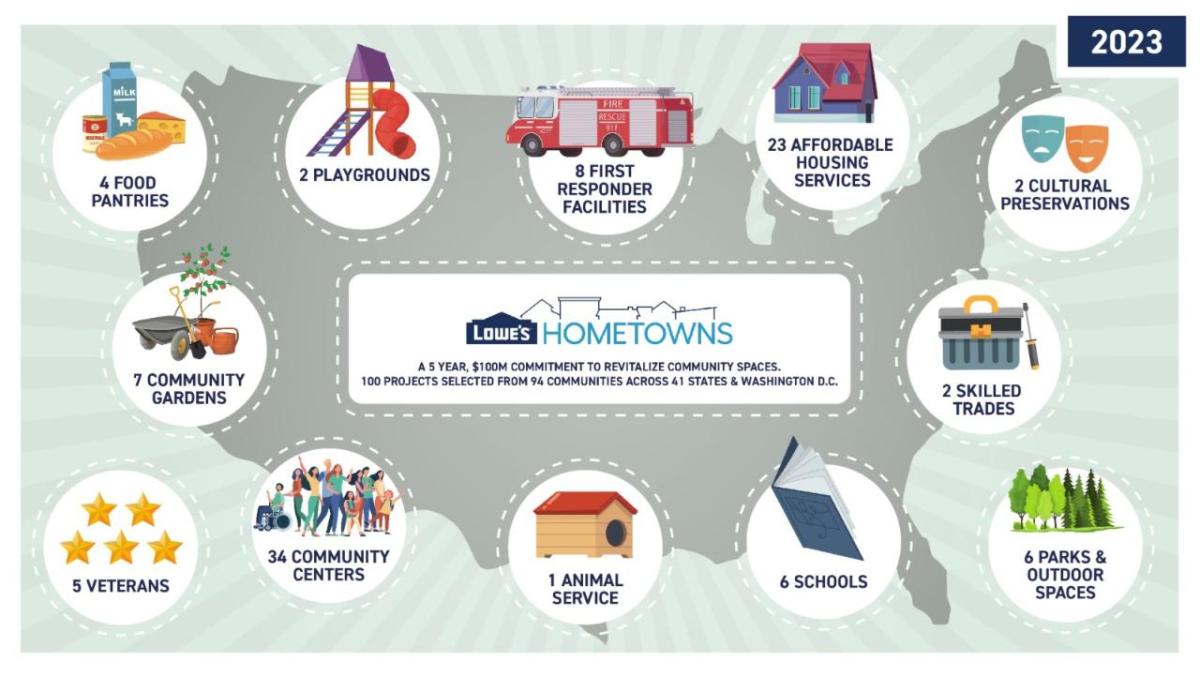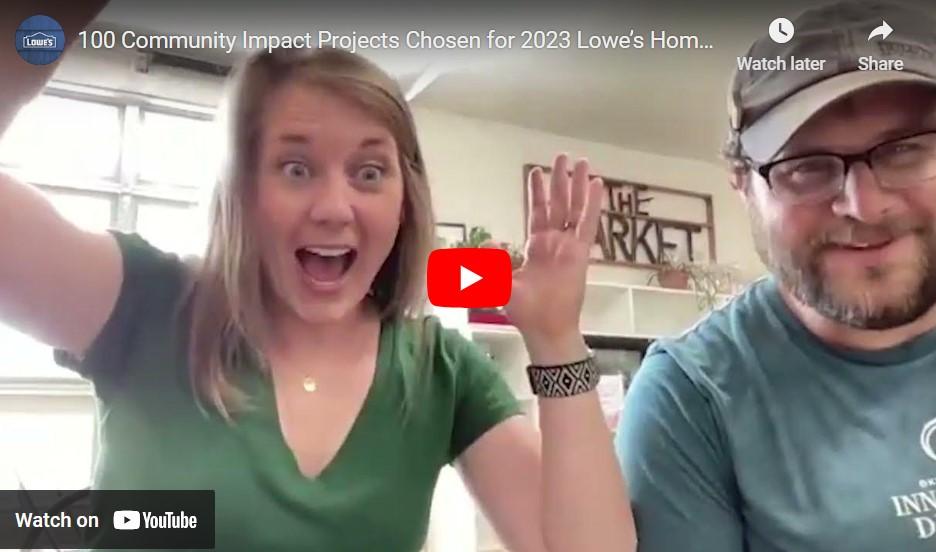 July 10, 2023 /3BL/ - For the second year in a row, Lowe's asked people from across the country to nominate community revitalization projects close to their hearts for a Lowe's Hometowns grant.
After reviewing the nominations, 100 were chosen as part of the company's largest-ever community impact program – a five-year, $100 million commitment to rebuild and revitalize community spaces nationwide and give back to the communities where we live and work.
Lowe's Hometowns projects were selected from 94 communities across 41 states and Washington, D.C., and will tackle community-specific needs ranging from housing to parks and from cultural preservation to veterans' services. The funding will benefit 34 community centers, 23 housing organizations, seven community gardens, four food pantries and much more.
Watch Lowe's Hometowns grant recipients react to the news.
Marvin Ellison, Lowe's chairman and CEO, called it "an honor to support the Lowe's Hometowns projects." Each one will receive funding to support their specific needs, along with hands-on support from Lowe's red vest associates. Together with staff from each grant recipient, we'll make physical improvements that help each organization improve their facilities, which helps enhance the services they offer.
One parks project was nominated by none other than Lionel Richie, pop music icon and American Idol judge. The Tuskegee, Alabama native who's won four Grammy Awards proposed converting an undeveloped plot of land in his hometown into a vibrant outdoor community space. Directly across from the historic Tuskegee University, "Hello Park" – named after Richie's 1984 hit that reached number one on three Billboard charts – will encourage residents and visitors to gather, connect with nature and embrace Tuskegee's history.
"My hometown of Tuskegee has inspired and impacted me all my life," said Richie. "I love the people, culture and natural beauty of our little town, so my hope is that Hello Park will become a special venue for our community to share in honoring our history and heritage. Thanks to the generosity and commitment of Lowe's Hometowns to uplift communities nationwide, this dream will soon become a reality."
A few of the 100 projects to receive funding this year include:
Renovations to support homeless services at Room In The Inn in Nashville
Building an inclusive space for deaf and hard-of-hearing children at Aid the Silent in San Antonio
Creating a grocery store-style space for the Community Food Basket in Idaho Falls
Installing new garage doors and flooring at the Wedington Volunteer Fire Department in Fayetteville, Arkansas
Lowe's impact partner in this work is Points of Light, a national nonprofit organization that partners with Lowe's to support each project from beginning to end.
Points of Light Interim President and CEO Diane Quest said, "We know nonprofits in the U.S. rely on varying sources of funds to sustain and grow their services, and large grants like Lowe's Hometowns can be transformational. Last year's Lowe's Hometowns projects tremendously impacted more than a million people in communities throughout the U.S., providing direct services to individuals and creating multi-year capacity and infrastructure for nonprofits. These investments … have a ripple effect and create long-term, positive change that enriches the lives of residents, families and the community for generations."
More than 1.4 million people, including children, seniors, veterans, first responders and more, benefitted last year from the 100 inaugural Lowe's Hometowns projects.
Visit Lowes.com/hometowns and follow #LowesHometowns on social media for more on this year's projects. To learn more about Lowe's commitment to communities, visit Lowes.com/OurCommunities.