Stand For Trees
Corporate Social Responsibility (CSR), Sustainability and Cause News & Media
Stand For Trees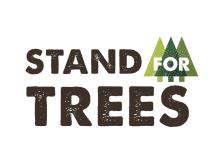 About Stand For Trees
One of the most effective ways you can fight deforestation, protect threatened wildlife, empower local communities & curb climate change.
Mission
Stand For Trees's mission is to halt deforestation by empowering individuals—all of us—to take real action to stop forest loss: the number one cause of species extinction and second-leading cause of CO2 emissions globally. Although we know stopping deforestation is critical to curbing climate change, we continue to lose a forest the size of New York City every 48 hours.
Fortunately, we have the solution. Since 2007, the international community has been working together on the REDD+ program to 'reduce emissions from deforestation and forest degradation. Now, for the first time, Stand For Trees allows individuals to be part of this solution by harnessing the power of technology and social media so we can all support local communities who are implementing REDD+ practices on the ground in tropical forest countries. When you Stand For Trees, you stand for investing in communities who are pursuing new economic opportunities – creating a new economy where trees are more valuable standing than cut down. Trees stand for us, it's time to Stand for Trees.