Seventh Generation
Corporate Social Responsibility (CSR), Sustainability and Cause News & Media
Seventh Generation
Campaigns
Seventh Generation, the nation's number one brand of renewable, bio-based consumer products, has unveiled its 2013 Corporate Consciousness Report. The company's latest sustainability performance review examines the progress it's made on its objectives to Nurture Nature, Enhance...
With the demand for palm kernel oil on the rise, vast tracks of old growth forests are being clear cut depriving endangered species of key habitats and pushing the indigenous people of the rainforest from their rightful lands. The situation is dire but with your help we can change all of this....
Seventh Generation ON SOCIAL MEDIA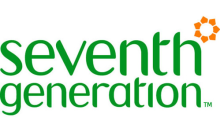 Seventh Generation is committed to being the most trusted brand of household and personal-care products for your living home. Our products are healthy and safe for the air, the surfaces, the fabrics, the pets, and the people within your home -- and for the community and environment outside of it. Seventh Generation also offers products for baby that are safe for your children and the planet.