NUTRILITE™
Health Care and Policy, Nutrition, and Pharma Research News & Media
NUTRILITE™
Campaigns
Our Power of 5 Campaign is designed to help some of the 2 billion people around the world who lack proper nutrition. How? With NUTRILITE Little Bits, a micronutrient supplement that provides 15 essential vitamins and minerals to malnourished children. With the help of partnerships with individuals...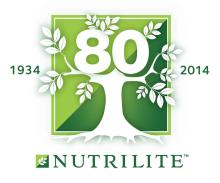 Celebrating 80 years in 2014, the Nutrilite brand, exclusively by Amway, is the world's number one selling brand of vitamins and dietary supplements.* Backed by 80 years of science and research, the Nutrilite team has perfected a proprietary "seed to supplement" practice to preserve potency and maximize the consistency, efficacy and safety of its products. NUTRILITE products are developed for personal daily nutrition, heart health, strong bones and weight management. Its top selling products are NUTRILITE Protein Powder, DOUBLE X/TRIPLE X® Vitamin/Mineral/Phytonutrient and Vitamin C. The Nutrilite brand is the only global vitamin and mineral brand to grow, harvest and process plants on its own certified organic farms*, which are located in the United States, Mexico and Brazil.
To learn more visit facebook.com/Nutrilite or twitter.com/Nutrilite.
*Source Euromonitor International Limited.  www.euromonitor.com/amway-claims