Global Compact Network Canada
Corporate Social Responsibility (CSR), Sustainability and Cause News & Media
Global Compact Network Canada
Campaigns
 Toronto, ON, 3 December 2020 Global Compact Network Canada launches a set of tools designed to advance gender equality in the private sector at the Business for Gender Equality virtual forum with leaders, advocates, and change-makers On December 2, 2020, Global Compact Network...
Global Compact Network Canada ON SOCIAL MEDIA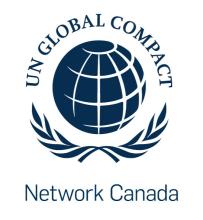 The UN Global Compact is the world's largest voluntary corporate responsibility initiative with over 10,000 signatories in 130 countries committing to ten universally accepted principles. The Global Compact Network Canada builds the capacity of the Canadian corporate sector to embrace sustainable business practices.