Enactus
Corporate Social Responsibility (CSR), Sustainability and Cause News & Media
Enactus
Campaigns
Opportunities to enable progress surround us. Solar energy can be harnessed to produce clean drinking water, discarded shipping containers can be repurposed as housing solutions for the homeless and naturally abundant ryegrass can be used to support healthy fisheries. Every day, in communities...
Flexible Media Releases
Pages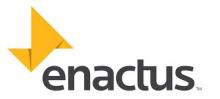 Enactus is an international organization dedicated to enabling progress through entrepreneurial action. We provide a platform for university students to collaborate with business and academic leaders in the development of entrepreneurial-based projects that empower people to transform opportunities into real, sustainable progress for themselves and their communities. The quality and impact of the students' projects are evaluated by leading executives through a series of regional, national and global competitions. The Enactus experience not only transforms the lives of the people we serve, it also transforms the lives of the students as they develop into entrepreneurially-minded, socially-responsible leaders.