Women's History Month: What Inspires You?
Women's History Month: What Inspires You?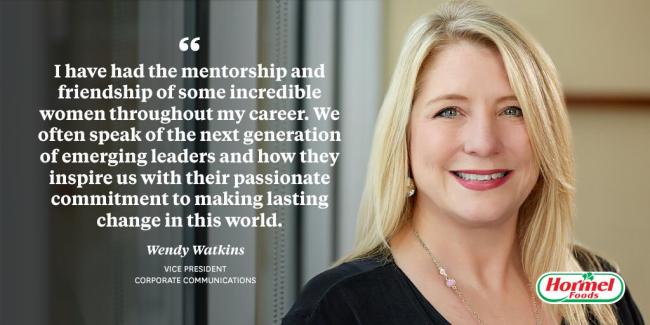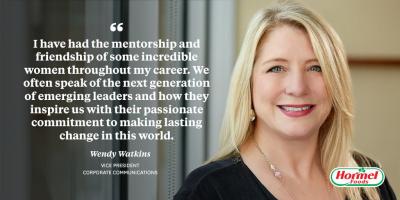 tweet me:
.@HormelFoods employees share what inspires them this #WomensHistoryMonth http://bit.ly/2GaFvvf
Thursday, March 22, 2018 - 10:30am
Wendy Watkins, Vice President of Corporate Communications, shares what inspires her:
"I have had the mentorship and friendship of some incredible women throughout my career. We often speak of the next generation of emerging leaders and how they inspire us with their passionate commitment to making lasting change in this world."
About Hormel Foods – Inspired People. Inspired Food.™ 
Hormel Foods Corporation, based in Austin, Minn., is a global branded food company with over $9 billion in annual revenues across more than 80 countries worldwide. Its brands include Skippy®, SPAM®, Hormel® Natural Choice®, Applegate®, Justin's®, Wholly Guacamole®, Hormel® Black Label® and more than 30 other beloved brands. The company is a member of the S&P 500 Index and the S&P 500 Dividend Aristocrats, was named one of "The 100 Best Corporate Citizens" by Corporate Responsibility Magazine for the ninth year in a row, and has received numerous other awards and accolades for its corporate responsibility and community service efforts. In 2016, the company celebrated its 125th anniversary and announced its new vision for the future - Inspired People. Inspired Food.™ - focusing on its legacy of innovation. For more information, visit www.hormelfoods.com and http://csr.hormelfoods.com/.
More From Hormel Foods Corporation
Thursday, January 7, 2021 - 10:30am
Wednesday, December 30, 2020 - 8:00am
Wednesday, December 9, 2020 - 3:40pm