Women's History Month: The Best Advice
Women's History Month: The Best Advice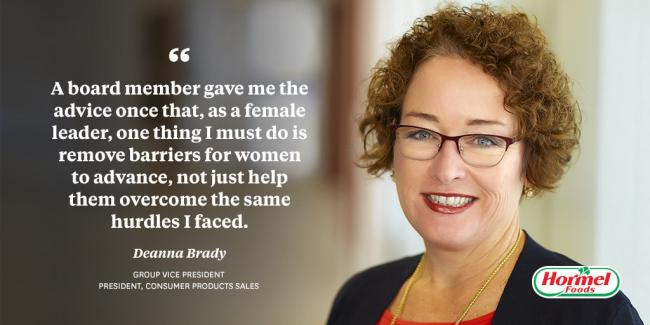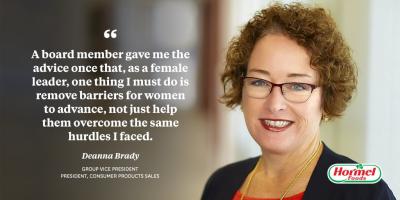 tweet me:
In honor of #WomensHistoryMonth, this @HormelFoods employee shares the best advice she's received
Monday, March 26, 2018 - 8:00am
In honor of Women's History Month, Deanna Brady, Group Vice President and President of Consumer Product Sales, shares the best advice she's received:
"A board member gave me the advice once that, as a female leader, one thing I must do is remove barriers for women to advance, not just help them overcome the same hurdles I faced."
About Hormel Foods – Inspired People. Inspired Food.™ 
Hormel Foods Corporation, based in Austin, Minn., is a global branded food company with over $9 billion in annual revenues across more than 80 countries worldwide. Its brands include Skippy®, SPAM®, Hormel® Natural Choice®, Applegate®, Justin's®, Wholly Guacamole®, Hormel® Black Label® and more than 30 other beloved brands. The company is a member of the S&P 500 Index and the S&P 500 Dividend Aristocrats, was named one of "The 100 Best Corporate Citizens" by Corporate Responsibility Magazine for the ninth year in a row, and has received numerous other awards and accolades for its corporate responsibility and community service efforts. In 2016, the company celebrated its 125th anniversary and announced its new vision for the future - Inspired People. Inspired Food.™ - focusing on its legacy of innovation. For more information, visit www.hormelfoods.com and http://csr.hormelfoods.com/.
More From Hormel Foods Corporation
Thursday, January 7, 2021 - 10:30am
Wednesday, December 30, 2020 - 8:00am
Wednesday, December 9, 2020 - 3:40pm