Women in Leadership at Northern Trust Promote Education and Healthcare for Young Girls and Women in Bangladesh
Women in Leadership at Northern Trust Promote Education and Healthcare for Young Girls and Women in Bangladesh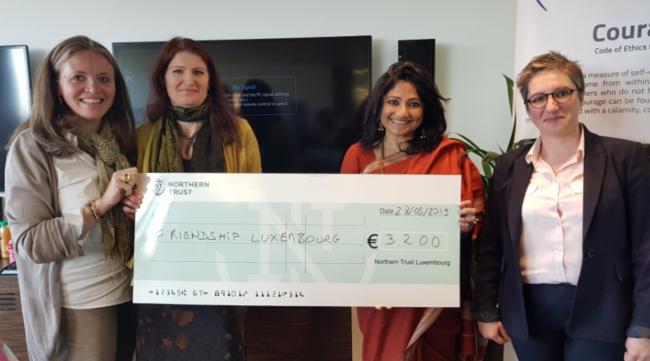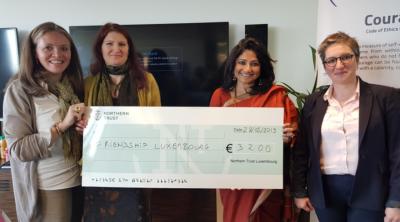 tweet me:
Women in Leadership at Northern Trust Promote Education and Healthcare for Young Girls and Women in Bangladesh http://bit.ly/2Dt8Pgj @NTCSR
Wednesday, April 24, 2019 - 11:05am
In support of fostering an equal opportunity culture at Northern Trust, Women in Leadership hosted an event in Luxembourg, promoting education and healthcare for young girls and women in Bangladesh. Partners presented a check to the charity 'Friendship NGO' to support their continuous work supporting these initiatives! NTGivesBack, Community Service, NorthernTrust
About Northern Trust
Northern Trust Corporation (Nasdaq: NTRS) is a leading provider of wealth management, asset servicing, asset management and banking to corporations, institutions, affluent families and individuals. Founded in Chicago in 1889, Northern Trust has offices in the United States in 19 states and Washington, D.C., and 23 international locations in Canada, Europe, the Middle East and the Asia-Pacific region. As of September 30, 2018, Northern Trust had assets under custody/administration of US$10.8 trillion, and assets under management of US$1.1 trillion. For more than 125 years, Northern Trust has earned distinction as an industry leader for exceptional service, financial expertise, integrity and innovation. Visit northerntrust.com or follow us on Twitter @NorthernTrust.
More From Northern Trust
Wednesday, February 19, 2020 - 11:45am
Tuesday, February 4, 2020 - 9:30am
Thursday, January 30, 2020 - 9:00am