What the Truck? Vehicle Expert Jim Motavalli
What the Truck? Vehicle Expert Jim Motavalli
tweet me:
This wk's @SeaChangeRadio - "What The Truck? Vehicle Expert Jim Motavalli" https://www.cchange.net/2020/03/10/truck/
Multimedia from this Release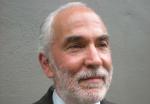 Wednesday, March 11, 2020 - 12:35pm
Did you know that the three best selling vehicles in America are all pickup trucks? This week on Sea Change Radio, we speak with auto expert Jim Motavalli about the truck craze which is now well into its third decade. He helps us understand how, in this era of eco-vehicle innovation, gas guzzlers still rule the day in the USA. Then we discuss the latest developments in the electric vehicle space, examine the phenomenon that is Tesla, and talk about ways that car-owners may reduce their carbon footprints.
More From Sea Change Radio
Thursday, May 6, 2021 - 5:05pm
Monday, March 29, 2021 - 2:05pm
Wednesday, March 10, 2021 - 1:15pm