[Webinar] Evolving Your Employee Volunteer Program for Greater Impact & Participation
[Webinar] Evolving Your Employee Volunteer Program for Greater Impact & Participation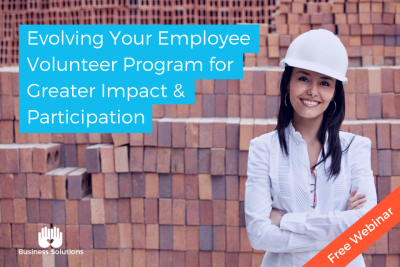 tweet me:
Tune in to hear experts @nielsen and @usbank share how they increase engagement in their employee volunteer program, partner with nonprofits, measure success and more during this free webinar. https://t.co/c62XQmb6pC #CSR #EmployeeEngagement
Tuesday, April 23, 2019 - 3:00pm
About 8 in 10 companies view volunteer opportunities as an important way to engage employees, yet one-third of employees don't give through their workplace giving programs because they're not able to choose causes that matter to them. Employee volunteer managers are tasked with engaging employees authentically while effectively tracking and reporting on their program's value.

Get inspired Tuesday, April 30 at 1 p.m. ET/10 a.m. PT by a conversation led by your peers and experts in employee engagement. You'll hear from leaders at Nielsen and U.S. Bank as they share insight into what makes their programs successful, emerging CSR trends and innovative solutions to jumpstart your employee participation. Learn more on "Volunteering is CSR" – the VolunteerMatch blog for CSR professionals, then reserve your space. We hope to see you there!
More From VolunteerMatch
Friday, January 15, 2021 - 10:00am
Wednesday, January 6, 2021 - 9:00am
Thursday, November 19, 2020 - 12:00pm